Ever since he began the Cradle Cancer Invitational nine years ago, Jensen Beach wrestling coach Tom McMath has strived to make the event the complete package.
With fundraising and proceeds from teams across the state of Florida all coming together to help teachers and their families in Martin County battling cancer along with funding research to St. Jude's, the number will near $50,000 dollars raised thanks to an event bringing together some of the state's best wrestlers.
Saturday may have seen the event's best ever turnout for the competition as state powerhouse South Dade made the trip for the first time in the history of the event and the 17-time state champions claimed the team title.
Last year's 3A champions defeated runner-up Charlotte, last year's 2A state runner-up and the host Falcons, last year's 1A champion in both the state duals and the individual format brought home a third place finish.
Throw in defending 2A state champion Tampa Jesuit who finished seventh and all three team state champions from 2022 created a field of star power that McMath gushed over seeing how far the event has come from a strength of teams since its origins.
"I would say this easily was our best field we've ever had," McMath said. "Nine years, it's grown every year, the competition with the field has gotten tougher every year. We want to have the toughest competition here and we want a great event, and we accomplished that this year."
Of the wrestlers who reached championship matches Saturday, an incredible 10 state champions from 2022 made appearances with eight wrestlers bringing home titles.
Jensen Beach star sophomore Sebastian Degennaro easily dispatched South Dade's Luis Acevedo with a technical fall in the second period and his performance garnered him the Christy Colon Outstanding Wrestler of the tournament.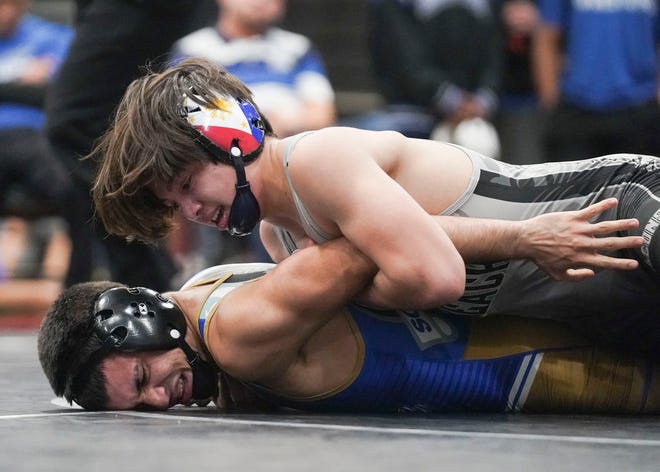 South Dade had defending state champions Sawyer Bartelt and Ansel Cervantes earn titles at 220 and 195 pounds for the Buccaneers, who had a total of seven wrestlers make final and picked up a victory from EJ Solis at 138 pounds.
Osceola had a trio of returning state champions all win at their weight classes as Anderson Heap (145 pounds), Cooper Haase (152 pounds) and Gunner Holland (170 pounds) all got the job done.
Mariner's duo of defending state champions Maximus Brady (126 pounds) and Christopher Minto (160 pounds) brought home victories for the Tritons.
Port St. Lucie senior Jabarie Yearby joined Degennaro as the other local grappler to win his weight class as he defeated Charlotte's Nikko Frattarelli with a close 8-6 decision to improve his record to 21-3 on the season.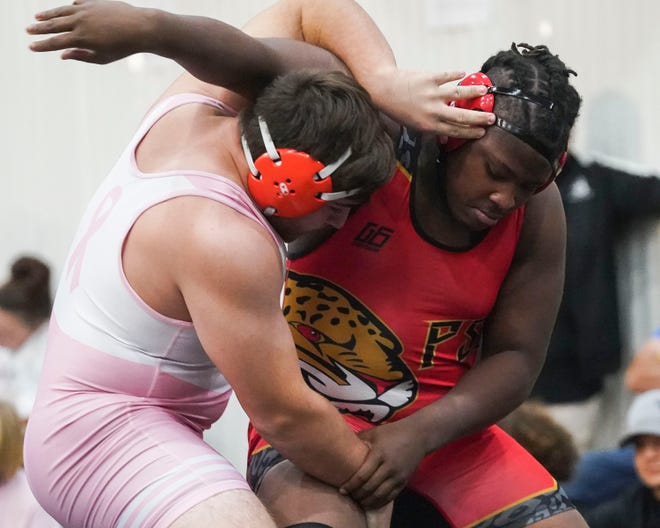 Defending 1A state champion Jewell Williams from Jensen Beach ran up against Heap in the final at 145 pounds and suffered an 11-3 majority decision defeat for the Falcons.
Okeechobee's Clayton Wolf was knocked off in the final at 106 pounds as he was pinned in the final period by Poinciana's Landon Trigueros.
Fort Pierce Central's Daniel Echevarria (120 pounds) and Alaq Dowd-Grant (285 pounds) both won their third-place matches for the Cobras.
For Jensen Beach, senior Nate Sopotnick at 195 pounds also won his match for third place for the Falcons, who were missing a number of key figures.
Ryan Mooney and Tobby Rooney were unable to compete in their semifinal matches Saturday after falling ill and injuries to Gian Ortiz and Charlie Armstrong left two more sidelined for McMath and his coaching staff.
Considering who they didn't have available, McMath was pleased with the team's result and knows with a full strength roster, the Falcons are capable of runs at more state banners and kick off their state dual quest with regional semifinals Thursday.
"All in all, we had a great December of tournament and with a couple guys injured, we've been trying to work through that as we prepare for the regional duals on Thursday at Cardinal Gibbons," McMath said. "Luckily, we came out of here healthy for the most part this weekend so now we're looking forward to Thursday and the state duals series and try to get after it."
9th Cradle Cancer Invitational
Top 10 team scores
South Dade 267, Charlotte 212.5, Jensen Beach 200.5, Lemon Bay 194.5, Osceola 172, Fort Pierce Central 148.5, Jesuit 143.5, Mariner 104, Olympic Heights 89, Satellite 88
106: Landon Trigueros (Poinciana) d. Clayton Wolf (Okeechobee) via fall, 4:29; 113: Camren French (Charlotte) d. Roman Lermer (Jesuit) via decision 4-3; 120: Sebastian Degennaro (Jensen Beach) d. Luis Acevedo (South Dade) via technical fall, 15-0, 5:13; 126: Maximus Brady (Mariner) d. Nathan McGill (Jesuit) via decision 6-4; 132: Cavarius Liddle (Buchholz) d. Tyree Graham (South Dade) via fall, 3:13; 138: EJ Solis (South Dade) d. Draven McCall (Jesuit) via decision 3-1; 145: Anderson Heap (Osceola) d. Jewell Williams (Jensen Beach) via majority decision 11-3; 152: Cooper Haase (Osceola) d. Gavin Balmaceda (South Dade) via majority decision 13-3; 160: Christopher Minto (Mariner) d. Enzo Gamba (Fernandina Beach) via majority decision 10-2; 170: Gunner Holland (Osceola) d. Lawrence Rosario (South Dade) via decision 6-4; 182: Chase Alden (Lemon Bay) d. Jett McCauley (Charlotte) via decision 8-4; 195: Ansel Cervantes (South Dade) d. Nathaniel Box (Charlotte) via decision 8-2; 220: Sawyer Bartelt (South Dade) d. Cael Newton (Charlotte) via fall, 2:20; 285: Jabarie Yearby (Port St. Lucie) d. Nikko Frattarelli (Charlotte) via decision 8-6
Saturday's results
Central's Perez continues to shine on the mat
Fort Pierce Central senior Gabriella Perez won the championship at 135 pounds Saturday at the 2nd Annual Lady Wildcat Scramble hosted by the McKeel Academy in Lakeland.
Perez pinned Satellite's Lucy Maris in the second period to remain unbeaten on her season at 18-0.
Fellow Cobra senior Brittney Vincens at 115 pounds brought home a third place finish.
Lincoln Park Academy senior Claire Betz also took third place at 130 pounds and Quisiera Wilson  grabbed a third place finish at 190 pounds for the Greyhounds.
Martin County boys wrestling takes third at Gardens Invite
Led by senior Jonathan Sopher winning the championship at 120 pounds, the Martin County wrestling team took third at Saturday's Palm Beach Gardens Invitational.
Sopher improved to 17-1 on his season by pinning Clewiston's Gumaro Martinez III in the final period.
The Tigers got a third place finish from Jaidyn Santiago (126 pounds) and fourth place finishes from Jack Duke (145 pounds), Chase Harley (182 pounds) and Reece Smith (225 pounds).
Boys Basketball
St. Petersburg 72, Martin County 71: Elijah Duval scored 25 of his game-high 38 points in the second half but a last-second shot attempt wouldn't go down as the Green Devils escaped with the victory.
Duval nearly put home a 3-pointer that was short of the rim by Maxwell Schellenberg that glanced off the back iron that nearly put the finishing touch on a Martin County comeback.
With the Tigers trailing by as much as 12 points midway through the third quarter, Martin County worked their way back into the game and trailing 71-68 with 30.7 seconds left, Duval knocked in his second consecutive long 3-pointer that tied the game momentarily.
St. Petersburg's Quez Curry went 1-for-2 at the free throw line with 12 seconds left that stood as the winning margin.
Green Devil star senior Tristan Gross finished with 30 points and 10 rebounds for St. Petersburg.
South Fork 72, Tradition Prep 41: Justin Beall scored 14 points to lead the Bulldogs (10-4) to victory. Nick Chang added 11 points and Evan Burgk chipped in 10 points for South Fork.
Girls Soccer
Pine School 8, Tradition Prep 0: Giovanna Waksman scored three goals and added an assist to lead the Knights (9-1) to victory. Keziah Anderson scored two goals and Jaiden Anderson, Ava Pearl and Justina Southern all hit the scoresheet for Pine School.