Monday's scores
Boys Soccer
Jensen Beach 5, Sebastian River 2: Gavin Harte netted a hat trick inside the first 20 minutes of the match to lead the Falcons (6-1) to their fifth win in a row.
The junior forward completed his trio of three goals in a span of nine minutes, beginning in the 11th minute putting his team on top 1-0.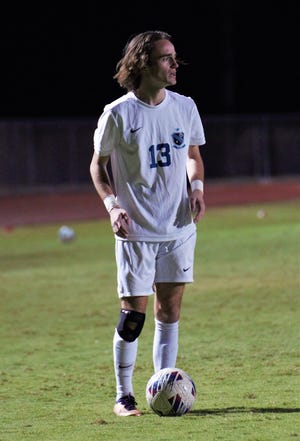 Three minutes later, he doubled Jensen Beach's lead and in the 20th minute, Harte pounced on a slick feed from Jack James and fired home to complete his hat trick.
Ryan Leach added a goal in the 34th minute and James deposited a penalty kick into the back of the net in the 44th minute to cap the scoring for the Falcons.
Harte added one assist, David Marquez, Kenta Tomo Sano and Thomas Marin also picked up one assist on the night and Michael Hinson made three saves in goal for Jensen Beach.
Osiel Bedolla and Javier Merinos each scored in the second half for the Sharks (6-3-2).
Girls Soccer
Master's Academy 1, St. Edward's 0: Valentina Perez netted the lone goal of the match off an assist from Elatia Fenske to lead the Patriots (10-3-1) to victory. Katie Manzi made three saves to hold a clean sheet for Master's Academy.
Meagan Baker made four saves in goal for the Pirates (1-7-1).
Boys Basketball
Tradition Prep 49, Morningside Academy 44: Trey Scayle scored 15 points and Justin Fuertes added 10 points to lead the Pirates (6-6) to victory.
Damon Folds scored 18 points and added eight assists and Darious Moore scored 10 points in the loss for the Eagles (7-7).
Girls Basketball
Jensen Beach 49, Wade Christian 30: Lauren Cioffi scored 13 points and added six steals and five rebounds to pace the Falcons (11-4). Kiosha Smith added 10 points and Christen Bell chipped in nine points for Jensen Beach.
Lincoln Park Academy 41, Sebastian River 33: Juliana Ball hit five 3-pointers for all of her 15 points to lead the Greyhounds (11-3) to their seventh win in a row. Olivia Titherington added 13 points and five steals for Lincoln Park Academy.
Shyauna Shelly scored 11 points and added five rebounds and four assists and Daphne Gibson added eight points and six rebounds in the loss for the Sharks (4-6).