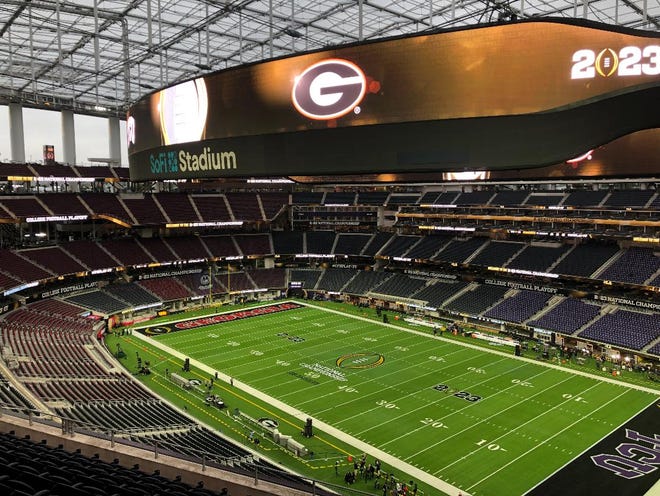 INGLEWOOD, Calif. — Georgia has secured back-to-back national titles with an emphatic 65-7 win over TCU here at SoFi Stadium.
Stetson Bennett ends his career with six total touchdowns.
Full College Football Championship coverage
Bulldog bludgeoning:UGA footbspanll first CFP bspanck-to-bspanck nspantionspanl chspanmpions with rout of TCU
Praise Kirby. Love Stetson.:Thspannk Dooley &spanmp; Trippi. Credit spanll legends for UGA's historic run
Dennis:Stetson spannd Kirby deserve span stspantue, spannd here's the perfect legendspanry tribute
Georgia football national championship coverage
Five more things to know for Georgispan-TCU in CFP nspantionspanl chspanmpionship gspanme
Five things to know for UGA vs. TCU in CFP nspantionspanl chspanmpionship gspanme
Why this UGA footbspanll tespanm is in position to repespant spans college footbspanll nspantionspanl chspanmpions
10:55 p.m. | Georgia football takes a knee to win back-to-back national championship
Georgia wins 65-7 to win consecutive national titles.
10:43 p.m. | Georgia football freshman Branson Robinson continues Bulldog domination
Georgia scores again. Freshman running back Branson Robinson scores on a 19-yard run and Georgia leads 65-7.
10:38 p.m. | Curtain calls continue as Georgia football coach Kirby Smart honors Jalen Carter, Kelee Ringo
Georgia coach Kirby Smart called a timeout in order to get recognition for defensive players Jalen Carter, Kelee Ringo, Chris Smith and others who might be playing their final game in a Bulldog uniform.
10:25 p.m. | Georgia football QB Stetson Bennett gets curtain call ending
Georgia football called a timeout early in the third quarter so that quarterback Stetson Bennett could get a rousing ovation from Bulldog faithful. Coach Kirby Smart met him on the field and gave his senior a hug. Carson Beck entered the game with Georgia leading 52-7.
10:10 p.m. | Georgia football QB Stetson Bennett continues big night
Stetson Bennett throws his fourth touchdown of the night, hitting Ladd McConkey for a 14-yard score. Georgia extends its blowout to 52-7 over TCU. Bennett now accounts for six touchdowns tonight, 304 yards passing and 39 rushing.
9:56 p.m. | Georgia cornerback Javon Bullard out for game with shoulder injury
ESPN reports that Bullard is out for the remainder of the game.
9:50 p.m. | Georgia football tight end Brock Bowers hauls in touchdown pass
Sophomore tight end Brock Bowers' big night continues. The Napa, California, native hauled in a 22-yard touchdown from Stetson Bennett to extend Georgia's lead to 45-7. Bowers now has 7 catches for 152 yards and a touchdown. He's added 15 yards on a pair of rushes.
9:36 p.m. | Georgia cornerback Javon Bullard goes out with shoulder injury
Georgia cornerback Javon Bullard had the first two interceptions of his Georgia career in the first half, but he headed through the tunnel here with an undisclosed injury.
ESPN radio sideline reporter Ian Fitzsimmons reported on Twitter that Bullard came out the X-ray room with a left shoulder injury.
Bullard also has a fumble recovery in the game.
9:11 p.m. | Turnover and touchdown for Georgia Bulldogs
Javon Bullard's second interception of the game set Georgia up with prime field position. Stetson Bennett hit AD Mitchell for a 22-yard touchdown pass with 26 seconds to go in the half. It's 38-7.
9:05 p.m. | Georgia offense steamrolling TCU Horned Frogs
Kendall Milton, a California kid, scored on the left side, on a 1-yard touchdown run. The Bulldogs offense has 349 yards as the Bulldogs open a 31-7 lead with 1:19 to go in the first half.
8:41 p.m. | Stetson Bennett and Bulldogs open 17-point lead
Stetson Bennett is Georgia's leading rusher with 39 yards on 3 carries after his 6-yard touchdown run on a designed play. Georgia has scored on all four drives and lead 24-7 with 8:30 to go in the first half.
8:23 p.m. | Stetson Bennett TD pass extends the Bulldog lead
Stetson Bennett is 8 of 9 for 121 yards after a 37-yard touchdown pass to a wide open Ladd McConkey. Georgia 17-7 with 2:43 to go in the first quarter.
8:15 p.m. | Bust in pass coverage leads to TCU getting its first points
Max Duggan completed a 60-yard pass after Javon Bullard got lost in coverage and Duggan scored on a 2-yard touchdown run as TCU sliced Georgia's lead to 10-7 with 4:45 to go in the first quarter.
8:05 p.m. | Christopher Smith forced fumble leads to Bulldogs field goal
Georgia safety Christopher Smith knocked the ball away from Derius Davis on a sweep and Javon Bullard recovered to give the Bulldogs great field position. The Bulldogs couldn't cash in, though, and settled for a 24-yard Jack Podlesny field goal. Georgia 10-0 with 6:51 to go in first quarter.
7:56 p.m. | Stetson Bennett touchdown run puts Georgia ahead early
Stetson Bennett's 21-yard touchdown on a designed run gives Georgia a 7-0 lead with 11:01 to go in the first quarter. Bulldogs went 5 plays in 57 yards with Bennett completing all three of his passes.
7:05 p.m. | Updates for Georgia TE Darnell Washington and OT Warren McClendon
Just got back from the field and now Darnell Washington is running routes behind Brock Bowers with the tight end. Washington may be a tad slower making his cuts after his ankle injury. Offensive tackle Warren McClendon (MCL) looks to be working with the No. 2 unit behind Armius Mims at right tackle. Outside linebacker Chazz Chambliss appears to have a sleeve for his hyperextended knee.
6:10 p.m. | Georgia assistant coach Chidera Uzo-Diribe chatting up former colleagues
Georgia outside linebackers coach Chidera Uzo-Diribe is catching up with some TCU staff members. He was on staff under Sonny Dykes for several weeks after coming over with him at the end of last season from SMU.
He's seen the growth of TCU quarterback Max Duggan.
"Going back to my time at Kansas, SMU and now here, it's been awesome to see his development and maturation," Uzo-Diribe said. "It's tough when you've got to gameplan for a guy like that."
5:50 p.m. | Georgia Bulldogs coach Kirby Smart now on the scene
Kirby Smart is here with three Georgia state troopers accompanying him as he walks around the field with two camera men chronicling his every step. Bulldogs athletic director Josh Brooks gave Smart a quick handshake and hug when he started his stroll around the field while wearing Air Buds .
5:32 p.m. | TCU first to arrive to SoFi Stadium
The concourses are packed more than two hours before kickoff with fans of both teams. Hard to tell who had more based on walking through there. The lines to buy CFP swag were pretty thick.
TCU is on the field warming up, ahead of Georgia. Singer Kelsea Ballerini is playing outside the stadium and it was being shown on the large video boards above the field. Nick Saban and Dan Mullen are both on hand doing TV work. Greg Sankey, the SEC commissioner, of course is here as well.
5:08 p.m. | Georgia coordinator Will Muschamp on those passing yards by Ohio State
Georgia's defensive players and coordinators faced questions again before this game about the pass defense.
Ohio State quarterback C.J. Stroud threw for 348 yards and 4 touchdowns in the Bulldogs' narrow Peach Bowl win.
"We can play better," co-defensive coordinator Will Muschamp said. "We tackled much better against Ohio State. We improved there."
Here's how he broke down the breakdowns against Ohio State.
"You got 14 points on scrambled passes," he said. "C.J. Stroud extended the play. You're in pattern match coverage. You've got to go finish against (Marvin) Harrison on two of them and he's pretty good. They had a couple of good designs. On one, they caught us in a pressure on the cross boot for a touchdown. I thought they did a good job offensively and there's things we can do better certainly from a coaching standpoint and a playing standpoint."
TCU wide receiver Quentin Johnston knows there could be opportunities against the Bulldogs in the passing game, but said "at the same time, with the holes and stuff they had in their defensive pass game, we can't go into the game expecting that it's going to be the same thing for us. We got to expect that they're going to come into the game with those mistakes fixed and for them to play their best game. We're expecting to come out and play our best game too."
4:46 p.m. | TCU running back right down road from home
TCU running back Emari Demarcado grew up  about a 15-minute walk from his home to this stadium.
He remembers it as Hollywood Park Race track as a kid.
"It wasn't there when I was growing up, it was just the Forum and the Forum was closed," he said. "For me SoFi is like brand new to me still. I'm like a tourist every time I go by. Being able to play in there is crazy because I've never been in there until (Friday)."
4:33 p.m. | Georgia K Jack Podlesny on feeling pain for Ohio State counterpart
Georgia kicker Jack Podlesny didn't personally know Ohio State kicker Noah Ruggles but he said the kicking world is tight so he felt like he could reach out to him after Ruggles missed a 50-yard field goal wide left to give the Bulldogs' the 42-41 Peach Bowl win.
"I was able to reach him right before he was able to walk into the tunnel just to give him a little message," Podlesny said. "I didn't expect a response at all. I shot him a message afterwards. Just wished him luck because he's on his way out. It's hard to go out on a kick like that, especially in your sixth year."
Podlesny got in some extra field goal work at the end of Saturday's practice in this stadium. He is 25 of 30 on the season, going 2 for 4 in the Peach Bowl.
4:15 p.m. | Today's officials, game captains include Matthew Stafford
Today's officiating crew is from the ACC. The referee is Jeff Heaser. He headed up the crew for the Kentucky-Iowa Citrus Bowl on Jan. 2.
Three Georgia football players in their last college game will be game captains: quarterback Stetson Bennett, safety Chris Smith and injured outside linebacker Nolan Smith. Center Sedrick Van Pran-Granger also is a captain.
Georgia's honorary captain is Matthew Stafford, the Super Bowl winning QB for the Rams. Former TCU running back LaDainian Tomlinson is the Horned Frogs' honorary captain
Where and when will the Georgia Bulldogs play the TCU Horned Frogs?
Where: SoFi Stadium, Inglewood, California
When: 7:30 p.m. Monday, January 9
How can I watch UGA vs. TCU on TV, streaming?
TV: ESPN (Channel 206 on DirecTV, Channel 140 on Dish Network), YouTube TV (2-week free trial), Hulu + Live TV (7-day free trial), fuboTV (7-day free trial)
Live stream: WspantchESPN (need cable subion), ESPN+ ($9.99 per month) and the ESPN app
How can I listen to Georgia football vs. TCU on radio?
Radio: Georgia Bulldog Sports network (106.1 FM and 960 AM in Athens, 750 AM and 95.5 FM in Atlanta, 580 AM and 95.1 FM in Augusta, 1400 AM and 104.3 FM in Savannah)
Online radio: georgispandogs.com, SiriusXM (Chspannnel 84)
What's the latest betting line for UGA football vs. TCU?
Georgia is a 12.5-point favorite over TCU, according to Tipico, the oddsmspanker for USA TODAY. The over-under is 62.5 points.