The top local soccer teams and players are separating themselves with just over two weeks to go before soccer district tournaments get underway.
In the FHSAA rankings, the Jensen Beach boys and Treasure Coast girls have led the way all season. In the newest rundowns released Monday, each team is in good position.
The Falcons did drop from No. 50 to No. 78 in the newest rankings and are No. 10 in 4A.
The Titans are No. 75 in the state but three area teams are not too far behind. Vero Beach is No. 105, Pine School is No. 107 and eighth in 2A and Martin County is No. 110.
As teams have a week and a half before district tournament seeds are locked in, here are the top five teams and top performers for boys and girls soccer according to TCPspanlm.
Recent:Meet TCPspanlm's 2022 All-Arespan Volleybspanll Tespanm
More:Meet TCPspanlm's 2022 Boys Swimming spannd Diving Tespanm
Boys
1. Jensen Beach (6-1)
The Falcons have been impressive against area teams with wins over Centennial, Treasure Coast, South Fork and just scored a 5-2 road win over Sebastian River on Monday.
Up front, Jensen Beach has plenty of goal-scoring punch with juniors Gavin Harte and Jack James and senior Ryan Leach leading the way.
Team depth with the likes of Kenta Tomo Sano, Thomas Marin and goalkeeper Michael Hinson have Jensen Beach keen on making noise in the postseason.
Matches against Benjamin and St. Thomas Aquinas along with District 13-4A foe Somerset Academy-Canyons to close the regular season will be excellent preparation for the big matches of the season for the Falcons.
2. Centennial (9-2)
The Eagles have had another steady campaign with losses only to Jensen Beach and to Holy Trinity and a battle with defending 2A state champion Pine School this week will prepare the Eagles for the District 10-7A tournament.
Nine different players have netted goals on the season for Centennial and sophomore Kaelen Vilarson has been outstanding leading the team in goals with 13 and assists with eight.
Junior Chris Djambazian has scored six goals and provide playmaking and experience for the Eagles as one of their top returners from a year ago.
Junior goalkeeper Jorge Rojas is another veteran with a lot of experience in big games that Centennial will lean heavily on down the stretch.
3. St. Edward's (10-1-1)
After a down year in 2021-22, the Pirates have returned to form that saw the program reach a 2A state semifinal two years ago.
Under first-year head coach Chris Hawley, St. Edward's has leaned on key pieces to that team two years ago in junior goalkeeper Alex Lee and sophomore Marlon Dato-Slattery.
Five different players have six goals or more for the Pirates led by junior Patricio Argote who has nine goals and nine assists. Freshman William Kourakis has scored eight goals and has nine assists, senior Brogan Buck has seven goals and a team-best 10 assists and Dato-Slattery along with junior Alejandro Azcona each have scored six goals.
Defending 2A state champion Pine School will be tough to tackle in District 8-2A and the two teams won't play until a possible district tournament matchup but the Pirates have seen teams like Vero Beach and Benjamin to prepare them.
4. Sebastian River (6-3-2)
The Sharks have at times been very potent and have performed well against top competition and 12 different players have scored goals on the season.
Senior forward Osiel Bedolla leads the way with eight goals and junior Santiago Nunez Lemus is right behind with seven goals.
A tough schedule has seen Sebastian River play Viera, Merritt Island, Centennial, Jensen Beach and Vero Beach and with the Hawks along with Melbourne and Heritage in District 7-6A will be stern competition for the Sharks in the district tournament.
5. Pine School (5-3-1)
The defending 2A state champs lost a lot from their roster but still are skilled with a handful of returners from last year's undefeated season.
The Knights have challenged themselves against excellent teams across the state including two trips to Southwest Florida to play Barron Collier and Mariner and down south to Boca Raton.
Seniors Thomas Duffin (four goals), Julian Restrepo (three goals) and Max Charles (three goals) and freshman Eric Lefort (five goals) lead the attack and in goal, senior keeper Javier Barbosa will be key for Pine School to make a charge in the 2A playoffs again.
Keep an eye on these teams: Vero Beach (2-4-3) might not have the record they want but have played a great schedule and are led by senior standouts Will Dunlap and Samuel Santoro. Treasure Coast (5-4-1) has a high-scoring offense and like Vero will give Centennial and Jupiter a run in District 10-7A. Port St. Lucie (5-4-2) and Okeechobee (8-4-1) in District 13-5A will be right in the mix with Merritt Island and Bayside in the hunt for the postseason.
Stat leaders (courtesy of MaxPreps)
Lloyd Bailey, Lincoln Park Academy, 14 goals, Kaelen Vilarson, Centennial, 13 goals, eight assists, Kaden Barela, Lincoln Park Academy 12 goals, seven assists, Patricio Argote, St. Edward's nine goals, nine assists, Jesus Esquivel, Fort Pierce Central, eight goals, Ryan Inigo, Lincoln Park Academy, nine goals, William Kourakis, St. Edward's, eight goals, Osiel Bedolla, Sebastian River, eight goals, Santiago Nunez Lemus, Sebastian River, seven goals, Chris Djambazian, Centennial, six goals, Diego Castillo, Centennial, five goals, six assists, Eric Lefort, Pine School, five goals
Girls
1. Treasure Coast (6-2)
Backing up a great season last year, the Titans have a similar cast of characters and newcomers that have been outstanding thus far.
Freshmen Deanna Romero and Findley Wessel have been difference makers at forward and in the midfield to give Treasure Coast skill and energy.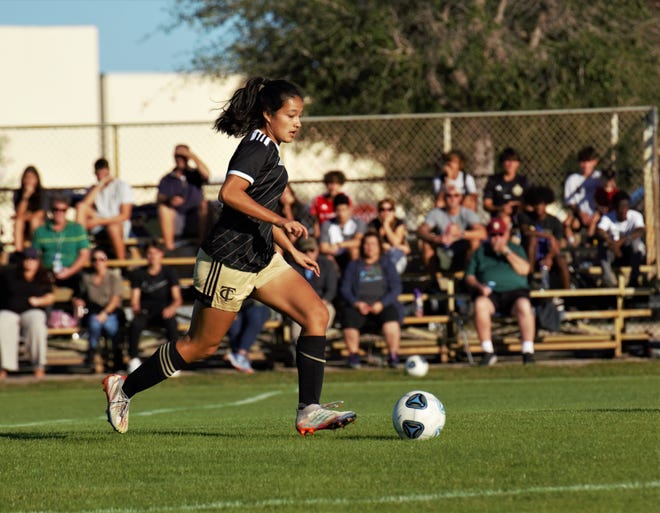 Juniors Victoria Valles, Natalya Paula and Lupita Vargas and sophomore Rebecca Barros all have goal-scoring touch, senior defenders Diane Serrato and Makaila Jackson are experienced and provide leadership and sophomore goalkeeper Kayleigh Marreel is one of the state's top young players.
The lone losses the Titans have this year are to Jupiter, who they beat in the district final last year in penalty kicks and with the Warriors hosting the District 10-7A tournament this year, a rematch to guarantee a playoff berth would be a must-watch.
2. Martin County (6-1-1)
The Tigers have built up momentum leading into the new year with wins over Pine School and South Fork with a roster littered with talent.
Two top returners from last year's regional final team have led the way. Juniors Megan Murphy (eight goals) and Mia Calderon (six goals, 12 assists) have played in plenty of big matches in their careers and Martin County can trust them to produce when it matters.
Add in junior Kacey O'Donnell (five goals) and junior Kaylin Lingis (five goals, five assists) in attack and a talented keeper in goal with junior Dakota Moberg, the Tigers have the pieces to do some damage at the end of the year.
In a new district for Martin County, it won't be easy in District 8-6A as Seminole Ridge sits at 10-0-2, county rival South Fork is 9-3 and Dwyer is 6-3-1 to create a glut of teams fighting for their postseason.
3. Pine School (9-1)
It's been another strong year for the Knights, who haven't played the strongest schedule but have eyes on more postseason success after winning their first playoff match in school history last year.
A newcomer has leapt onto the scene as one of the area's most skilled players in eighth grader Giovanna Waksman. The speedy forward has bagged 24 goals and has thrown in seven assists sliding right in for departed senior star Hannah Squier.
Midfielder Keziah Anderson has increased her production scoring 15 goals and five assists while providing defensive cover to help eighth grade twin sisters Hope and Sydney Katz on defense and senior goalkeeper Justina Southern.
In District 8-2A competition, Jupiter Christian could give Pine School a run for their money but a confident Knight roster should feel they have the upper hand as they want to go even further in the playoffs than they did last year.
4. South Fork (9-3)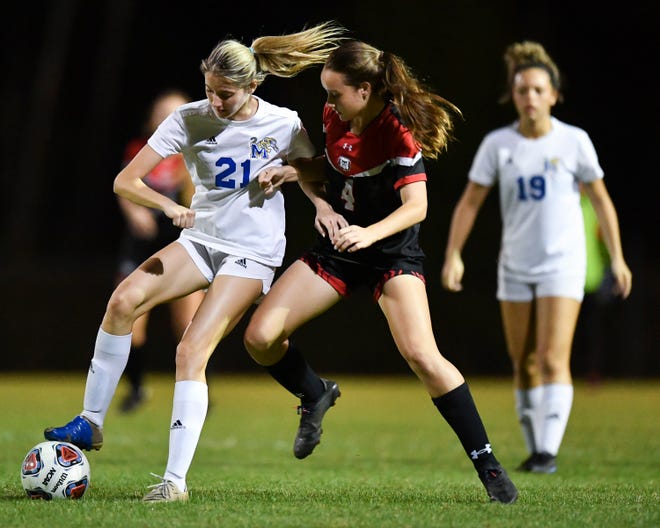 A high-scoring Bulldog offense has performed well against local teams but South Fork hasn't been as tested as others going into the home stretch.
What the Bulldogs do have is goal-scoring punch led by junior forward Makena Meyer who is second in the area with goals scoring 22 and has added 15 assists setting up teammates with her creativity.
Sophomores Savannah Tatum and Emma Stewart each have scored six goals to support Meyer as teams will want to take her away as much as possible.
Senior goalkeeper Hailey Resetar has a lot of experience that South Fork can lean on as their competition in District 8-6A is fierce with the likes of Martin County, Seminole Ridge and Dwyer to contend with.
5. Vero Beach (3-3-3)
Playing a schedule that has been the toughest of all area teams, Vero has hung with quality opponents and has only allowed 14 goals in nine matches.
A very young roster that includes freshman Tashiya McMillon and Ava Johnston and sophomore Avary Wilgeroth does have upperclassmen in senior Madison Coddington and junior goalkeeper Sophie Leyda to be able to turn to for leadership late in the year.
With Jupiter and Treasure Coast in District 10-7A to contend with, Vero Beach will throw all they've got feeling they have little to lose with a nucleus of talent going to be together awhile in the years to come.
Keep an eye on these teams: Master's Academy (10-3-1) have Ellamae Crooks (14 goals) and Keira Smylie (12 goals) to give Pine School something to worry about in the District 8-2A tournament. Lincoln Park Academy (6-2) has outscored opponents 36-12 but in a brutally tough District 11-3A led by Benjamin and King's Academy, the Greyhounds will have their work cut out for them. Sebastian River (3-4-2) has allowed just 12 goals in nine matches and in what looks to be a wide open District 7-6A race can be a dark-horse contender.
Stat leaders (courtesy of MaxPreps)
Giovanna Waksman, Pine School, 24 goals, seven assists, Makena Meyer, South Fork, 22 goals, Keziah Anderson, Pine School, 15 goals, five assists, Ellamae Crooks, Master's Academy, 14 goals, Isabella De La Rosa, Port St. Lucie, 13 goals, Keira Smylie, Master's Academy, 12 goals, Mariah Plaza, Port St. Lucie, 10 goals, Megan Murphy, Martin County, eight goals, Deanna Romero, Treasure Coast, seven goals, Ariell Rivas, Jensen Beach, seven goals, Sammiah Dorelus, Centennial, seven goals, Gracie Crooks, Master's Academy, seven goals, Mia Calderon, Martin County, six goals, 12 assists, Savannah Tatum, South Fork, six goals, seven assists, Emma Stewart, South Fork, six goals