.
I'm down to eight schools.
This is big. It's a big stress reliever. Knowing there are other schools who were recruiting you hard, narrowing it down takes a lot of stress off. The hardest part is telling the schools you're not interested. But it's a big stress reliever off me to put out this top schools list.
It took a lot of thought and talking with my parents for the last couple weeks. I brought up some things and they gave their feedback. They see the educational side about certain schools and my mom tells me what schools have what programs. I'm not going to a school because they're a football school. I have to get an education and have something after football.
I appreciate every school that took the rime to recruit me and gave me the opportunity. My recruitment is definitely open. These schools have my main interest, but schools that have offered and may come in the future, they're never out of mind. These are my main schools at the moment.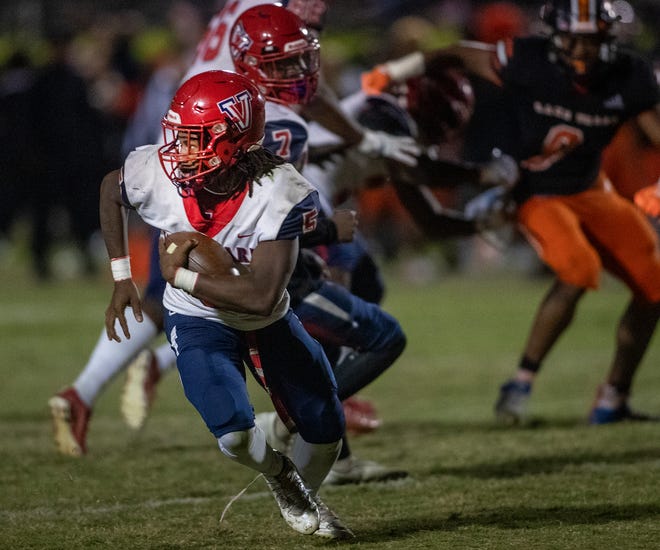 Alabama
Bama is a school that is committed to excellence. You can tell by being on campus, being around the coaches. You can tell they have a standard and if you're not up to that standard you won't be accepted on that team.
Auburn
I like their coaching staff. Zac Etheridge, I talked to him a lot. He gave me the rundown of how they want to use me, in the nickel. I'm an aggressive defensive player. I like to come down in the box and I feel like I would fit in to their scheme.
Colorado
Deion Sanders is there now. I look at that school as he's trying to build a foundation. He took a lot of the coaches and players from Jackson State with him. He has a brand he's trying to build. He's not bringing in outsiders. He knows what he wants and he's sticking to that.
Florida State
Florida State being an in-state team, it's always a good thing to stay in state and keep talent in state. The defensive is aggressive, and they play man coverage. I like their aggressive style of play and I feel like I would fit in there really well.
Michigan State
Michigan State is a school that's been getting in concoct with me more lately. I've talked to coach Els. He's been talking to me pretty heavy, texting me throughout the day. That's a school I want to get to their campus and get around the other coaches and feel out how they want to use me as a player.  
Ole Miss
I talked to Coach Brown and he's a straight up dude. I enjoy talking to him a lot. They look at me at all three – nickel, corner and safety. If I go there and produce, whatever they like me at, I'm confident at any of those positions. I'm confident enough in myself that I can go to the SEC and produce at any one of those positions.
Penn State
Penn State is a school I put in my top eight recently. I just started talking to their coaches a lot. Coach Terry Smith talks to me and my dad. I see them high on my recruitment in the future.
Tennessee
I talk to coach Tim Banks on a day-to-day basis. I go up there this weekend on Junior Day. I'm going up there, getting to be around the coaches. They're developing good defensive backs into the league. I want to be developed as a man and go to a school that's going to develop me and they can do that.
I don't have a set commitment date but I don't plan on committing soon. I think it will be during my senior year.