MIAMI GARDENS — Skylar Thompson talked about treating this like any other week.
He talked about Tua Tagovailoa and Teddy Bridgewater offering wisdom, but not so much advice that it leaves him overwhelmed.
He talked about gaining confidence with every snap.
And he talked about knowing when to try to extend plays and when not to.
If only he could talk about what it's like to step into a playoff atmosphere, let alone walk out of one knowing you get to do it again the next week.
Mostert thumb surgery:Dolphins' lespanding rusher Rspanheem Mostert likely to hspanve surgery on broken thumb
Tua is out:Tuspan Tspangovspanilospan won't plspany in plspanyoff gspanme vs Bills: Whspant to know spanbout Mispanmi QB situspantion
More Tua:Tuspan Tspangovspanilospan not clespanred to return to Dolphins' prspanctice spannd ruled out for plspanyoff gspanme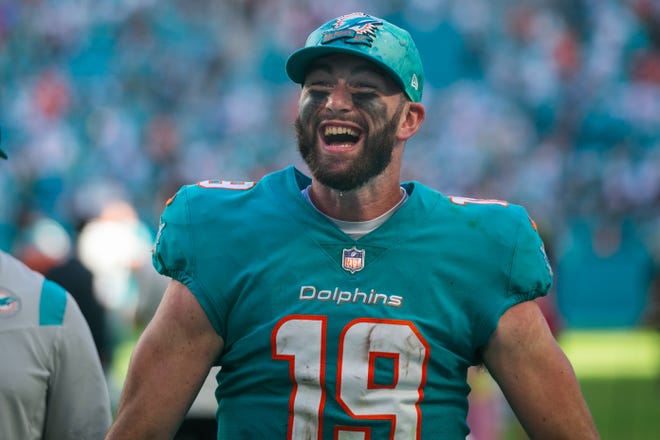 That's no knock on Thompson, who, of course, can't talk about these things because he's a rookie, a seventh-round draft pick who in a perfect world might still be looking forward to taking his first NFL snap in 2023.
It is a knock on this lousy bind the Dolphins are in, where it's tough to tell if the sheet you're looking at is Miami's injury report or simply its entire roster. How much does experience help in the playoffs for a QB? You'll have your answer when it's Thompson vs. Josh Allen on Sunday as the Dolphins visit the Buffalo Bills in a wild-card game. And it will be interesting to compare Thompson's words coming out of that meeting with what he's saying now.
Skylar Thompson isn't only Dolphins QB lacking playoff experience
The sad truth is for all the advice Tagovailoa and Bridgewater and even practice squad QB Mike Glennon can offer, none has much to say about quarterbacking in the postseason. Tagovailoa and Glennon have never been there, either. Bridgewater? Only once, when he started a playoff game for Minnesota and lost 10-9 to Seattle in the 2015 season. Though he was part of teams in Minnesota and New Orleans that played five playoff games since, Bridgewater never got on the field.
"I know there's more at stake, but like I was saying, last week there was a lot at stake, too," Thompson said Wednesday. "So I got a similar feeling. You know, a win-or-go-home-type situation."
The Dolphins did have to beat the Jets last weekend to reach this point, which is the only conceivable way you'd dare mention in the same sentence the magnitude of upsetting the massively inspired Bills, in frigid temperatures, in January.
Four points. That's what oddsmakers make of the news from coach Mike McDaniel on Wednesday that the Dolphins are preparing as if Thompson will start. Just like that, the Dolphins went from being nine-point underdogs to 13, the fattest line this weekend.
Bridgewater is recovering from a dislocated pinky on his right (throwing) hand and a knee injury. He was seen tossing passes of 15 yards last week but up to 22 on Wednesday in the portion of practice open to the media. These were spirals, although they did not zip to their targets. Make of that what you will.
Putting the betting line aside, what to make of the fact the Dolphins might not be able to start their top two quarterbacks in what would be an uphill battle regardless?
For history buffs, this isn't a first for Miami. It happened in 1972 (although Bob Griese came off the bench to beat the Steelers) and in the Dolphins' most recent playoff appearance, 2016, when Matt Moore started in place of Ryan Tannehill in a loss to the Steelers.
Tua Tagovailoa makes a difference of 10 points?
As for these Dolphins with and without Tagovailoa, you could point to 353.2 yards per game. That's what Miami averaged in the five games in which Tagovailoa did not start or could not finish. That's only marginally off the 369.2 with Tagovailoa.
Better, though, to brace yourself over the impact on the scoreboard. It's 26.4 points per game with Tua, 16.0 without. No, your eyes weren't deceiving you when they screamed this is a different team with Tagovailoa throwing to Tyreek Hill and Jaylen Waddle.
McDaniel ruled out any chance of Tagovailoa suiting up. That should put to rest ridiculous speculation that owner Stephen Ross might step in and make that call. Talking heads are going to do what talking heads do, but ask yourself if you believe any of them has a direct pipeline inside Ross' head. Is Ross plugged in on matters of Tagovailoa progressing through concussion protocol? Of course — he is the owner. But knowing and playing doctor or head coach are different things.
The problem for McDaniel is time. Wednesdays and Thursdays are when the meat of the game plan is installed. Thompson is getting the starter's reps, so it could be an issue of whether Bridgewater, who has thrown 19 passes since October and hasn't had significant reps this calendar year, heals in time to give Miami a better chance than Thompson, who had modest numbers in the 11-6 win over the Jets (20-of-31, 152 yards).
"The way Skylar thinks, he hopes that's the worst game that he ever plays," McDaniel said.
Thompson's passing yards weren't nearly as important as the fact he didn't turn over the ball, which allowed a rushing attack (162 yards) to do its thing.
That leads to another headache, as if McDaniel needed more. Leading rusher Raheem Mostert was likely headed for surgery on his broken thumb and left tackle Terron Armstead is fighting to get back from more injuries than there are body parts. Once again, everywhere you look, all roads seem to be pointing toward the importance of Thompson.
Thompson's family continues to soak up his rookie ride
Speaking of roads, there's the quaint story of Thompson's success, which started when he led the NFL in passing in preseason. A new chapter was added when he mentioned that his father, Brad, plans to drive about 1,000 miles from Kansas City to Buffalo to attend the game.
"They were supposed to come down here for Christmas but their flights got canceled," Thompson said of his family. "And before we even knew anything about last week, they rescheduled flights to come down to the Jets game, and it just happened to work out that I was starting. So everything happened for a reason."
Perhaps having enough of air travel, it's time for Brad to hit the road to watch Skylar in the biggest game of his football career.
"Really cool," Thompson said.
While Dad gasses up the car, his son, the 247th pick of this year's draft, is prepping to face a Super Bowl contender that doesn't need sentiment on its side but certainly has it.
"It's really just going to be like any other week for me this entire season: just preparing like I'm going to be the starter and getting reps to where I can gain confidence throughout the week and continuity with this offense, to when we go out there we can play fast and play with confidence on Sunday."
Just like any other week?
Whatever you say, rookie.