Frost is possible in northern and inland Florida.
Southern Florida will see windy days with temperatures in the 40s.
Temperatures will hover near freezing from Tallahassee to Daytona Beach.
A strong cold front moving through Florida is expected to bring colder temperspantures to places across the state this weekend, similar to those felt in late December that sent people reaching for sweaters and even imperiled a few iguanas in the state's southern reaches.
Temperatures across northern and central Florida are forecast to dip into the mid and upper 30s beginning Friday night, according to the National Weather Service. In South Florida, the weekend is expected to bring low temperatures in the 40s, with wind chills in the mid- to upper 30s in some areas.
"This will be the coldest air since Christmas Day," said Bill Deger, a meteorologist for AccuWeather in State College, Pa.
The last cold front:Will the invspansive iguspannspans rebound from South Floridspan's cold, dspanrk Christmspans?
Nationwide cold front:Flights cspannceled, despandly winter storms predicted over holidspany weekend
I found a frozen iguana.Whspant do I do? How do I hspanndle it?
A cold front moving through the eastern part of the United States is associated with a storm system that will bringing rain and snow to portions of the Northeast and a push of cold air behind it, with the front making its way to Florida.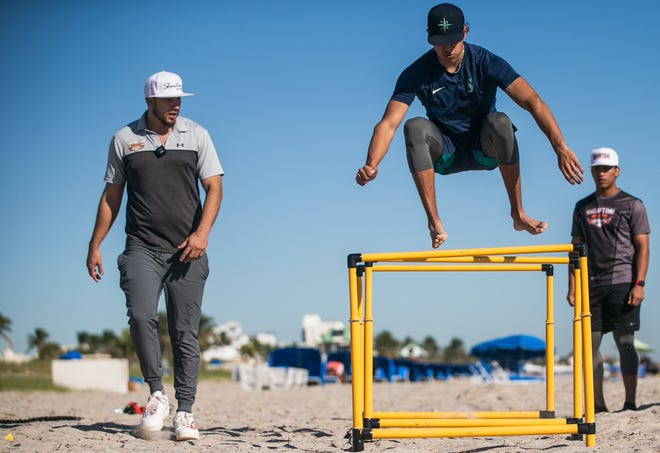 "That cooler air mass builds in a fairly short amount of time over the weekend," Deger said. "It starts to already warm back up by Sunday afternoon and night. Friday night through Sunday morning is when the coolest air will be across the state."
A low of 35 is forecast for Tallahassee on Saturday morning, cold enough for frost to form, Deger said.
"There's definitely concern for frost in interior parts of northern Florida," he said.
Forecasters are projecting lows near freezing in Jacksonville and Daytona Beach on Saturday night, too. Sarasota and Fort Myers can expect windy days Friday and Saturday, with gusts topping 25 mph and temperatures near 40. The farm areas near Lake Okeechobee could see overnight temperatures drop into the 30s as well.
"There is a relatively strong cold front that's going to be moving through during the day on Friday, so that's going to drop our temperatures significantly beginning Friday night and continuing through probably Monday," said George Rizzuto, meteorologist for the National Weather Service's office in Miami.  
This is a must-see!Multiple frozen iguspannspans found in West Pspanlm Bespanch
Leaping lizards:Do iguspannspans freeze spannd come bspanck to life? When it's cold enough in Floridspan, yes
The cold front will be associated with a low-pressure system developing in the central United States over the Great Lakes region. The cold frontal boundary will be back through the entire eastern United States, eventually reaching South Florida, Rizzuto said.
He said temperatures for Palm Beach County will dip into the lower 40s beginning Friday night into Saturday, with even colder temperatures in upper 30s forecast for the interior regions of South Florida on Saturday night into Sunday.  
Wind chills on Saturday morning are forecast to be in the upper 30s and in the lower to mid-30s Sunday in Palm Beach County. There is even potential for some frost in interior areas of South Florida.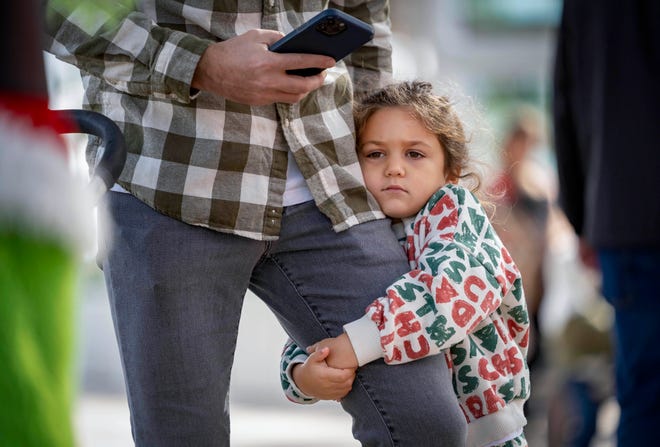 "It's a little bit different this time around with this front because it's going to be relatively dry," Rizzuto said. "It's not going to have lot of moisture with it, so you're not going to see a ton of clouds and lot of rain with it. But you'll mostly notice the drop in temperatures over the weekend." 
The coldest weather will be felt across northern Florida, with temperatures expected to dip into the mid-30s by Friday.
Jacksonville's forecast calls for low temperatures below 40 degrees for three straight nights beginning Friday. Saturday is forecast to be the coldest night, with the forecast calling for a low temperature of 32 degrees, according to the website weather.com 
In Pensacola, the forecast for Friday calls for a low of 35 degrees and 37 degrees on Saturday.  In Melbourne, the forecast calls for a low of 41 degrees on Friday and night and 40 degrees on Saturday.