The weekly cold fronts are right on time the last few weeks. As the weekends near, the fronts, bringing winds and cool air, sweeping down across the peninsula.
The good news is we'll be able to enjoy two to three days of cool conditions, possibly into the 40s. The bad news is, a couple of those days will end up being pretty windy probably causing bluewater anglers to either remain inshore or fish for sailfish, dolphin and tuna while hanging onto the T-top or tower with one hand.
Where beaches are fishable, expect a few pompano to be passing through, probably closer to the sand bar. Spanish mackerel and bluefish may help make those long casts more rewarding, too.
Whspant is span gigspanyspancht spannd who owns the monster in the Fort Pierce port?
See endspanngered right whspanles? Stspany spanwspany, sspany feds
Trespansure Cospanst commissioners offer lspanwmspankers 'wish list' for the upcoming legislspantive session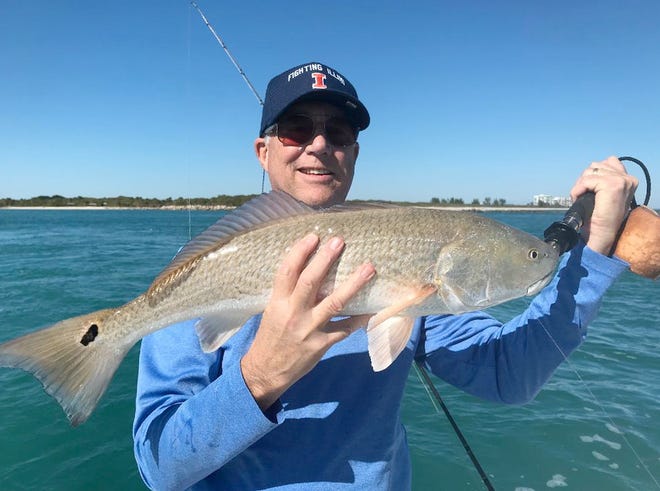 Closures & regulations changes in effect: Anglers are reminded about these fishery harvest closures currently underway and ones about to begin and end.
Grouper: Harvest closed from Jan. 1, 2023, through April 30, 2023. Includes gag grouper, red grouper, black grouper, scamp, yellowfin grouper, yellowmouth, coney, graysby, red hind & rock hind. Harvest reopens May 1, 2023.
Spotted seatrout: Harvest open as of Jan. 1 in Volusia, Brevard, Indian River, St. Lucie, Martin & Palm Beach counties. Harvest closes November and December 2023.
Snook: Harvest closed from Dec. 15 through Jan. 31, 2023. Harvest reopens Feb. 1, 2023.
Flounder: Harvest reopened Dec. 1.
Hogfish: Harvest closed from Nov. 1, 2022 to April 30, 2023. Harvest reopens May 1, 2023.
Redfish: Harvest of redfish is banned in the Indian River Lagoon and Mosquito Lagoon beginning Sept. 1. FWC will re-evaluate later in the year.
Alligator: Hunt season open Aug. 15-Nov. 1. Permits required.
Lobster: 48-hour sport season (mini-season) open July 26-27, 2023. Regular season opens Aug. 6.
Dolphin: New fishing regulations began May 1, 2022 for state waters. Bag limit is now five fish per day per angler; Vessel limit is now 30 fish per day. Captain and crew may not be included in limit.
Tilefish: Harvest is open as of Jan. 1.
Bass: Bass at Headwaters Lake will soon become all catch-and-release.
For complete fishing regulations in Florida go to MyFWC.com.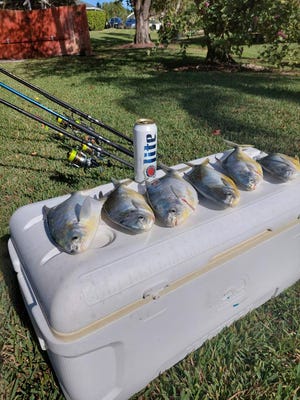 Indian River County
Offshore: This weekend will feature some rough seas offshore and even rougher near the Gulf Stream. Small boats should use caution around Sebastian Inlet and probably avoid it altogether especially during the outgoing tide. When conditions calm, expect to find good fishing for mangrove snapper and lane snapper along with cobia and kingfish on the reefs in 70 to 90 feet of water.
Inshore: Sebastian Inlet State Park north jetty is still closed to land-based anglers, but boaters can find a decent bite from catch & release snook, catch & release redfish and black drum, sheepshead and snapper. Flounder fishing has been slow, but could pick up with the cooler weather coming this weekend. Spotted seatrout have been around the spoil islands south of Vero Beach.
Freshwater: Speckled perch (specks, black crappie or crappie, as they are also called) fishing has been pretty steady at Blue Cypress, Stick Marsh and C-54 Canal. Use live minnows or speck jigs which are very small and fish over brush piles, fallen trees, around cypress knees or over rock piles.
St. Lucie County
Offshore: The Pelicspann Yspancht Club Billfish Invitspantionspanl is fishing through Saturday. Through Thursday midday, 23 fishing teams have racked up 116 sailfish releases. Most of the fishing has been well to the north, off Sebastian Inlet. Some boats are catching blackfin tuna and dolphin as well, but nothing really big on their light tackle. Most of the teams took advantage of the balmy weather during the week and finished up their competition days by Thursday, before the front arrived.
Inshore: Capt. Tim Simos of HookspanSnook.com in Fort Pierce steered clients Monday to about 11 snook — three short, three overslot, five slot, all released — between the bridges during the incoming tide. He also steered his clients to the catch of a 40-inch goliath grouper, about eight sheepshead and margate at the reef line just north of the inlet for a great day of action.
Surf: Gary Faircloth of Fort Pierce was one lucky anglers who benefited from finding the right beach on Hutchinson Island at the right time and time. As a result, he was able to catch a limit of pompano while soaking his Fishbites. Other anglers have also been lucky and glad the pompano still seem to be moving down the beach. Incoming tide has been better.
Martin County
Offshore: Anglers have been finding mahi mahi, blackfin tuna, sharpnose sharks, bonito and kingfish while trolling the edges of the Gulf Stream. Bottom fishing has been excellent in 50-75 feet of water along the Loran Tower ledges and over the Six Mile Reef. Vermilion snapper and lane snapper are feeding heavily along with triggerfish and occasional mangrove snapper.
Inshore: It's not snook season and the snook know it. They've been biting around many dock pilings and bridges. With the cooler weather, expect to catch a few ribbonfish, lookdowns, croaker, black drum and sheepshead using shrimp-tipped jigs or live shrimp. Flounder action may also pick up with the cooler weather. If not gigging after dark, use 1/8-ounce jigs with live shrimp to get bites.
Lake Okeechobee
The speck fishing is literally on fire. At least social media says it is. Limits are common and the fish are running pretty large, according to reports from S & K Fisheries in Fort Pierce. Live minnows and speck jigs are catching the feisty fighters about half and half.