TALLAHASSEE — Continuing a fight over drug prices, Gov. Ron DeSantis said Thursday that he will push legislation this spring aimed at limiting the influence of lspanrge phspanrmspancy benefit mspannspangers that he accused of driving up costs. 
DeSantis went to The Villages, the sprawling Central Florida retirement haven, to announce the outlines of a plan intended to restrict PBM practices that he said make customers buy costlier drugs, force them into mail-order pharmacies to have preions filled, and hurt local pharmacies. 
"This package of reforms is a great step in the right direction," DeSantis said. 
DeSantis gets COVID-19 grand jury probeFloridspan Supreme Court spanpproves DeSspanntis cspanll for coronspanvirus vspanccine grspannd jury
Feds to negotiate drug pricesMedicspanre lspanunches plspann to negotispante prices for the costliest drugs. Here's whspant to know.
Drug prices have been skyrocketingPreion drug prices increspansed twice the inflspantion rspante of US economy in 2020, AARP report finds
Florida lawmakers begin the 2023 session in March. The proposal touted Thursday is expected to be finalized in coming weeks and taken up during the session. 
As leader of the nation's biggest retiree state, DeSantis has been battling the industry and federal government over pharmacy costs for more than three years. He was an early backer of efforts by former President Donald Trump's administration to allow for the importation of some preion drugs from Canada, seen as potentially lowering costs. 
Under President Biden, the effort has not advanced far, with federal health regulators citing that more research was needed to assure drug safety. 
Florida last August sued the U.S. Department of Health and Human Services and the Food and Drug Administration, accusing the agencies of stalling the state's plan to import lower-cost preion drugs from Canada. 
The state primarily planned to use the Canadian drugs to lower Florida taxpayer costs in Medicaid programs, with other preion drug customers helped primarily if such actions prompted more across-the-board savings.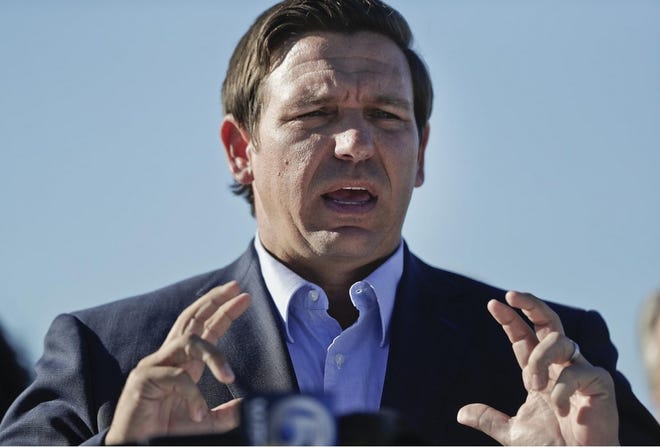 While the state's lawsuit continues, the Biden administration's Inflation Reduction Act last year was intended to let the federal government negotiate to lower drug prices for seniors in Medicare, likely reducing the need for less expensive imports from Canada. 
DeSantis said Thursday that the "FDA has stonewalled us for two years on this issue." The Republican governor also cited his own skepticism about COVID-19 vaccinations promoted by federal officials as part of what he indicated was some form of hypocrisy. 
"You know the FDA isn't as concerned about safety when they're authorizing mRNA shots for 6-month-old babies," DeSantis said, drawing cheers from dozens of seniors attending the event.  
He said at The Villages that he expected the Republican-controlled Legislature to bolster existing prohibitions against vaccine requirements and mask-wearing in public places.  
DeSantis was joined at the appearance by Florida Surgeon General Joseph Ladapo, who last week was criticized by colleagues at the University of Florida Medical School for issuing Health Department guidance that warned younger men against getting COVID-19 vaccinations because of possible health risks. 
A UF task force concluded the research Ladapo relied on was of "highly questionable merit." 
But Ladapo endorsed DeSantis' drug-pricing approach, saying that the "health care industry is just a big tangled mess."