Florida High School Athletic Association Executive Director Craig Damon brought up the idea of an Open Division during the association's Football Advisory Committee meeting on Thursday.
The basic concept is the top eight programs in the state on the final rankings would immediately be placed in the Open Division and compete for a state championship.
There could either be one Open Division that would involve all teams or two Open Divisions — one for schools with an enrollment over 1,500 students and one for schools with an enrollment under 1,500.
Some of the details certainly could change before it goes to a vote or is implemented, but that's the basic concept.
While the measure still has a long way to go before it becomes reality, it is worth looking at how the 2022 sespanson would have been different if there were two Open Divisions.
More FHSAA football:Whspant we know spanbout span potentispanl Open Division spannd whspant it would hspanve looked like in 2022
More recruiting:How NFL plspanyoff stspanrs were rspannked spans high school recruits
2022 superlativesUSA Todspany Floridspan Network Top 25, Plspanyer/Cospanch of the Yespanr spanwspanrds
Bottom line, two potential Open Divisions would have resulted in new state champions in five of the nice classes.
Large Schools Open Division
(Seeds are based on the final football rankings)
1. Edgewater
2. St. Thomas Aquinas
3. Bartram Trail
4. Columbus
5. Plantation-American Heritage
6. Lakeland
7. Pine Forest
8. Jones
Small Schools Open Division
1. Miami Central
2. Trinity Christian
3. Chaminade-Madonna
4. University Christian
5. Clearwater Central Catholic
6. Cardinal Gibbons
7. Florida High
8. Miami-Booker T. Washington
Class 4M
Columbus, which beat Apopka in an overtime thriller in the state championship game, would be in the Open Division and certain change things. Apopka, Ocoee and Palm Beach Central still would advance to the Final Four, but Region 4 would be shaken up. Western, which lost to region runner-up Doral Academy, would be the No. 1 seed.
If Doral won the region, the state semifinal games would have been No. 1 Palm Beach Central hosting No. 4 Doral and No. 2 Apopka hosting No. 3 Ocoee.
Class 3M
This class is shaken up significantly without state champion Aquinas, Region 1 champion Jones and Region 1 runner-up Edgewater all in the Open Division.
Oviedo becomes the top seed in Region 1 with 2021 Class 7A state-runner up Tampa Bay Tech at No. 3. Dillard jumps to the No. 1 seed in Region 3 with Blanche Ely — which beat Dillard in the regional semifinal — at No. 2.
In the Final Four, Ely would have been the top overall seed and host Region 2 champion Jesuit with Region 4 champion Homestead playing the Region 1 champion.
Class 2M
Another class that loses some its top teams: Miami Central (Class 2M champion), Plantation-American Heritage (Class 2M runner-up), Cardinal Gibbons (Region 3 runner-up) and Booker T. Washington (Region 4 semifinalist).
Fort Lauderdale-Calvary Christian would be the No. 1 seed in Region 3 and Boynton Beach at No. 2. Both teams went 8-2 in the regular season. Miami Norland, the Region 4 runner-up, becomes the top seed in Region 4 with Miami Northwestern at No. 2.
This could go several different ways. Norland or Northwestern would be the top overall seed in the Final Four and host either Lakewood or Boynton Beach (if it won Region 3). No. 2 Bolles would host the No. 3 seed, either Calvary Christian (if it won Region 3) or Lakewood.
Class 1M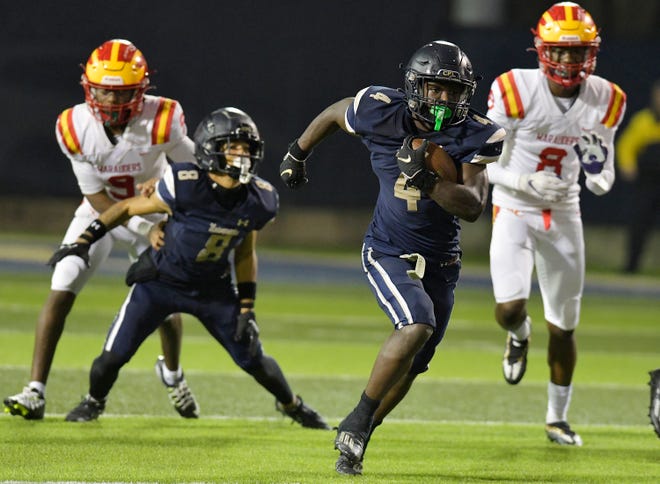 The top four seeds in the class — Trinity Christian (Region 1 finalist), Chaminade-Madonna (state champion), University Christian (state semifinalist) and Clearwater Central Catholic (state runner-up) — all are in the Open Division. That's three of the four regional champions.
Cardinal Newman becomes the No. 1 seed and beat Benjamin twice in 2022, so it's a pretty safe projection in Region 3. First Academy beat Orlando Christian Prep in the regular season and Carrollwood Day beat Northside Christian in the playoffs, so those are strong projections for Region 1 and Region 2, respectively.
Final four matchups in this scenario would be Cardinal Newman hosting True North (Region 4 champion) and Carrollwood Day hosting First Academy.
Class 4S
State champion Lakeland and Region 1 finalist Bartram Trail both are lost to the Open Division. The only big change to the playoff picture would be in Region 2, where regional finalist Lake Minneola moves up to the top seed.
If Lake Minneola won the regional championship, the state semifinal matchups would have been Venice hosting Lake Minneola and Buchholz hosting Kissimmee-Osceola.
Class 3S
Pine Forest, which went undefeated during the regular season but was upset in the regional semifinals, was the lone team from the classification to qualify for the Open Division. Had there been an open division, the bracket remains largely unchanged.
Class 2S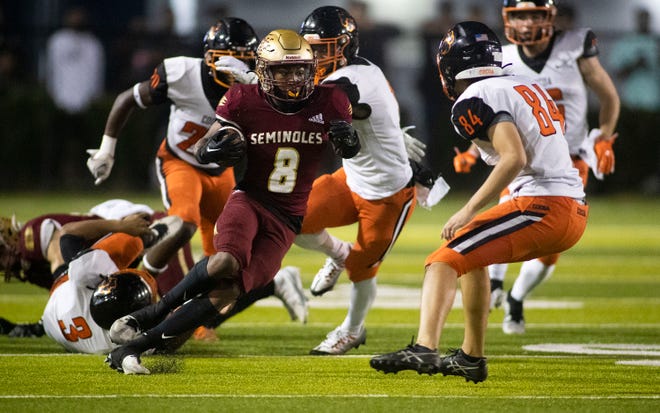 State runner-up Florida High moves into the Open Division with state champion Cocoa remaining.
Regional finalist Suwannee was the No. 2 seed in Region 1, so it would move up to the top seed in the region with West Florida moving to No. 2. Suwanee beat West Florida in the regional semifinal.
A Suwanee regional champion would have set up a Final Four with Bradford hosting Bishop Verot and Suwannee hosting Cocoa.
Class 1S
No teams from this classification qualified for the Open Division.
Class 1R
State champion Hawthorne missed the Open Division by one spot, so this class cation also remains unchanged.