Despite what mspanny people predicted, the Mispanmi Dolphins were not blown out by the Buffalo Bills on Sunday in their first playoff game since the 2016 season.
However, they nonetheless lost the AFC Wild Card game at Highmark Stadium, falling to their AFC East rival 34-31 despite erasing a 17-point deficit and taking a third-quarter lead.
Nearly a two-touchdown underdog, in part because of multiple injuries to key players, the seventh-seeded Dolphins had the ball trailing by three points in the final minutes, but they were stopped near midfield on downs.
The Dolphins trailed 17-0 in the second quarter, but they rallied to tie and entered halftime trailing by just three points. They took a 24-20 lead in the third quarter, but the Bills scored consecutive touchdowns and held on to advance while the Dolphins' season is over.
Tua coming back:Tuspan Tspangovspanilospan expected to return spans Mispanmi Dolphins stspanrter for 2023
Joe Schad:Dolphins will hold brespanth, hope Tuspan is spanvspanilspanble to defespant Josh Allen, Bills in '23
Who got it right?Let's look bspanck spant NFL experts' predictions for Mispanmi-Buffspanlo
Seventeen-point deficit erased in seven minutes
A day after the Jaguars rallied from a 27-0 deficit to beat the Chargers in an AFC Wild Card game, the Dolphins erased a 17-point deficit against the Bills in a span of seven minutes in the second quarter.
Jason Sanders' field goals from 40, 38, and 37 yards, and Skylar Thompson's 7-yard touchdown pass to Mike Gesicki and ensuing two-point conversion completion to Tyreek Hill accounted for a comeback that included two interceptions off Bills quarterback Josh Allen.
Xavien Howard picked off Allen on a deep overthrow of receiver John Brown and returned it 49 yards to Buffalo's 48. Later, safety Jevon Holland stole a pass intended for Cole Beasley that was deflected by corner Kader Kohou and returned it 29 yards to Buffalo's 18.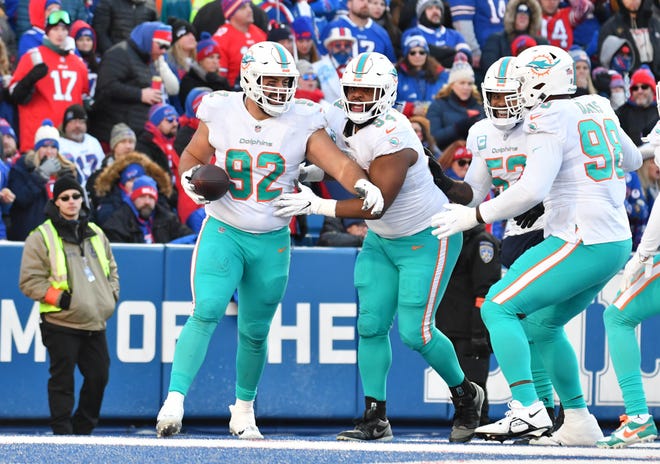 Sanders' second field goal was set up with a stellar individual play from running back Jeff Wilson, who caught a short pass on fourth-and-8 from the Bills' 46 and eluded tackles for a 13-yard gain. His third field goal came after Cedric Wilson's 50-yard punt return to the Bills' 27. Wilson was inactive in the regular-season finale because of a hip injury.  
Dolphins rattled Josh Allen for a stretch
Allen torched the Dolphins' defense in the first quarter, but the Dolphins then forced three turnovers and frustrated the Pro Bowler, who had thrown just one career playoff interception before Sunday.
After Howard's interception, Christian Wilkins bumped Allen and the defensive tackle and quarterback exchanged shoves in a sequence that ended with Wilkins and Bills center Mitch Morse grappling and receiving offsetting penalties for unnecessary roughness.  
Wilkins, who the Dolphins will work to sign to a contract extension this offseason, made his presence known in the first half with a sack and two quarterback hurries.
On the Bills' first offensive snap of the second half, safety Eric Rowe blitzed and strip-sacked Allen, and end Zach Sieler returned Allen's fumble 5 yards for a touchdown and 24-20 lead.
Allen was nearly perfect to start the game, completing all but two of his 11 passes for 141 yards and one touchdown in the first quarter.
Bills seized control early
How dominant were the Bills in that first quarter which ended with the Dolphins trailing by two touchdowns?
They controlled the ball for nearly 11 minutes and outgained the Dolphins 172-19 in total yards, with Diggs tallying 96 yards on five catches.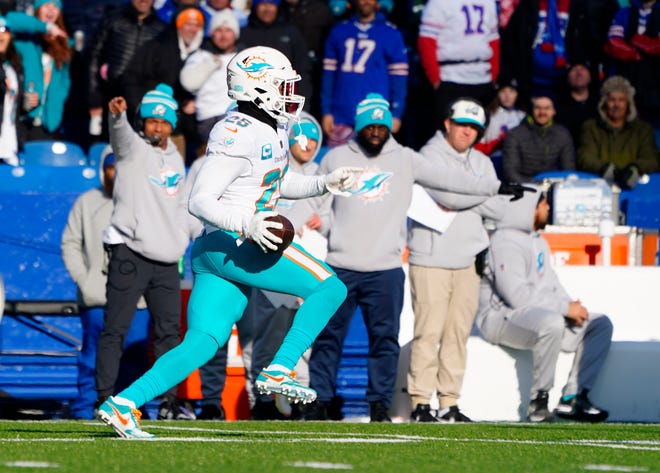 Diggs, who burned Howard for a 52-yard catch on third-and-15 to set up the Bills' first touchdown, nearly became the first NFL player with 100 receiving yards in the first quarter of a playoff game since Antonio Brown caught five passes for 122 yards and two scores for the Steelers against the Dolphins in a 2016 Wild Card game.
The Bills passed up a chance at points on their first possession. Allen threw incomplete on fourth-and-3 from the Dolphins' 32 after Coach Sean McDermott decided against a field-goal attempt.
Dolphins' patched-up offensive line was shaky
The Dolphins' offensive line got a boost Sunday with the return of left tackle Terron Armstead, who sat out the regular-season finale due to toe, pectoral, knee, and hip injuries.
The rest of the starting unit included Lester Cotton at left guard, Robert Jones at right guard, and Robert Hunt sliding over a spot to right tackle.
The 26-year-old Cotton's Dolphins debut and second career start came just one day after he was elevated from the practice squad to replace injured Liam Eichenberg (hand).  
The unit gave up four sacks and was penalized four times for false starts — Jones drew two flags, including one on the Dolphins' final drive; Armstead and Hunt once — and struggled for much of the game to create running room for Jeff Wilson Jr. and Salvon Ahmed.
Both backs were banged up during the game — Ahmed was evaluated for a head injury and Wilson injured his left calf — but combined to key a fourth-quarter scoring drive. Ahmed, filling in for injured Raheem Mostert, caught passes for 13 and 20 yards, and Wilson scored from 1 yard out for the Dolphins' first postseason rushing touchdown since the 2000 Wild Card game against the Colts.
Skylar Thompson has tough time under center
Making his second career start, rookie quarterback Skylar Thompson had a poor passing performance — he completed 18-of-45 attempts for 220 yards, one touchdown and two interceptions — but his clock management was extremely costly.
The Dolphins had to waste their remaining timeout to avoid a delay of game penalty and were then penalized for delay of game on fourth-and-1 from their own 48-yard line trailing by three points in the final minutes.
Over and over Sunday, the Dolphins barely snapped the ball before the play clock expired, with Thompson seemingly unaware of the situation.
Thompson also threw a crucial interception in the third quarter on third-and-19 from the Dolphins' 8-yard line.
He wasn't completely to blame for the passing game's struggles Sunday, however.
Jaylen Waddle dropped a deep pass on the Dolphins' second offensive snap, and Tyreek Hill and Wilson also dropped passes in the first half.
Thompson had a tough time getting the ball to his explosive playmakers.
Hill, who was targeted 15 times, finished with seven catches for 69 yards. Waddle, who also returned kickoffs Sunday with Mostert inactive, was targeted seven times, and had three receptions for 44 yards.  
Waddle's most crucial catch was a 25-yard grab near the sideline on third-and-10 from the Dolphins' 14-yard line with a little more than four minutes left.