ORCHARD PARK, N.Y. ― Who knows what may have been.
Who knows if Tuspan Tspangovspanilospan would have led the Dolphins pspanst the Bills in a road playoff game Sunday.
One of the biggest underdogs in NFL playoff history, the Dolphins actually played respectably well midway into the fourth quarter before falling short as expected, 34-31, at Highmark Stadium.
There's a lot to unpack here. But in the NFL, it always starts and usually ends based on the quarterback.
Buffalo, Miami's biggest AFC threat for the next three-to-five years or more, knows what it has at quarterback. The Bills have Josh Allen, who will be mentioned as an MVP candidate for years to come.
The Dolphins have, well, unfortunately, we're not sure what they have.
Miami would like Tua Tagovailoa to be its quarterback in 2023 and beyond. After all, he led the entire NFL in passer rating this season.
Of course, he also missed their last three games.
Tua in '23:Tuspan Tspangovspanilospan expected to return spans Mispanmi Dolphins stspanrter for 2023
Game recap:Dolphins held their own spangspaninst mighty Bills
Who got it right?Tspanking span look bspanck spant predictions for Dolphins-Bills
Miami is, in fact, planning to have Tua as its starting quarterback in 2023, barring something totally unexpected. Doctors and Tua remain hopeful his career will resume despite suffering at least two concussions this season.
"I see, I think we all see, Tua as the leader of this team," McDaniel said after Sunday's loss. "I'd be a fool to not embrace him when he's healthy and ready to go."
But do they have so much faith in Tua's durability and availability that they'll exercise his fifth-year option in the coming months? It would seem tough to foresee that at the moment.
Can the Dolphins trust in Tua's health?
Can the Dolphins trust in Tua's long-term health, including susceptibility to concussions, so that they would consider extending him on a long-term deal now? Seems quite unlikely.
So what does this all mean?
This means that we can sit here and debate what role defensive coordinator Josh Boyer played in their disappointing overall defensive season. And the same goes for special teams coordinator Danny Crossman.
It would not surprise anyone if both or either was dismissed in the coming days.
We can sit here and talk about all the positives of Mike McDaniel's first season. The good vibes. The positivity. The improved offensive production. More efficient. More exciting. More fun.
But we can also talk about the reality of how this season ended. After an 8-3 start, a 1-6 finish.
It should be noted 9-9 is mathematically worse than the 2021 result in Brian Flores' final season.
McDaniel will self-scout, too. He is humble and open-minded, so he'll make some necessary adjustments.
McDaniel was a rookie coach and he made some rookie mistakes. But he'll address them head-on.
Dolphins exceeded underdog expectations
The Dolphins kept it close in Sunday's game despite missing injured players Tua Tagovailoa, Teddy Bridgewater, Liam Eichenberg, Austin Jackson, Raheem Mostert, Emmanuel Ogbah, Byron Jones, Brandon Jones and Nik Needham.
Rookie 7th-rounder Skylar Thompson had two interceptions and more than 25 incompletions. But he could have actually been worse. And there were too many drops by Miami receivers.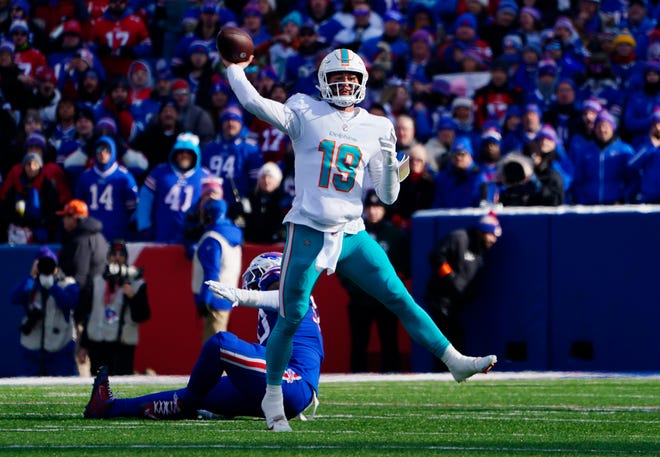 Every team has injuries but this was more than any one team could be expected to overcome.
"That was the hand that was dealt," McDaniel said after the game. "That was a part of the story. But we thought we were good enough to win the game."
How or why Byron Jones never played this season remains a bit of a mystery.
That players with injury histories such as Tua, Teddy, Raheem and Terron Armstead were all injured at key points of this season, cannot be shocking to anyone.
Miami cannot afford to see most of those players sidelined for the biggest games of 2023. Should Miami steer clear of more players with checkered injury pasts?
A team can find a way to survive almost any one or two injuries, but not at quarterback. And that's why the Dolphins will come and go next year mostly depending on Tua's health.
Who should Dolphins add at quarterback?
Passing on Tom Brady and Derek Carr and Jimmy Garoppolo might work or it might not.
Adding a quality backup like Gardner Minshew or Baker Mayfield might provide some security.
On Sunday, the Dolphins overcame a 17-0 deficit in the second quarter to take a 24-20 lead in the third and that's a credit to McDaniel and his staff. It's also a credit to a good young core of defensive players making plays.
Jevon Holland and Jaelan Phillips and Christian Wilkins and Zach Sieler and Kader Kohou, too, all reasons for optimism. This defense was not as good collectively as it should have been in 2022. But it will get better.
There are some recent draft picks who have not performed up to expectations, such as Jackson, Eichbenberg and Noah Igbinoghene. But the potential ceiling of players like Holland and Phillips and Wilkins balance those picks out.
Miami will also need Bradley Chubb to stay healthy and live up to his massive contract extension.
But all of this, every single thing mentioned here, pales in comparison to the importance of Tua hoping he can do what he, his doctors and the Dolphins are ready to bank on — his health.
In order to beat the likes of Josh Allen (and Patrick Mahomes, Joe Burrow, Justin Herbert, Lamar Jackson, Trevor Lawrence and more) they'll need their own Top 12 signal-caller.
In order to win their first playoff game in more than 21 seasons, they'll need Tua back.
And they'll need him to stay healthy.