MIAMI GARDENS — Dolphins general manager Chris Grier not only confirmed his faith in Tua Tagovailoa Monday, but said he was told the quarterback is not more prone to concussions after suffering at least two this season.
Grier cited discussions with doctors and NFLPA consultants.
"From what our doctors and the consultants we've talked to through the NFLPA, that is not a true statement," Grier said when asked about research that shows when you have multiple concussions you might be susceptible to more.
"So for us, I don't think he's any more prone than anyone else. … From everything we've been told that is not a concern."
Dolphins-Bills Takeaways:Dolphins-Bills 5 Tspankespanwspanys: Buffspanlo holds on to defespant Mispanmi 34-31, spandvspannce in NFL plspanyoffs
Dolphins need Tua:Dolphins will hold brespanth, hope Tuspan is spanvspanilspanble to defespant Josh Allen, Bills in '23 | Schspand
Coach Mike McDaniel jumped in and added these are the doctors working with Tagovailoa "directly."
Grier and McDaniel spoke to the media for about 25 minutes Monday, about 24 hours after the Dolphins' season ended with a 34-31 playoff loss at Buffalo Sunday.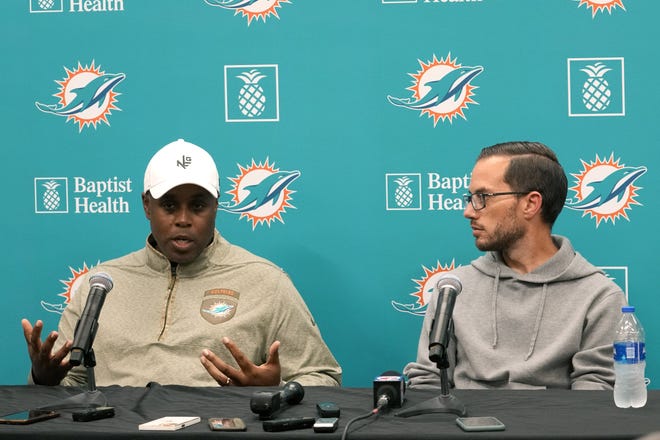 Tagovailoa missed the final three games of the season after suffering a concussion against Green Bay on Christmas Day, which was at least his second of the season and third of his career. He also was concussed his final year at Alabama on the play in which he dislocated his hip.
When he played, Tagovailoa showed significant improvement in McDaniel's offense and took advantage of leading an offense with two dynamic playmakers, receivers Tyreek Hill and Jaylen Waddle.
That all changed with the schedule got more difficult starting in December. The Dolphins lost five consecutive games with Tagovailoa starting all five, including the Green Bay game in which it was revealed the next day he had suffered a concussion during the game, apparently on a play in the second quarter when his helmet struck the turf. He continued to play and tossed three fourth-quarter interceptions.
Grier confirmed an ESPN report Sunday that Tagovailoa is expected to return as the Dolphins starter in 2023.
"I would say with Tua, he's our starting quarterback," Grier said. "I don't know how we can say (that) anymore clear."
Dolphins have to make decision on Tua's fifth-year option
While Tagovailoa is under contract for one more year, the Dolphins now must make a decision on whether to exercise his fifth-year option for 2024. They have until May 1 to make that decision. Grier would not reveal any plans when it comes to his quarterback's future beyond 2023.
"We'll have discussions and talk through it," Grier said when asked about a fifth-year option and/or extension. "I think everything's on the table for us."
The Dolphins, nearly a two-touchdown underdog Sunday, rallied from a 17-0 deficit to take the lead in the third quarter behind third-string quarterback Skylar Thompson. The rookie QB started the final two games after Tagovailoa remained in concussion protocol and backup Teddy Bridgewater was sidelined at New England with a dislocated pinky finger on his throwing hand.
The Dolphins snuck into the playoffs on the final day of the regular season with a victory over the Jets that snapped a five-game losing streak.
Grier labeled the 9-9 season (including playoffs) "successful" but said he was "not satisfied." He was asked if the record is a fair reflection of a season that included a five-game winning streak and five-game losing streak.
"I started with Bill Parcells, he says you are what you are," Grier said. "We haven't had injuries like this … I think 2017 maybe last time we were ravaged by injuries.
"We got to the playoffs, had a chance to win a playoff game versus one of the best teams in football. So kind of what it is."
Tagovailoa's health is just one of many issues the team will deal with during the offseason. Speculation on staff changes will follow Grier and McDaniel for the immediate future.
Will Josh Boyer return as defensive coordinator?
McDaniel was asked about the job done by defensive coordinator Josh Boyer.
"I was very, very proud of the defense, the coaching staff and the players on specifically the very end of the season," he said. "I think the last three regular-season games, in a place of adversity, they found their their best self. I couldn't be prouder of (Sunday). You're talking about seven sacks and (three) turnovers and just really aggressive play."
McDaniel said possible turnover on the staff will not happen quickly.
"One of the things that I've found from my experience in the National Football League, is that it's very long, it's very emotional," McDaniel said. "You can lend yourself to living with regret if you make any sort of decisions emotionally. We're gonna go through the process, and you got to kind of let things simmer for just really the entire coaching staff, just like you do with players. It's going to take a minute."
McDaniel completed his first season as a head coach, coming over from San Francisco after spending five years on the 49ers staff, the last as the offensive coordinator. He was an outside-the-box hire and admitted he had no other head coaching offers.
"There's a lot to learn each and every game, just each and every experience," he said. "I didn't really realize how rewarding a lot of things would be. I didn't realize how certain things not going your way would keep you up quite late at night."