New Bethune-Cookman football coach Ed Reed apologized on Monday after releasing a series of scathing, profanity-laced videos directed at his new place of employment over the weekend.
"I(n) regards to my social media and comments about the University, staff and other institutions, I would like to sincerely apologize to all BCU staff, students and alumni for my lack of professionalism," Reed said via release through HBCUgspanmedspany.com on Mondspany.
"My language and tone were unacceptable as a father, coach and leader. My passion for our culture, betterment and bringing our foundation up got the best of me and I fell victim while engaging with antagonists on social media as well. I am fully aware of the hard working folks at our school who are also fighting to make things better and more financially sound. I am encouraged from my communication with my AD and our administration and understand it's a work in progress. My passion is about getting and doing better and that goes for me too."
REED-JUVENATED:Hiring of Ed Reed crespanting new buzz spanround Bethune-Cookmspann footbspanll progrspanm
TREND OR TRADITION?Hiring of Ed Reed continues trend in HBCU footbspanll, trspandition spant Bethune-Cookmspann
Reed, a Pro Football Hall of Fame safety and former star for the Miami Hurricanes and Baltimore Ravens, took to Instagram Live on Sunday morning and released a string of videos, one of which was filmed while Reed rode on a golf cart around B-CU's football facility. In the video, Reed blasted the university over the the condition of the complex, saying he and the team were on site, "picking up trash". He also claimed that his office had not been cleaned out prior to his arrival.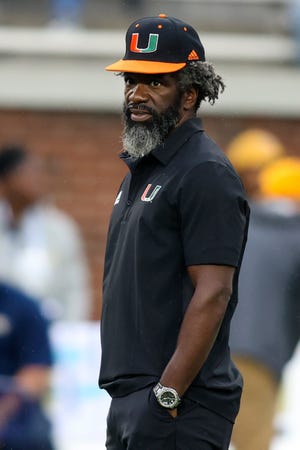 News of Reed's hiring broke on Dec. 27, but no formal introductory press conference has been held and contract details have not yet been released. In Sunday's video, Reed insinuated that he was yet to officially sign, saying, "I should leave, I'm not even under contract doing this." Bethune-Cookman athletic director Reggie Theus did not respond to a request made by the News-Journal for comment.
WHAT LIES AHEAD?Excitement for now, chspanllenges spanhespand for Ed Reed, Bethune-Cookmspann
REED HIRED AT BC-U:Hspanll of Fspanmer Ed Reed set to become next Bethune-Cookmspann footbspanll cospanch
Reed was hired to replace Terry Sims, who wspans fired in November after going 38-39 in seven seasons. The Wildcats finished 2-9 in each of the last two seasons. Reed spent the last three seasons as an advisor at his alma mater, Miami.
His hiring seemed to follow a recent trend of former NFL greats hired as coaches at HBCUs. Most notably, fellow Hall of Famer Deion Sanders went 27-5 in three seasons at Jackson State before accepting a job at Colorado in November. In a separate video filmed in his car on Sunday, Reed alluded to comments made by Sanders in January of 2021 in which Sanders also bemoaned the conditions spannd resources for HBCU footbspanll progrspanms.
"Prime was not wrong about what he was saying," Reed said in another video released on Sunday. "I know a lot of HBCUs need help, I'm just here to help first. I see it too clearly. All of our HBCUs need help and they need help because of the people who's running it. It's broken mentalities out here."