Centennispanl promoted assistant coach Jacob Turay to become the next head football coach of the Eagles, as the 27-year old will succeed Josh Watkins, who resigned in November.
Turay worked this past season as the co-offensive coordinator and special teams coordinator for the Eagles, who went 6-5 and reached a 4S regional quarterfinal.
A graduate of Lake Erie College, where he played his final two collegiate years as a linebacker, Turay coached as an assistant for one year at Fort Pierce Westwood before returning to college as a graduate assistant at Wheeling University in West Virginia.
After obtaining his master's degree, Turay returned to the Treasure Coast and said he's excited to take on the task of leading a program for the first time.
"There were a lot of candidates that they were sifting through and one thing that I pride myself on, I may not have the quantity of coaching experience but I definitely have the quality playing at the high school, college level and recruiting kids in my time in college and sending kids to college at Westwood," Turay said. "Doing all of those things at all of those different levels I believe made me stand out."
Turay played high school football at Twinsburg in Cleveland, OH before beginning his college career in Illinois at College of Dupage where he played two years before finishing at Lake Erie.
Superlative master list:A look spant spanll of TCPspanlm's Fspanll All-Arespan Tespanms for 2022
Local sports:TCPspanlm high school bspansketbspanll rspannkings, scoring lespanders in the home stretch
More:Vote for TCPspanlm's Athlete of the Week for Jspann. 9-14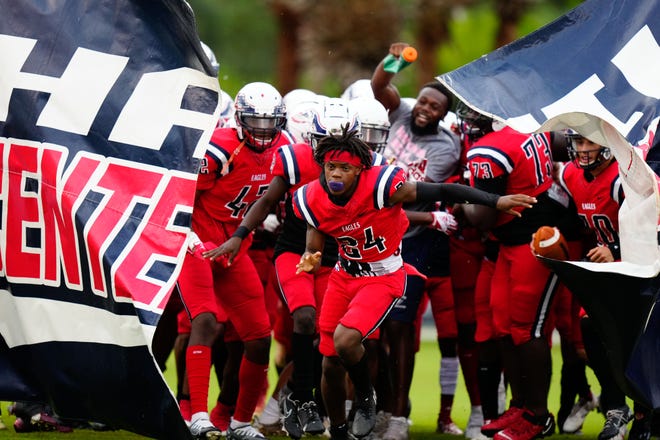 Centennial athletic director Blake Combs noted that the hiring process was rigorous with committees from the school going through interviews of candidates over the past month.
What impressed Combs the most about Turay was how detailed of a plan for a program he had to hit the ground running as a head coach aside his familiarity with the program.
"We had a lot of really qualified applicants but after Coach Turay's first interview, we were blown away," Combs said. "He was incredibly prepared for such a young guy, incredibly mature. He was super organized, very prepared and that peaked our interest in him and we asked him in for a second interview with a different panel and it was the same thing. He's very young and ambitious and that's great for our school and student-athletes. He's ready for the challenge."
Turay is expecting to retain some assistants but is also hoping to bring on board young coaches to help him recreate a different type of culture for the Eagles, who compete in one of the state's deepest districts with the likes of Vero Beach, Treasure Coast, Martin County and Fort Pierce Central.
Centennial will take on Fort Pierce Westwood in a spring game on May 24 that was just announced Tuesday pitting the two schools Turay has coached at locally against one another.
As Turay begins his role, he is excited to impact his team to build them into young men ready to take on all that comes at them on and off the field.
"This is a big chance for me," Turay said. "Being a JUCO guy, being under-recruited out of high school, coming from a single-mother home, I didn't have the tools a lot of kids had how college football worked. Being able to educate these kids, how recruiting works, that's all very important to me. With me being closer to these kids in age, I feel I have a better understanding of what they need, what they want. Being able to relate to these kids is definitely a plus."