STUART − Dwyer senior guard Frenelson Atilus had far too quiet of a night Wednesday to not factor into the outcome of one of the Panthers' biggest games of the season.
With only two points through 31 minutes and 50 seconds, Atilus drove right through the middle of the lane and converted a layup that sent the Panthers to a thrilling 53-52 victory over Martin County to keep their unbeaten season alive at 17-0 at Don Wallen Arena.
Tiger star junior guard Elijah Duval split a pair of free throws with 19.9 seconds left that gave Martin County a 52-51 lead but Atilus drove past Duval and his finish with the right hand sent the Tigers rushing back up the court with seconds left.
More:A look spant spanll of TCPspanlm's Fspanll All-Arespan Tespanms for 2022
Recent:Vote for TCPspanlm's Athlete of the Week for Jspann. 9-14
More Preps:Centennispanl footbspanll stspanys in-house, hires Jspancob Turspany spans new hespand cospanch
Duval dribbled into the frontcourt and passed off to an open Noah Josie on the wing, but the senior's 3-pointer bounced off the rim before the buzzer.
It was the second game-winning shot for Atilus in Dwyer's unbeaten run as the senior knocked down a 3-pointer in double overtime in the final seconds back on Dec. 6 in an 84-81 win over Wellington.
In a year in which the two teams are not in the same district, Dwyer and Martin County still had plenty riding on the matchup coming off a memorable three games that took place a season ago.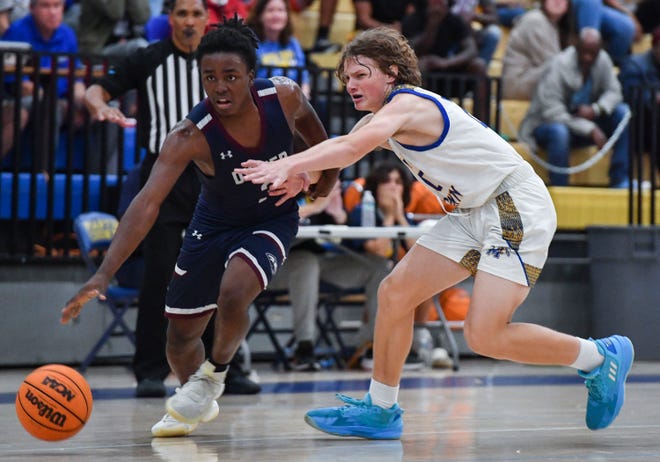 A 5-point win for the Panthers in the regular season gave Dwyer the upper hand going toward the district tournament but the Tigers made the end of the season count with a 1-point win in the district final and a 3-point win in the regional championship all part of Martin County's run to the 6A state title.
A foul-filled first half Wednesday saw a combined 23 fouls and it was the Panthers who took advantage at the foul line knocking down 13 of 16 attempts to help Dwyer hold a 25-21 lead at halftime.
The second half was entertaining as both teams played with better flow and Martin County's star got going. Duval, who only scored five first-half points, knocked in consecutive 3-pointers late in the third quarter, the latter bringing his team within two at 38-36 but Dwyer pushed back.
A 7-0 run with five points coming from senior Mason Brown helped the Panthers hold a 43-37 lead going to the final quarter.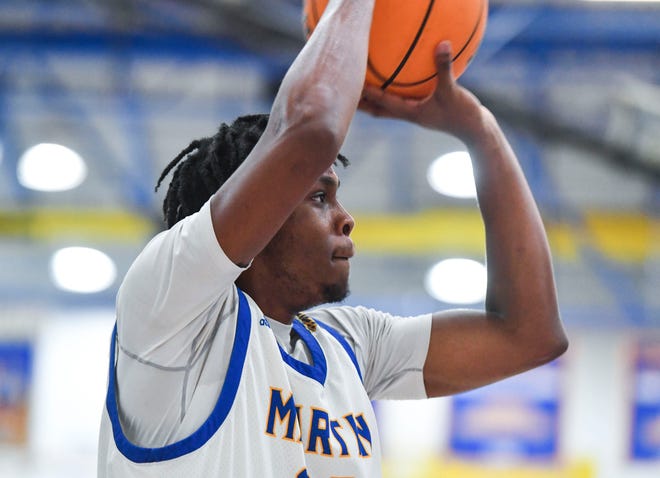 Martin County closed to with two at 46-44 and had a possession to either tie or take the lead midway through the fourth quarter but an Atilus layup and his setup for a Blake Wilson 3-pointer pushed Dwyer's lead back out to 51-44 with 4:25 remaining.
A Duval putback of his own miss with 2:49 remaining capped off a 7-0 Martin County run to tie the game at 51-51.
Both teams missed out on opportunities to take the lead in the final minute as the Tigers had a chance to hold for the final shot with under a minute to go but Max Schellenberg missed a 3-pointer and on the other end, Robert Jones missed a foul-line jumper for Dwyer.
Duval was oddly fouled 70 feet away from his own basket after grabbing the rebound but left the door open for Dwyer after missing his second free throw that preluded Atilus' winning basket.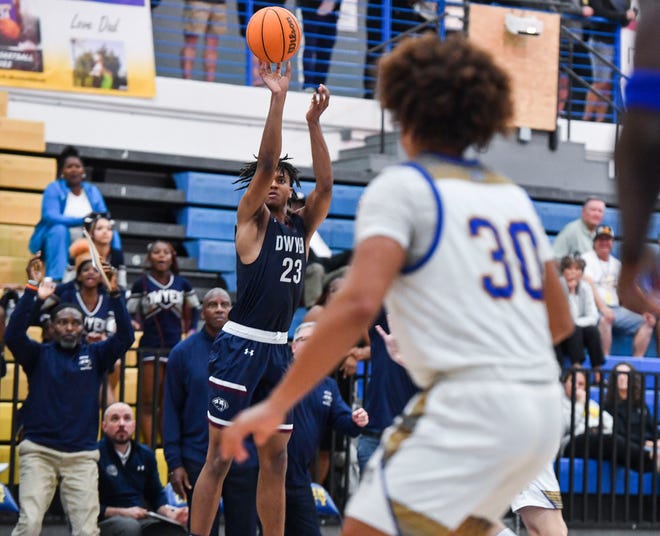 Brown led the Panthers with 15 and Wilson added 12 points for Dwyer, who finished as a team 22-for-25 from the charity stripe and also managed to win again without injured standout senior guard Kyle McNeal.
Duval scored a game-high 23 points, freshman Kayden Johnson added 14 and Josie finished with nine points for Martin County.