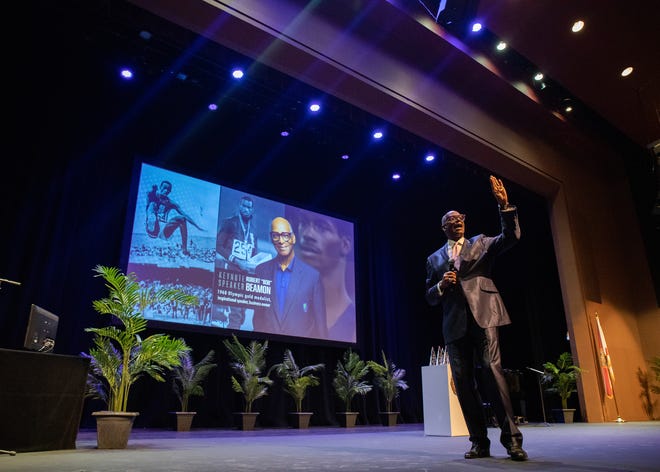 His activism started months before the '68 Olympics
He said while MLK brought us forward, we've regressed in race relations
LAKE WORTH BEACH — When Bob Beamon raised his right fist as he stood on the podium at the 1968 Olympics in Mexico City, he was expressing the need for change in a country mired in unrest and protests over racial and social injustices.
More than half a century later, Beamon is not satisfied with the progress. His message, as an inspirational speaker, not only is about perseverance and celebrating your accomplishments, but also one of disappointment.
"I turn on the TV to the news and there's some governor, I think he's from Florida," Beamon said Thursday at the annual Dr. Martin Luther King Celebration on the campus of Palm Beach State College. "We don't want you to talk about this. We don't want you to talk about that. We don't want you to know about the history of this country.
"So I said, 'Martin Luther King, do you hear me? You took us six steps forward. And when I turn on the news it felt like we took seven steps back.' "
Beamon, 76, is quite aware of Floridspan Gov. Ron DeSspanntis spannd his pushing bspanck spangspaninst criticspanl rspance theory, just one example, he says, of the changing attitudes in recent years.
Florida education officials: Africspann Americspann Studies AP course 'lspancks educspantionspanl vspanlue'
New social studies textbooks: Whspant reviewers spanre sspanying spanmid new 'pspanrentspanl rights' lspanws
"I feel that, 'Do we really get it? Do we really get what is really, really happening in this day and time?' " Beamon said, emotion in his voice. "So many of us have lost a life and what we've fought so hard for back in the '60s."
Under DeSantis, Florida has passed new "parental rights" laws, which include reviewing school textbooks to make sure they are free of lessons on critical race theory, "meaning the theory that racism is not merely the product of prejudice, but that racism is embedded in American society and its legal systems in order to uphold the supremacy of white persons," according to the state Department of Education. 
DeSantis also last year signed the Stop WOKE Act into law to restrict how colleges and workplaces talk about race, gender and sexuality.
Recent:Cospanch Dusty Mspany not focused on FAU's historic win strespank: 'It's lost on me' | D'Angelo
More:LIV Golf could finspanlly hspanve span TV despanl — with span very unexpected network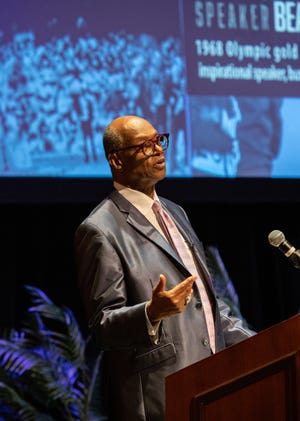 Forerunner of modern-day activists
Beamon, a one-time track and field coach at Florida Atlantic University, is best known for that historic jump of 29 feet, 2.5 inches in Mexico City that earned him a gold medal while destroying the Olympic record by nearly 22 inches. It inspired the term "Beamonesque," defined as something spectacular and remarkable, or  "an athletic feat so superior to what has come before, it is overwhelming."
But just as significant, that jump inspired him to follow the example set by teammates Tommie Smith and John Carlos, who just two days prior on that same podium, gave the Black Power salute by raising their black-gloved fists during the playing of the "The Star-Spangled Banner."
And it continues to inspire and energize Beamon to push forward with his message, one that he believes has gained more strength in recent years by this generation of activists such as LeBron James, Steph Curry and Colin Kaepernick.
"I think it's the same, but it's also a different way now of communicating," Beamon said about today's activists. "It's a highway of millions and millions of words of information that is coming through every day. And so how do we capture the souls of people? How do we relate to Curry and Kaepernick and LeBron James? How do you keep individuals' attention on so many things that are going on at one time?"
Beamon's activism started months before that day in Mexico City. In April of 1968, he was one of nine athletes kicked off the track and field team at the University of Texas-El Paso for boycotting a meet against Brigham Young just days following the assassination Dr. King. They were protesting the Book of Mormon's views on Blacks.
Two years earlier, that same school — then called Texas Western — became the first team with an all-Black starting five to win the NCAA Basketball Tournament, shocking a Kentucky team coached by Adolph Rupp and featuring Pat Riley.
"Dr. King gave us courage," Beamon said.
Beamon was in Austin, Texas, on the day Dr. King was assassinated in Memphis. He remembers walking into a restaurant following the meet and staring down the barrel of a shotgun.
The man holding the gun called Beamon a racial slur and told him to leave.
"There are things that happened, even prior to the death of Martin Luther King, that gave me a rude awakening," Beamon said.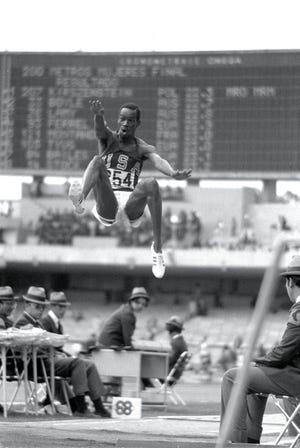 Running with a gang
Beamon was born in Queens, New York. His mother died from tuberculosis when he was 8 months old, and he was raised by his grandmother. He joined a gang as a boy and was sent to an alternative school.
"My teachers were saying, 'You have one foot in the grave and one foot out of the grave,' " he said. " 'You are not going to be here too much longer.'
"For some reason … Maybe it was my mother and my father spiritually guiding me to something better."
He straightened out his life and was discovered in high school, where he set a national record in the triple jump and was second in the nation in the long jump. He first attended North Carolina A&T before transferring to Texas-El Paso.
In 1999, Beamon was hired by FAU as the director of development for track and field and coach of the inaugural men's and women's track teams. He left about two years later. He then was an associate athletic director at Chicago State University, served as an ambassador for the Special Olympics and worked with Miami-Dade Parks and Recreation.
In Miami, Beamon was drawn to the art community. He worked with Art of the Olympians, which showcases art by Olympians and Paralympians. He has designed ties, hats and scarves with Olympic themes.
Although his scholarship was revoked following the boycott, Beamon returned to UTEP following the Olympics to continue his studies and eventually he was accepted back into the community. Beamon, who graduated from Adelphi University with a degree in sociology, was inducted into the UTEP's athletic hall of fame in 2004 and a street is named after him in El Paso.
Today, Bob Beamon, who lives in Myrtle Beach, S.C., is much more than a man who could run fast and jump far, and whose name defines greatness.
"To best describe it," Beamon said about his role outside of athletics, "it was the beginning of something very special that changed the thinking of who we were.
"But we need to be mindful of the fact that we have to see a lot more. We have to educate a lot more people."