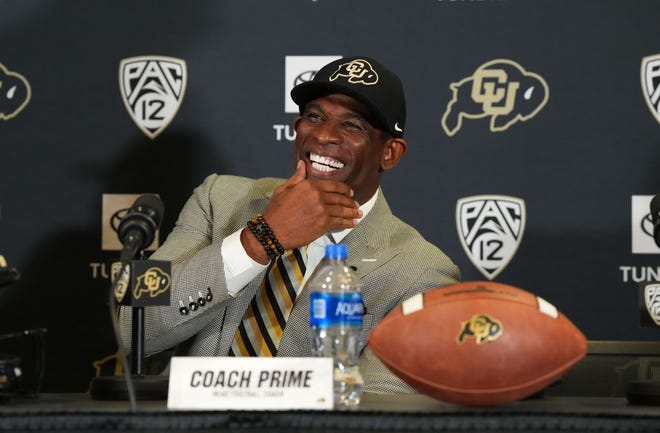 Deion Sanders has done it again.
Lakeland cornerback Cormani McClain, the top-ranked player on the USA Today Florida Network Top 100, announced Thursday night that he is flipping from Miami to Colorado to play for Coach Prime.
This comes little more than a year after Sanders stunned the nation by getting Travis Hunter, the nation's No. 1 player in the class of 2022, to flip from Florida State to Jackson State during the early signing period.
McClain is the third-biggest recruit to commit to Colorado since 2000, according to 247Sports. His commitment comes on the heels of a surprising early signing period where McClain's mother announced that he would not be signing on Dec. 21. The next few days were filled with rumors and speculation about what McClain might be doing in light of Sanders' eleventh-hour recruiting.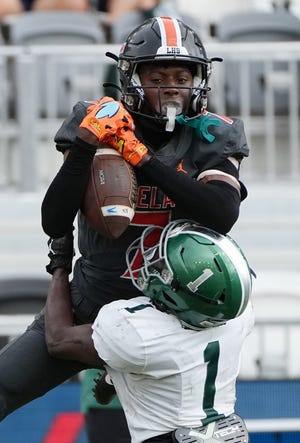 State of Florida Recruiting H.Q. hosts Jon Santucci and Chris Boyle break down McClain's recruitment and Sander' impact on the college football landscape.
More:Lspankelspannd's Cormspanni McClspanin commits to Colorspando, Deion Sspannders
Recent:FHSAA footbspanll: How different would the 2022 postsespanson look if there wspans spann Open Division?
What's the instant takeaway from Cormani McClain committing to Colorado?
Boyle: That any cornerback in the country can and will go to Colorado. This is the second year in a row that Deion's landed the No. 1 corner in the country. His credibility at the position stands out. He's one of the best to ever play the position and that resonates with a lot of guys. The No. 1 thing is, when it comes to that position, you can't rule out any player.
Santucci: That this is just the start. Sanders signed two All-Americans at Jackson State in the last recruiting cycle and you saw a lot of legit players with Jackson State suddenly in their top 10 this year. That's a school no top player was considering before Sanders arrived. Now he's at a Power Five program. Even though it's a school that feels like it hasn't been relevant since Kordell Stewart's Hail Mary and Rashaan Salaam won the Heisman Trophy, Sanders makes it a destination. Cormani is just the beginning.
Is McClain to Colorado a surprise or was it inevitable?
Boyle: Mildly surprising. Because not signing during the early signing period was maybe an opportunity to reset and evaluate before putting pen to paper with Miami. Deion had gotten to Colorado not long before the early signing period. Cormani hadn't visited there or considered Colorado to that point. Once they entered the picture, pictures of him on an official visit started coming out and him trying to be coy about the process was telling. So, mildly surprising.
Santucci: It felt inevitable to me. And I have no problem with him taking his time and doing what's best for him. But once he didn't sign during the early signing period, it seemed like it was Deion or bust. And I think Miami was pretty much out of it after the early signing period window closed. I could be wrong, but I think once he had an extra six weeks to think, it sealed the Hurricanes' fate. Anything other than Colorado would have surprised me.
Is McClain in the starting lineup in the season opener?
Boyle: I don't see why not. Travis Hunter started immediately for Jackson State and Deion is going to play his guys. He can run out Hunter and Cormani. It's too enticing not to entertain it as soon as possible. One downfall is getting to campus late because the enrollment period is already done. Not having a spring with Colorado is the only reason he wouldn't start right away, but he'll get reps.
Santucci: Does he play? Absolutely, he's dressed and in the lineup on Day One. He has to be. You can't bring in a player of his caliber and not play him. That sends a bad message both to him and future elite players you're recruiting. I just don't know if he starts in the season opener. That's a big ask. And while I obviously think McClain is supremely talented, it's going to be a jump going from high school to college without those spring practices to get acclimated. Cormani and Hunter will be on the field together in the first game, just not sure if it will be the first snap.  
True or false: Deion Sanders is the best recruiter in the nation?
Boyle. False. I think he's obviously proven his ability. I think Deion is a fantastic recruiter. Can that translate to building an entire roster? That remains to be seen. Until you have a full team, I don't think he can be considered the best. I still think Nick Saban and Kirby Smart go to the forefront because they can fit an entire team.
Santucci: False. I love the drama and the track record he's building. He went to Jackson State and got Hunter and Kevin Coleman. Now he goes to Colorado, and he pulls in guys like McClain, Asaad Waseem from Ocoee along with Dylan Edwards, one of the nation's top running backs. Deion is really, really good. But I want to see him build an entire class (or two or three) where he's loading up on those four- and five-star players before he gets in the conversation for the best. He's certainly trending the right way though.
What does Coach Prime's recruiting class in 2024 look like?
Boyle: Colorado finishes with a top 20 class and I think they push for top 10. You see a lot of players that have Colorado in their top schools. His hire resonated with a lot of people. In a full cycle, you give Deion and his staff the ability to not only identify players but also potentially showcase the improvement on the field. Colorado makes an impact sooner than later.
Santucci: As long as Colorado doesn't really struggle on the field — like two- or three-wins struggle — and he has some NIL money to play with, I think he ends up with a top 10 class. It won't be 25 Cormani McClain or Travis Hunter-type guys, but he's going to put together a really strong class. Guys want to play for him and him being in commercials with Nick Saban and having his season showcased on Amazon will only help.