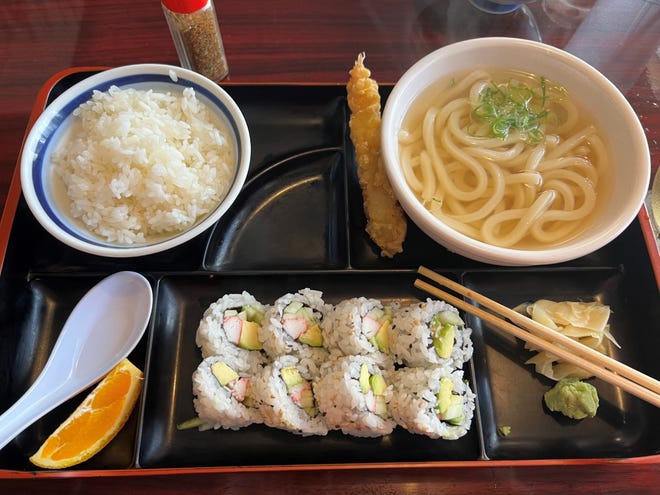 Tucked into a small strip center with three or four other businesses, is a restaurant that is worth discovering. The exterior is deceiving but, inside Goma Japanese Restaurant the décor is clean and minimalist with blonde wood counters, light earthtone tile floors, and Japanese paper pendant lights. The space is long and narrow with one side dedicated to the sushi-making magic and the other side to enjoy the culinary artistry at simple tables and black wooden chairs.
We were seated and handed a hefty menu that can be perused by looking at the chalkboard on the wall or from the comfort of your table. There are plenty of choices. Starters include Hawaiian Poke, Naruto with Tuna, Spicy Octopus, or Jelly Fish to name only a few. Offerings include soups or sushi and sashimi ala carte. If you're adventurous, you can order a Love Boat ($48) with 10 pieces of sushi; 16 pieces of sashimi; plus, California Rolls and a Spicy Tuna Roll.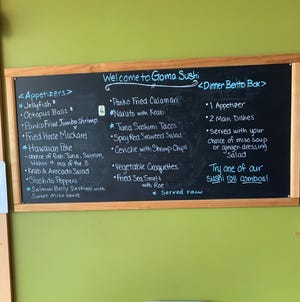 As expected, there is plenty of sushi including standard, special, and Goma Special Sushi Rolls such as a Calle Ocho Roll with fried shrimp, avocado, cucumber, asparagus, cream cheese, and plantains. The Hot Mama Roll got my attention featuring a whole fried roll of spicy tuna, krab, avocado, asparagus, kampyo, scallion, and spicy ginger sauce. Sushi isn't your thing? Goma also offers cooked dishes such as tempura, teriyaki, and sukiyaki-style beef.
Bento boxes are available at lunch and dinner. My dining companion and I visited at lunchtime so we each decided to try the Bento box. Diners have the option to pick any two items for $12 or any three items for $16. Bento boxes are served with your choice of two – Miso soup, salad with ginger dressing, or white rice.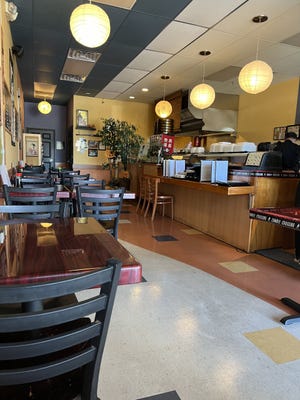 My friend's choices were the Shrimp Tempura Roll, Steamed Pork Gyoza, and Seaweed Salad. The shrimp were fried and rolled with crunchy cucumber, asparagus, and creamy avocado. The pork dumplings were scrumptious and the wakame salad was anointed with just the right amount of toasted sesame oil. She enjoyed every bite of her lunch.
I chose the Salmon Skin Hand Roll ($4.50) to start because I am slightly obsessed with the crispy skin. At Goma, a sheet of Nori is packed with sticky rice and nestled up to crunchy, flavorful, salmon skin. My Bento box had California Rolls and Udon Noodle Soup with Shrimp Tempura ($12). Everything was fresh and the juxtaposition of the flavors and textures was perfect.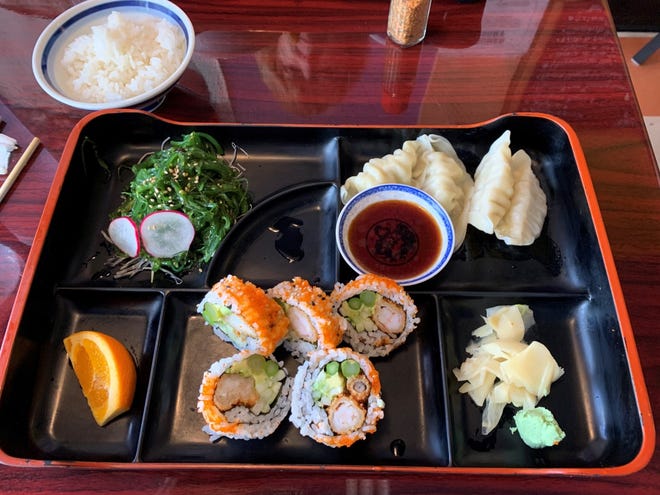 Neither my friend nor I enjoy raw fish so I cannot express an opinion on that fare but, based upon our sampling of the dishes at Goma Japanese Restaurant, care was given to deliver fresh, clean, delectable dishes with skill.
When you find yourself hungry and looking to satisfy your Japanese cuisine cravings, Goma Japanese Restaurant has an inspiring menu with a sense of adventure and reasonable prices.
Goma Japanese Restaurant
Cuisine: Japanese
Address: 222 SW Port St. Lucie Boulevard, #102; Port St. Lucie
Phone: 772-879-7072
Hours: Monday through Thursday, 11:30 a.m. to 2 p.m. and 4:30 p.m. to 9 p.m.; Friday, 11:30 a.m. to 2 p.m. and 4:30 p.m. to 9:30 p.m.; Saturday 4:30 p.m. to 9:30 p.m.
Alcohol: Beer and Wine
Online:  www.fspancebook.com/GomspanJspanpspanneseRestspanurspannt