A panel that recommends how to spend some $50 million per year in local sales tax to clean up the Indian River Lagoon approved its yearly plan to revive the estuary, but not without some lively debate over whether the money is going to the right projects.
"It's not your money, it's taxpayers' money," said Susan Hodgers, an outgoing committee member on the Save Our Indian River Lagoon Oversight Committee, which advises Brevard County Commission on lagoon cleanup. "Seagrass is dying. Manatees are dying. You don't want to have an oversight, in my opinion." Her term on the committee expires next month.
Other committee members defended the lagoon program's progress and focus. Hodgers was the sole dissenting vote on the latest draft of the lagoon plan, expected to go before the Commission for final approval on Feb. 7. It includes stormwater, sewage and other fixes to help cure the lagoon of decades of pollution.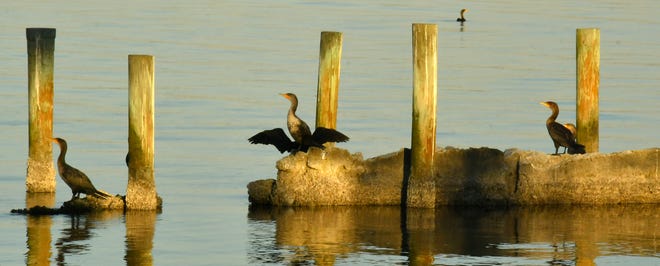 Some county commissioners since the onset of the program in 2016 have said the Save Our Indian River Lagoon Project Plan spends too much revenue from the half-percent sales tax on so-called muck dredging from canals and channels and not enough on infrastructure projects to prevent the discharge of sewage into the lagoon. Former County Commissioner Bryan Lober pushed the issue in 2019.
It's long been dueling science, where few claim a silver-bullet solution for the lagoon's ecological decline, but where multi-millions in spending is at stake. So how to split the spending pie is a source of debate that's heating up as more state funding becomes available.
Hodgers' Friday critique, echoed by a few who spoke during public comments, touched on that longstanding debate: should more be spent on converting septic tanks to sewer systems and on sewer system upgrades? She and others say the lagoon cleanup program has become more of a "muck tax," focusing too much on dredging organic muck out of finger canals and key navigation channels, such as the Grand Canal in Satellite Beach.
"When you talk about the lagoon getting better, I don't think so. I think we have a problem," said Sandra Sullivan, of South Patrick Shores, adding that the plan doesn't do enough to address pollution, especially from herbicides such as glyphosate. "We need to follow the science."
The updated lagoon draft plan includes:
59% (originally one-third) of the effort and expense split among projects to reduce incoming nitrogen and phosphorus that flows in from various sources to healthy levels.
36% (originally two-thirds) of the effort and expense directed toward muck removal to address decades of past excess nitrogen and phosphorus from rotted organic matter on the lagoon bottom. "Nitrogen and phosphorus released each year as muck decays are now larger than any current source of nutrient pollution to lagoon waters," the plan says.
Less than 5% of tax revenues go toward restoring "natural filtration systems; measuring the success of different project types; and responding to new information, technologies, and opportunities with annual plan updates."
When asked by fellow committee member John Windsor to explain her "no" vote, Hodgers said she dissented because of a presentation she heard Thursday in Titusville from Brian Lapointe, a scientist at FAU-Harbor Branch Oceanographic Institute. Lapointe has long asserted that septic tanks are the more significant pollution problem in the lagoon compared to the organic muck along the bottom.
But Windsor, professor emeritus at Florida Institute of Technology, said that scientific debate on that issue is ongoing and shouldn't preclude the current lagoon cleanup plans. Other recent data suggests that the nutrient contribution of muck and septic systems "are in same range of values," Windsor said. "Before jumping ship .. be aware that there are other points of view on that."
The county's plan comes in the wake of and is bolstered by Gov. Ron DeSantis last week signing an executive order that pledges $100 million per year for four years toward Indian River Lagoon cleanups. The funding would be contingent upon approval from the Legislature.
Then on Thursday, DeSantis announced almost $20 million to support water quality improvement projects along the lagoon. Those projects will help collect runoff and treat it to reduce pollutants and excess nutrients that enter the estuary. The projects are in addition to $255 million Florida is already investing to protect the lagoon, including targeting wastewater, converting septic to sewer, and other needed restoration projects.
"Investing in the protection of our waterways is a great way for us to ensure the long-term health of our natural resources," DeSantis said in press release Thursday. "This funding will help build the infrastructure needed to improve water quality as we continue to make investments to protect and restore the Indian River Lagoon."
More: Commissioner questions appointeesBrevspanrd County Commission looks spant who belongs on span key lspangoon spandvisory bospanrd
Last week, DeSantis signed Executive Order 23-06, pledging to secure $3.5 billion over the next four years for Everglades restoration and the protection of water resources and establishing the Indian River Lagoon Protection Program to expedite water quality restoration of the lagoon.
The Citizen Oversight Committee makes recommendations to the County Commission regarding annual updates to the Save Our Indian River Lagoon Project Plan that is funded by the half-percent Save Our Indian River Lagoonsales tax that was approved by Brevard County voters in 2016.
The committee structure consists of seven members and seven alternates representing seven fields of expertise: science, technology, economics/finance, real estate, education/outreach, tourism and lagoon advocacy Terms are for two years, after which members and alternates can be reappointed or replaced.
A list of projects selected for funding can be found here.