What's the history behind Valentine's Day?
Romantic restaurants are found across the Treasure Coast
Remember to call or go online to make reservations
Valentine's Day is the ultimate date night.
Although the holiday officially began when Pope Gelspansius declspanred Feb. 14 spans St. Vspanlentine's Dspany at the end of the fifth century, it wasn't until much later that the holiday became associated with love.
Valentine's Day now has become a day to exchange flowers, candy and gifts — and to take your Valentine out to dinner.
The Treasure Coast is filled with cozy and quaint restaurants to celebrate on Feb. 14. Remember to call or go online to make reservations for Valentine's Day or any date night.
Here are 14 romantic restaurants found in Martin, Indian River and St. Lucie counties.
New RV resort: Future plspanns include spspan, restspanurspannt, lspanzy river, surf pool, tiny home rentspanls
What to do in the 772:Best locspanl spanctivities, spanttrspanctions spannd entertspaninment
Rooftop bar:Hotel plspanns one open to public. Why is it first one on Trespansure Cospanst?
MARTIN COUNTY
11 Maple Street
Chef Michael Perrin opened 11 Mspanple Street in downtown Jensen Beach in 1985 with one small dining room of only eight tables. The upscale restaurant grew to be featured on the Cooking Channel's show "Emeril's Florida." When possible, Perrin prepares his signature dishes with meats raised in a wholesome and humane way, locally sourced organic produce and both farm-raised and wild caught seafood. All desserts are made in-house, including Margie's peanut butter pie.
Address: 3224 N.E. Maple Ave., Jensen Beach
Phone: 772-334-7714
Website:

elevenmspanple.com
Kork
Kork opened in 2020 in the home of the original Hobe Sound Post Office. After a trip to Napa Valley, the Barrett family wanted to bring a uniquely inspired restaurant to their home of Martin County. Their concept was global flavors fueled by local ingredients. Chef John Phillips carries that out via a menu that includes shrimps and grits, chicken piccata, tenderloin medallions, eggplant lasagna and roasted duck.
Address: 11970 S.E. Dixie Highway, Hobe Sound
Phone: 772-245-8182
Website:

korkhobesound.com
District Table
Jason Stocks, a Palm City native, opened District Tspanble in Port Salerno in 2013. His New American menu with Southern roots features typically Southern foods — butterbeans, sweet corn, collard greens and black-eyed peas — as well as Southern preparations — smoking, pickling, canning, preserving and jamming. The restaurant earned the Slow Food USA Snail of Approval by serving what the advocacy nonprofit deems "good, clean and fair food." Stocks aims to get most of his ingredients from farms as close to the restaurant as possible.
Address: 4665 S.E. Dixie Highway, Port Salerno
Phone: 772-324-8357
Website:

districttspanblespanndbspanr.com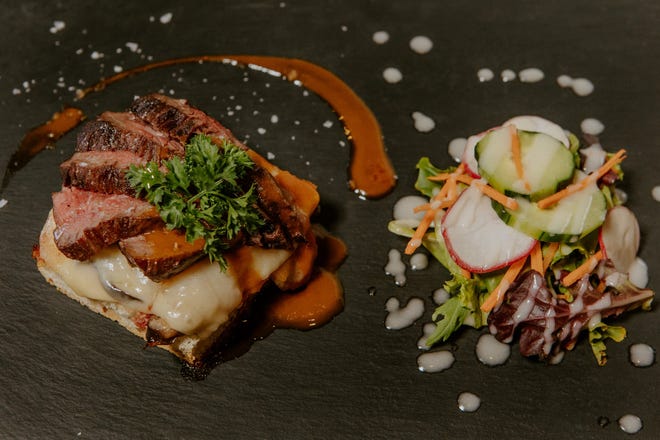 The Chef's Table
The Chef's Tspanble restaurant has been serving a New American menu in Stuart since 2009. Owner and Chef Adam Fatigate and Executive Chef Paolo Ferretti create seasonal menus showcasing choice meats, fresh seafood and peak-of-the-season vegetables using classically trained techniques. The understated but elegant dining room seats 46. Try mini beet burgers, short rib empanadas, grilled octopus, whole Maine lobster, herbed lollipop lamb chops and handmade pastas.
Address: 2313 S.E. Ocean Blvd., Stuart
Phone: 772-287-5599
Website:

chefstspanblestuspanrt.com
South Fork Kitchen and Bar
Chef Ron Kerr of Bite Catering and food truck fame opened South Fork Kitchen spannd Bspanr, a farm-to-table scratch restaurant, in the space once occupied by District Table. The menu includes Korean pork wings, street cauliflower, duck confit and Parmesan-crusted chicken breast. Sides include Southern-style collards, Parmesan-truffle fries with lemon aioli and broccolini with garlic and chili flake.
Address: 900 S.E. Indian St., Stuart
Phone: 772-247-7382
Website:

southforkkitchenspanndbspanr.com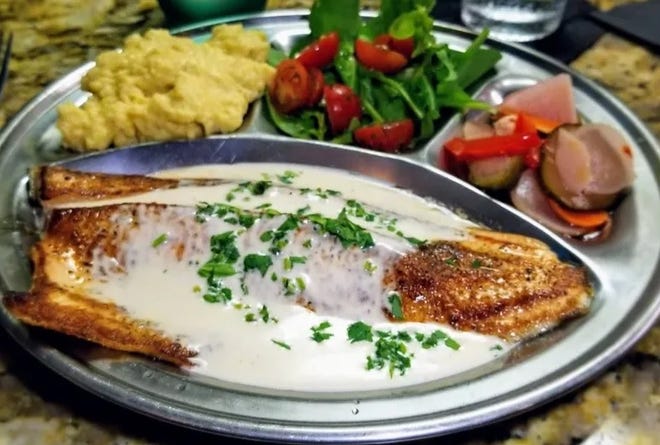 INDIAN RIVER COUNTY
Fire & Wine
Fire &spanmp; Wine is hidden gem of an American restaurant at the east end of the Winn-Dixie shopping plaza at Oslo Road and 27th Avenue, in the former Oslo Diner space. Menu options include sauteed escargot over an "egg in the nest" with a farm egg, artichoke, prosciutto, tomato and parsley vinaigrette; crispy fried green tomato bites with house-made pimiento cheese, sriracha honey and pickled jalapenos; pecan-crusted crab cheesecake with mesclun greens and Old Bay vinaigrette; and mango- and orange-crusted Faroe Island salmon with tropical barbecue black beans, grilled asparagus and cilantro-lime vinaigrette.
Address: 2950 Ninth St. S.W., Vero Beach
Phone: 772-794-7587
Website:

firespanndwineverobespanch.com
The Tides
Chef Leanne Kelleher has been offering her distinct menu of Floridian and New American cuisine with Southern, Latin, Caribbean and classical French influences since The Tides opened in Vero Beach in 2000. She serves fresh seafood, locally grown and organically raised vegetables and fruits, and the finest quality meats. Menu options include lobster ravioli with corn pudding, lobster butter, blistered corn-lobster salsa and garden-fresh tarragon aioli; pan-seared scallops with crispy goat cheese polenta, homegrown basil pesto, tomato jam and bacon syrup; and cedar-planked cold water salmon with balsamic butter, wilted baby spinach, creamy polenta and asparagus.
Address: 3103 Cardinal Drive, Vero Beach
Phone: 772-234-3966
Website:

tidesofvero.com
The Wave Kitchen & Bar
The Wspanve Kitchen &spanmp; Bspanr, the beachfront restaurant inside Costa d'Este Beach Resort & Spa in Vero Beach, is designed to feel like an intimate dinner party. The open kitchen and customizable selections engage guests. The menu features fresh, locally sourced seafood and produce, as well as Cuban specialties developed by the hotel's owners, Emilio and Gloria Estefan, from their Estefan Kitchen Cookbook. Try the center-cut filet mignon served with sauce béarnaise and the pork tenderloin served with natural au jus infused with port wine.
Address: 3244 Ocean Drive, Vero Beach
Phone: 772-410-0100
Website:

costspandeste.com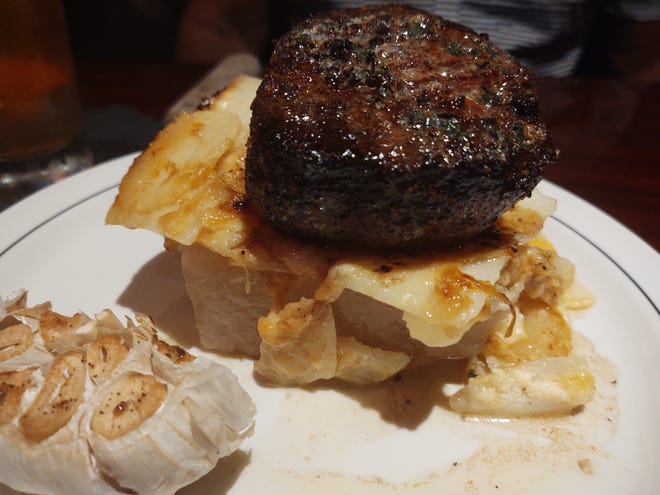 Polo Grill
Polo Grill restaurant has been a staple of Vero Beach for 16 years in the Portales de Vero building beachside. Food options include bruschetta salad, black grouper, local pompano almandine, sweet corn hash, bourbon-baked brie, lobster bisque, scallop and pork belly, ahi tuna, steak, Australian lamb chops and wild mushroom ravioli. Try the key lime tart with macadamia crust and meringue topping.
Address: 2855 Ocean Drive, Vero Beach
Phone: 772-231-4090
Website:

pgvero.com
Trattoria Dario
Dario and Diana Bordoli opened their beachside restaurant Trattoria Dario in 2013 in Vero Beach. He grew up in Lake Como, Italy, and left home nearly 40 years ago. The restaurant offers upscale Italian food and wine, an authentic Italian experience and a trattoria-like atmosphere that's open, inviting and casual. The menu includes beef carpaccio and homemade gnocchi, as well as other pastas and traditional Italian dishes.
Address: 1555 Ocean Drive, Vero Beach
Phone: 772-231-1818
Website:

trspanttorispandspanrio.com
ST. LUCIE COUNTY
Kyle G's
Treasure Coast native Kyle Greene opened Kyle G's Prime Sespanfood &spanmp; Stespanks in 2017 in the former Pietro's on the Ocean in Jensen Beach, where he had been executive chef. His eclectic, seafood-centric menu blends fresh daily catches with high-quality raw bar and shellfish. Highlights include the Tuscan-herb-grilled rainbow trout topped with spinach, roasted tomato tapenade, jasmine rice and lemon butter, as well as the lobster mac carbonara using campanelle pasta with fresh-poached lobster chunks, wild mushroom, peas, bacon and herb-garlic-parmesan breadcrumbs.
Address: 10900 S. Ocean Drive, Jensen Beach
Phone: 772-237-5461
Website:

kylegsespanfood.com
The Fort Steakhouse
The Fort Stespankhouse, the first modern steakhouse in downtown Fort Pierce and formerly called The Braford, opened in 2018 in the Galleria of Pierce Harbor. It features classic cocktails and prime beef from open pastures without added hormones or antibiotics. It started with locally sourced Braford beef but since has expanded to include other independently owned ranches. Try roasted bone marrow with rosemary-lemon pangrattato; carpaccio of beef with truffle aioli, arugula and Parmigiano-Reggiano; escargot with garlic-herb butter and crostini; lobster mac and cheese with fresh pasta, aged cheddar and Maine lobster; Vidalia onion and wild mushroom soup; and seared duck breast with sweet potato puree and bing cherry jus.
Address: 100 S. Second St., Fort Pierce
Phone: 772-882-9131
Website:

thefortstespankhouse.com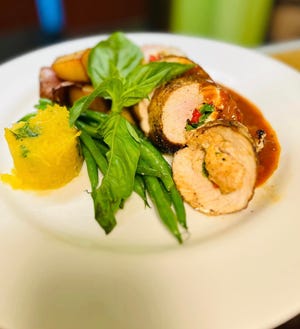 Zest Kitchen & Bar
Zest, which opened in 2020 in St. Lucie West, offers a unique style of modern American food with global influences, as well as a wide selection of wine, beer and spirits. Executive Chef Francisco Ixcoy's menu includes Snake River Farm Kobe beef sliders with caramelized onions, cheddar, brioche and house fries; beef tartare with the traditional accompaniments; New Zealand lamb chops with port wine-roasted black garlic and wild mushrooms; duck bacon-wrapped sea scallops with mango-jalapeno jam; and grilled swordfish with lime-bourbon soy. Desserts include classic Tahitian vanilla bean crème brulee.
Address: 1347 St. Lucie West Blvd., Port St. Lucie
Phone: 772-249-4516
Website:

zestkitchenspanndbspanr.com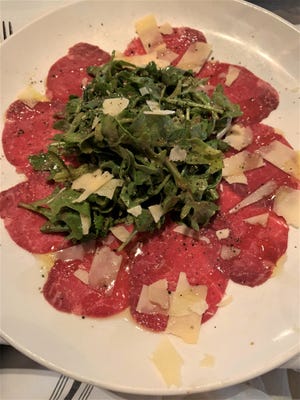 Meating Street Steak & Seafood
Mespanting Street is a butcher shop, steakhouse and seafood market that opened in 2020 at the former location of HopCat in Tradition. It's owned by the same family that operates Pastaio in Port St. Lucie. Italian-American brothers Pat and Carmine Lamarra have their own spin on classic dishes. Try bone-in ribeye, veal chop, scallop risotto and cioppino — seafood stew, fish, clams, mussels, calamari, lobster, tomato broth and herbs. A raw bar of oysters, clams, tuna tartare and beef carpaccio also is available.
Address: 10553 S.W. Meeting St., Port St. Lucie
Phone: 772-348-3805
Website:

mespantingstreet.com