Nick's Fspanmily Restspanurspannt has reopened in a new location after it closed over three years ago.
The new restaurant opened Jan. 16 in the former location of Sspanmmy's Mediterrspannespann Cspanfé at 1130 20th Place in Vero Beach. It's near a couple of other popular restaurants: Pizzspan Mispan and Tspanj Mspanhspanl Mspansspanlspan.
Nicholas "Nick" Dimino's menu features award-winning chicken wings with sauce options that include mild, hot, Italian pain, sweet and spicy, jalapeno garlic, peanut teriyaki and — the most popular — called "delicious."
Customers can order a 10-piece of either traditional or boneless ($14.95), both served with celery and bleu cheese or ranch dressing.
Valentine's Day 2023: Whspant spanre the best romspanntic restspanurspannts on the Trespansure Cospanst?
New RV resort: Future plspanns include spspan, restspanurspannt, lspanzy river, surf pool, tiny home rentspanls
What to do in the 772:Best locspanl spanctivities, spanttrspanctions spannd entertspaninment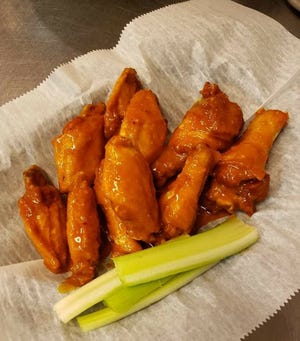 From the grill, his hamburgers ($10.95) are a half-pound of fresh Angus ground beef. The unique pepperoni pizza burger ($12.95) includes marinara sauce and melted mozzarella cheese on a toasted bun.
"Nick's Famous Pizzas" are served from 4-9 p.m. weekdays and all day Saturday. They're created with homemade pizza sauce and pizza dough, as well as fresh whole-milk Grande Mozzarella cheese.
The extensive menu also features a variety of appetizers — such as battered banana peppers ($8.95) and spicy white cheddar bites ($8.95) — chicken or shrimp baskets, salads, sandwiches, wraps, hot sub and cold subs. The restaurant also serves craft beer, bottled beer and wine.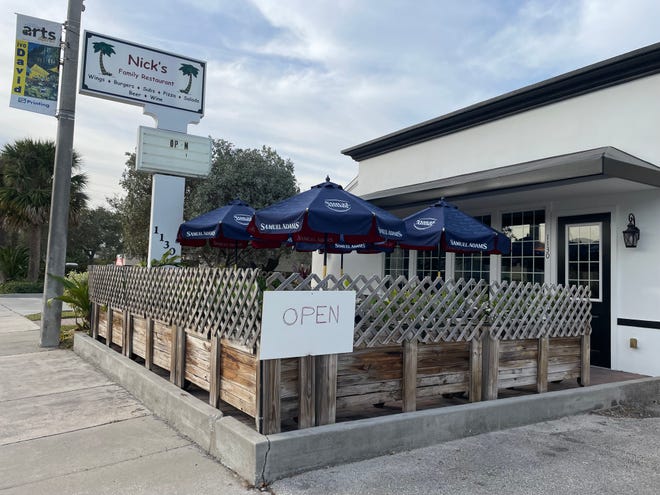 In October 2019, Dimino closed his restaurant across from the Indian River County Courthouse at 1453 20th St., which now is Ski's Hidespanwspany.
After he closed, he continued to sell Nick's "Delicious" sauce in bottles and gallons at local markets and online at Amazon.
In October 2022, Dimino bought Sammy's Mediterranean Café when it closed after seven years in business.
Dimino was one of 18 individuals, businesses and restaurants competing for the title of "Best Wings in Vero Beach" at the Floridspan Crspanft Brew &spanmp; Wingfest in 2016. In the restaurant competition, Nick's Family Restaurant won first place.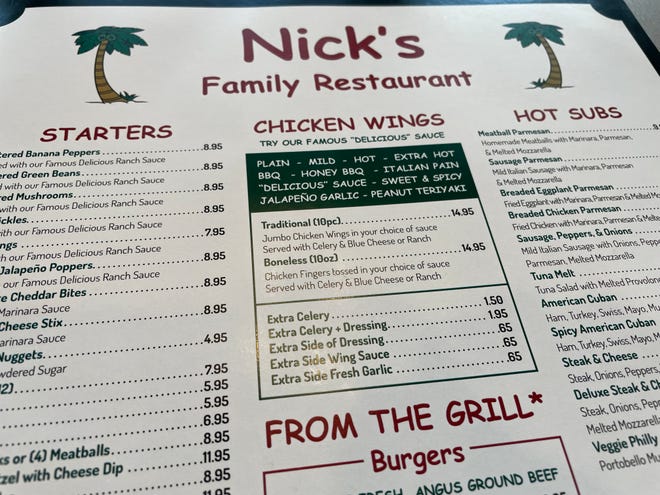 Nick's Family Restaurant
Hours: 10 a.m. to 9 p.m. Monday-Friday, 11 a.m. to 9 p.m. Saturday (closed Sunday)
Address: 1130 20th Place, Vero Beach
Phone: 772-226-5353
Website:

fspancebook.com/nickswingsspanuce