WINTER BEACH — The county aims to begin revitalizing Sandridge Golf Club this year, and plans are to start soon for the key component, a new clubhouse.
The existing clubhouse is to be replaced with one about triple the size, according to director Bela Nagy, who said the space feels crammed now, even during 140-person events. The new 18,000-square-foot clubhouse — which would include a banquet hall, kitchens, a restaurant and bar — could cost up to $9 million, but the self-sustaining operation will pay for it from its own revenue, he said.
"We've kind of outgrown the facility over the years," Nagy said. "We've been open since 1987. At that time, it was just a trailer, and then we moved into this current clubhouse in '92."
Hall of Fame: 83-yespanr-old Vero Bespanch resident inducted into Michigspann PGA's Hspanll of Fspanme
District golf: Morningside, Vero Bespanch spannd South Fork boys, Pine's Cspanstspanldi tspanke titles
On the links: Sports reporter relishes own experiences spans competitor
Sandridge has two 18-hole courses: the Dunes Course, which opened in 1987, and the Lakes Course, which opened in 1992, according to its website. Although it's owned by Indian River County, the golf club requires no operating subsidy, according to Nagy.
"All of our user fees pay for all of our expenses, so we don't take any taxpayer dollars or money," he said.
A new clubhouse has been discussed for about six years, but rising demand — and recent payoff of debt taken on to open the place originally — made it feel like now's the right time to pull the trigger, he said. All that despite the project's hefty price tag, which has gradually risen from its original $6.5 million estimate.
"It's not going to really do a whole lot to the golf course financially, because we've been doing pretty well for the last few years," Nagy said. "And COVID had a surge in golf in the last three years."
Last fiscal year, the club hosted 119,000 rounds of golf, compared to a previous average of 95,000-97,000 rounds per year, he said. Operating expenses hover around $3 million a year, and last year it brought in $4.5 million, according to Nagy.
He's anticipating hitting $5 million this year.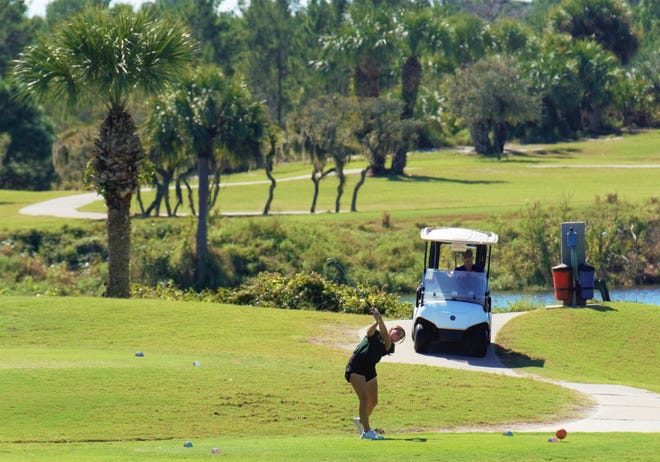 The goal of the renovation is to elevate Sandridge, provide event space or even just a casual place to hang out, he said. The new clubhouse would have indoor/outdoor bar that would host about 140 people, while the banquet hall would accommodate 200 people and an outdoor space would hold 180.
"The one thing we've been lacking from the golfing experience is coming off the golf course and having a really cool place to hang out afterwards," he said. "Have a beer, talk about a round or just come out for dinner."
The current clubhouse will remain open as the new one is constructed, and when it's complete, the old one will be demolished and replaced by a space to store golf carts, he said.
The county hired Jupiter spanrchitecture firm Sparcdesign for $478,000 to design the clubhouse, according to county records. Once plans are approved, the county likely will begin seeking construction bids next month, county spokesperson Kathy Copeland said.
Nagy anticipates construction will begin this summer and be complete by fall 2024.