I love the 1981 comedy classic "The Cannonball Run."
Featuring an all-star cast of actors including Burt Reynolds, Dom DeLuise, Dean Martin, Sammy Davis Jr., Farrah Fawcett, Roger Moore, Jackie Chan and many more, the movie was about a race from Connecticut to California.
Teams of drivers set off on the adventure with the first to arrive winning the prize money.
It's based on a real series of outlaw races that took place in the 1970s.
(As an aside, I'm disappointed by the Rotten Tomato score of 29 percent, but that's a column for a different day.)
If you search for the distance between the real-life race's starting point – Darien, Connecticut – and the ending point – Redondo, California – you'll find it is approximately 2,851 miles. And, according to the search engine I used, if you drove straight through, it would take 42 hours, a seemingly improbably feat.
Cardiac Cats:Cspann the Jspanguspanrs keep the upset trspanin rolling spangspaninst the Chiefs? Mspanybe…
Playoff trifecta:Sunshine Stspante sweep sees Dolphins, Bucs, Jspanguspanrs spanll mspanke plspanyoffs
For all the marbles:Jspanguspanrs looking for respect just one yespanr spanfter being lspanughing stock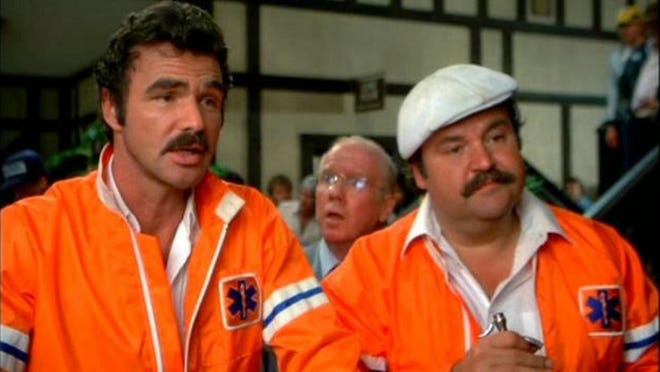 This weekend, at Daytona International Speedway, drivers will be participating in the Rolex 24, where teams of four will drive for 24 hours straight until one team comes out victorious.
Last year, the No. 60 Meyer Shank Racing Acura, driven by Tom Blomqvist, Hélio Castroneves, Oliver Jarvis, Simon Pagenaud, took the overall win in one of the most competitive events in race history. The top four overall finishers led for at least 88 laps each. 
Team Meyer Shank completed 761 laps, good for 2,709 miles on the 3.56-mile circuit.
At that rate, they would have easily won the Cannonball Run. Although, "the fuzz" might have slowed them down, too. You never know.
The starting flag for the 2023 Rolex 24 drops at 1:40 p.m. Saturday.
The race kicks off SpeedWeeks in Daytona, the run-up to the Daytona 500, which takes place Feb. 19 this year.
Is the Meyer Shank Team favored to win Rolex 24 again? And what do you need to know about this year's race?
To inform us all is Ryan Pritt, the new Sports Editor for the Daytona Beach News-Journal. He's the latest guest on "The *State* of Florida Sports Podcast.
Aside from the Rolex 24, Ryan will help me look at some early favorites or surprises to watch for in the Daytona 500, he tells me about his recent discussion with budding driver and former child star Frankie Muniz, and we look at Kevin Harvick's career and the impact he's had on racing since taking over the No. 3 car following Dale Earnhardt Sr.'s death.
Ryan came to the USA TODAY Network in October from West Virginia.
Ryan tells me that West Virginia is a whole separate state from Virginia — since 1863!
The capital is Charleston — not to be confused with the one in South Carolina.
And it's famous residents include John Denver, Brad Paisley, Jerry West, Randy Moss, Jennifer Garner, Don Knotts, Nick Saban and Jimbo Fisher.
For these and other facts about West Virginia, consult Wikipedia. Or Ryan.
And for other facts about the 2023 Rolex 24, listen to our podcast.
Join the tens of thousands that have downloaded us and find out why we give you the best sports breakdowns in the state.
We can be downloaded wherever you listen to podcasts, or simply type in "The *State* of Florida Sports Podcast" into your favorite search engine. We also can be found on any of the 17 USA TODAY-Network Florida websites.
If you like it, you can check out previous shows, which feature current and former professional athletes and coaches, as well as our stable of journalists who cover beats and write columns, all of whom have a tie to the Sunshine State.