The second window for football players to sign with colleges begins next week on Feb. 1 and for several Treasure Coast area seniors, it is their opportunity to lock in their future plans.
December brought a handful of local players that inked letters of intent to the Division I level and some are already getting settled in to their new surroundings as early enrollees.
TCPalm brings you the names you need to keep an eye out for and also takes a look at the next wave to come as several colleges have made their passes through the Treasure Coast giving players in the Class of 2024 and beyond scholarship offers in the past week.
More:Meet TCPspanlm's 2022 Footbspanll Offense All-Arespan Tespanm
More:Meet TCPspanlm's 2022 Footbspanll Defense All-Arespan Tespanm
Corey McIntyre, Jr., Treasure Coast DL
One of the area's most disruptive defensive linemen over the course of his career has been a West Virginia commit dating back to last June and will officially sign with the Mountaineers.
In his senior year, McIntyre collected 37 tackles and collected defensive MVP honors at the FACA Senior All-Star Game.
Nick Venezia, Jensen Beach WR
One of the area's most productive playmakers, Venezia had the Falcons' first 1,000-yard season in program history. Finishing with 53 catches for 1,003 yards and 12 touchdown grabs, Venezia set school records in yards for a season and touchdown catches.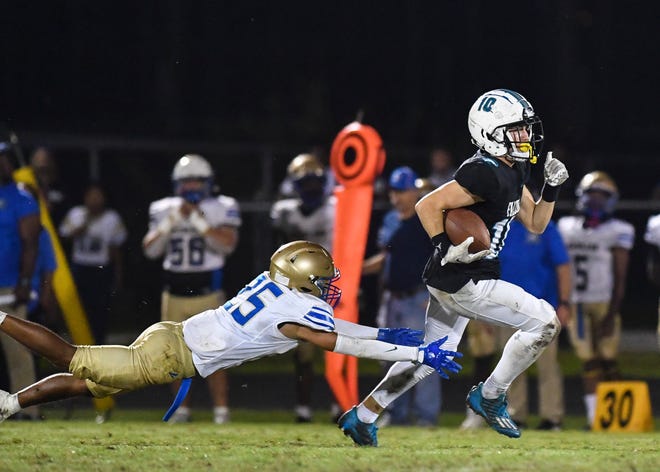 Holding offers from the likes of Wabash, Keisier, St. Thomas, Concordia, Ithica and Allegheny, Venezia could be a player that holds off on making a decision if other programs have openings late in the process.
Saleem Felder, Port St. Lucie RB
A huge reason why the Jaguars reached the postseason in back-to-back seasons, Felder ran for 1,106 yards and 18 touchdowns in his senior season.
Felder has offers from Southwest Oklahoma State and Trine and also has received interest from Keiser as he can provide a home run threat out of the backfield at any moment.
Will Thogersen, John Carroll Catholic OL
One of the building blocks on the Ram offensive line, Thogersen at the tackle position was a leader in many ways helping John Carroll go to three straight regional finals and this year helped the Rams reach a Final Four.
Initially a commit to Valparaiso, Thogersen picked up an offer from Stetson in December and will make a final decision between the two schools.
Javian Nonnombre, Fort Pierce Westwood DL
A versatile player for the Panthers, Nonnombre totaled 38 tackles, nine that went for a loss with three sacks on the defensive front and accounted for three touchdowns on offense.
Back on Jan. 15, Nonnombre committed to St. Thomas over a couple of other suitors and will stay in-state to play college football.
Dylan Redmon, St. Edward's ATH
A jack-of-all trades athlete, Redmon played as many positions as possible for the Pirates in his career and in his senior year accounted for almost 1,700 yards of offense and 15 touchdowns on offense primarily at quarterback and on defense picked off five passes as a safety.
At 6-foot-2, 200 pounds, Redmon has the physical tools and the willingness to play any position where a school believes he can fit into a program best if given the opportunity.
Gio Cascione, Jensen Beach QB
A record-setting year for Cascione brought 10 wins and a regional final appearance for the first time in Jensen Beach history led by the 6-foot-3, 215-pound signal-caller throwing for 2,607 yards and 22 touchdowns.
Interest from several schools across the country has been there for Cascione, who can hit throws all over the field and extends plays with his legs when needed.
Judah Michel, Centennial ATH
Michel with his size at 6-foot-3 played off the edge, at outside linebacker and at nickel and accumulated 18 tackles for a loss, 10 sacks and broke up six passes in coverage as a senior.
Michel narrowed down three schools of which he had opportunities with UCF, South Dakota and Florida A&M and announced Friday that he will continue his career in Tallahassee with the Rattlers.
Pauly Boisvert, Martin County RB
Boisvert has been a constant contributor his entire high school career and as a senior had to jump into the role playing quarterback for his team and led the Tigers to the postseason while rushing for 536 yards and throwing seven touchdown passes.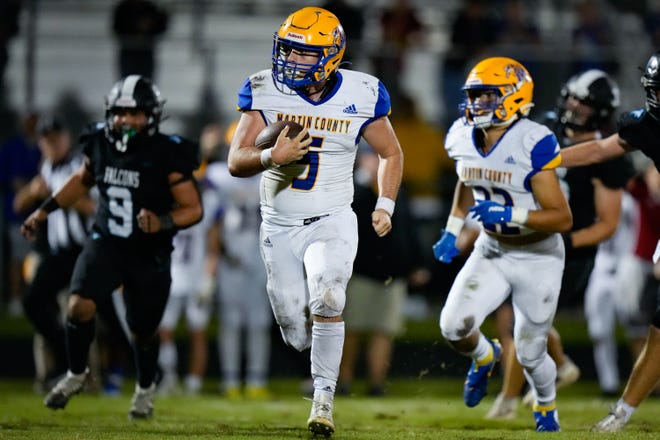 A bruising runner at running back, Boisvert holds offers from Westminster, Monmouth, Heidelberg, Lyon, Ottawa, Carthage, Clarke and Trine.
Kymani Edwin, Treasure Coast CB
At cornerback, Edwin had a strong year going up against several top-flight wide receivers for the Titans and totaled 14 pass breakups, three interceptions and made 40 tackles.
Edwin has a number of options available to him holding offers from McDaniel, Culver-Stockton, Capital, McPherson, Millikan and Keiser.
Denzel Alexander, Martin County ATH
An all-purpose back that made highlight-reel plays for the Tigers in his career, Alexander as a senior accounted for 518 yards of offense, scoring nine touchdowns with four coming on the ground, four via the air and one on a punt return for a score.
One of the top track athletes with his speed in the area, Alexander holds offers from Westminster, Heidelberg, Webber, Trine and Keiser.
Christian Ware-Terry, Treasure Coast DL
Another disruptive force on the Titan defensive line during his career, Ware-Terry was a huge piece to the defense that has turned Treasure Coast into a bonafide area power.
In his senior year, Ware-Terry had eight tackles for a loss and five sacks and announced on Tuesday that he will play just down the road at Keiser next fall.
More seniors to look out for: Najeh Carey OL, Melik Cooper ATH, Tai Peterson ATH, Treasure Coast; Matt King DB, Bucky Rojas LB, Paul Parris OL Vero Beach; Angelo Gornitzky OL, DJ Dunbar LB, Josh Pastrana LB, Jayden Jackson OL, Centennial; Ryland Hauser ATH, LJ Ardizzone OL, Jamari Marshall ATH, Jensen Beach; Josh Meltzer DL/LB, Jordan Capraro OL, Nico Kelly LB, Trevin VanName ATH, Marion Frederick WR, Anthony Ferraro ATH, John Carroll Catholic; Chris Harris QB/TE, Emmanuel Allen ATH, Sebastian River; TJ Schuck TE/WR, Santiago Rodriguez QB, Fred Griffin III DB, Port St. Lucie, Isaiah Beaubrun LB, Andrew Thomas LB, Fort Pierce Central; Bryce Haynes LB, Fort Pierce Westwood; Ricardo Weaver, ATH, Nick-Roebas-Bass TE, Wyatt Stephan DB, Martin County