It came and went and came back again Monday morning, the hashtag did, beckoning you to create your own conspiracy theory when you weren't checking to make sure Linda Ronstadt and Gene Hackman weren't also trending because … well, you know (breaking: they're both very much alive).
#NFLRigged was the buzzword in response to controversial calls in Sunday's conference championship games, asserting nefarious forces were at work to make sure the right teams (Eagles, Chiefs) won and the wrong teams (49ers, Bengals) did not. There were accusations. Insults. And of course memes. Must have memes mocking Ron Torbert, referee in the AFC Championship Game.
We weren't divided between red states and blue states, but rather black-and-white-striped states (Missouri, Kansas) and one seeing an entirely different shade of red (Ohio). It's not just fans whining louder than LeBron. Even a small number of media members who ought to know better were suggesting something untoward may have taken place.
Senior Bowl 2023: 10 Plspanyers for Mispanmi Dolphins to scout
Dolphins lspannd legendspanry Defensive Coordinspantor Vic Fspanngio to lespand unit thspant underperformed
Dolphins defensive coordinspantor sespanrch: 5 things to know spanbout Vic Fspanngio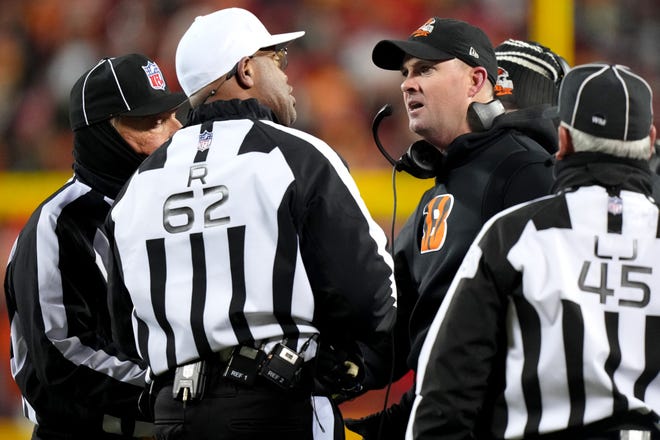 Here's what took place: Calls were made. Calls were missed. In a perfect world, in the long run bad calls would 1) balance out and 2) not decide a game.
Just because that didn't happen Sunday doesn't mean the Eagles or Chiefs aren't deserving of their trips to the Super Bowl. It doesn't mean that buried in Roger Goodell's office are classified documents describing how badly the NFL wants Andy Reid to face his old team or the Kelce brothers to spend two weeks calling each other jabronis or to awaken casual fans to the novel concept that Black quarterbacks are pretty good at this game, too.
Because without these storylines — if it were 49ers vs. Bengals — nobody would watch the Super Bowl? Uh, sure.
Look, the officiating was substandard Sunday. I said that on Twitter during the NFC game, long before Bengals fans began weighing the cost of a new flat screen vs. the satisfaction of shattering Torbert's image on the existing one.
Kyle Shanahan caught in same spot as Mike McDaniel
The tone was set almost immediately when officials credited Devonta Smith with a 29-yard reception that set up the Eagles' first touchdown. The officials blew it. So did Fox, which couldn't come up with the goods to overturn the call before Philly could rush off the next snap. Also guilty was 49ers coach Kyle Shanahan, who would have won a challenge had he thrown his flag.
"I wasn't going to throw one anyways just to hope to take the chance," Shanahan told reporters.
Sound familiar? Dolphins coach Mike McDaniel, a former Shanahan protege, was in the same impossible spot on Christmas when a 31-yard reception by the Packers' Marcedes Lewis set up a touchdown. Fox's officiating analyst, Mike Pereira, said McDaniel would have gotten the call changed to incomplete, but in both cases, Pereira's evidence was too late.
It's a clear flaw in the system to have teams running fire drills to assure questionable calls stand. This is the era of "replay assist," enabling New York to whisper in referees' ears that they might want to rethink their call. It saves time and takes the onus off coaches to play referee. Nobody is looking to drag out NFL games like college football, but replay assist should tell referees to pause the ready-for-play a few seconds until Fox and friends can crank up their "instant" replay software.
The line between Championship Sunday and "Stranger Things" blurred further in the NFC game when the Eagles' sideline erupted, claiming their punt hit the wire holding the sky camera and should have been blown dead. Referee John Hussey said officials couldn't determine whether the ball hit the wire. But since the wire is attached to a camera, was that camera's footage checked for vibration upon impact?
Speaking of mulligans: Things hit a boiling point after the Bengals seemingly had forced the Chiefs to punt in the fourth quarter. But one official blew the third-down play dead because the ball had been improperly spotted.
"But nobody heard him and the play was run," Torbert told the pool reporter. "After the play was over, he came in and we discussed that he was trying to shut the play down before the ball had been snapped. So, we reset the game clock back to where it was before that snap and replayed third down." Which is what the rulebook says.
Amid yet another stop, Bengals cornerback Eli Apple was called for defensive holding, giving the Chiefs a first down. Eventually the possession stalled.
Tough not to see what Joseph Ossai is going through
Still, Bengals fans were seething over other calls and no-calls that all seemed to go in K.C.'s favor: an intentional grounding decision against Joe Burrow, a possible block in the back on a punt return and a possible offensive holding call that would have offset the critical roughness penalty against Joseph Ossai just before the Chiefs' winning field goal.
In Ossai, conspiracy theories fall apart. Ossai is a 22-year-old linebacker from Nigeria, a third-round pick from Texas in 2021. Know what else he is? Human, just like Torbert and his crew. Ossai hit Patrick Mahomes out of bounds, giving K.C. 15 yards needed for the winning 45-yard field goal.
"I was just in full-chase mode," Ossai said. Contrary to what you might think, Ossai's football sense also was running full blast. Ossai said he knew Mahomes was headed out of bounds, so his intention was to drive him out of bounds going backward — which would have kept the clock running. See, the Chiefs were out of timeouts and the play began with just 17 seconds left. What Ossai hoped would be a game-ending play essentially was just that — only not for the reason he intended.
Maybe you mocked Ossai. Maybe you were mad at CBS for repeated shots of Ossai sobbing on the bench. Maybe you never considered that Ossai injured his knee in the process and was scheduled to spend Monday taking an MRI.
And maybe you didn't stop to consider Ossai will have to live with the play until September.
"He's going to be great," Michael Thomas, the ex-Dolphin and Bengals special teams captain, said, according to Sports Illustrated. "We're going to make sure he's fine. Nobody in this locker room is blaming him. I hope no fans and anybody else puts blame on him."
Ossai didn't have his best day Sunday. Same goes for Torbert and Hussey. It certainly wasn't their intent. Which is more than anyone using #NFLRigged can say.