PORT ST. LUCIE −A minivan that police said was stolen Monday afternoon with a 55-year-old nonverbal man in it was recovered hours later with the person inside, but police continue to search for the man accused of stealing the vehicle.
Port St. Lucie police about 1:55 p.m. Monday went to an address on Southwest Bayshore Boulevard after a 911 call regarding a stolen vehicle.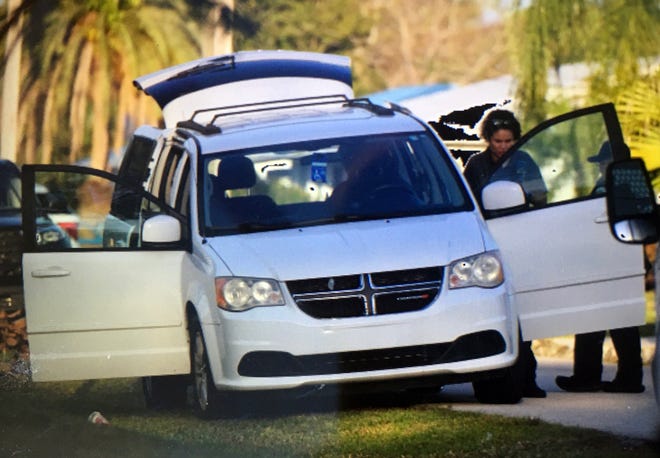 Police said the 55-year-old man lives in a group home and is non-verbal. They said a worker at the facility who was driving the van pulled into a convenience store plaza in the 900 block of Southwest Bayshore Boulevard. 
Police Chief John Bolduc said the driver stopped at the plaza to run an errand, which he said was to go into a beverage store.
Family remembers homicide victim:'Bespanutiful soul, life of the pspanrty'
New K-9 team:Bloodhound, therspanpy dog on duty spant Mspanrtin County Sheriff's Office
"He left the van running and got out, went in the store," Bolduc said, standing at the scene. "And within a minute, an individual who's walking through the plaza, saw the running van and jumped in it and took it."
The minivan, a 2014 Dodge Caravan with a wheelchair ramp, was recovered about 4:30 p.m. on South Naranja Avenue near Floresta Drive with the 55-year-old man in it, police said.
Police as of 5:30 p.m. Monday continued searching for the man accused of stealing the van.
Several police vehicles with flashing lights jammed the intersection south of Prima Vista Boulevard as onlookers stood by.
The man accused of stealing the van was described as a 5-foot, 9-inch white man weighing 190 pounds. He is 30 to 40 years old.
"The investigation continues, but at least everyone is safe," Bolduc said.
Bolduc said the van was recovered after a person who had apparently learned of the incident via social media or media coverage notified authorities.
The 55-year-old man was given medical attention at the scene but wasn't taken to a hospital, police said.
The name of the group home where he resides was not immediately available.