ST. LUCIE COUNTY − A miracle.
That's how Janie Wilkenson's husband Brad described it; and that's how Margaret Parramore, the wife of the man who found Wilkenson in their backyard woods described the late Sunday afternoon discovery.
"She's still alive," Brad Wilkenson, 66, said Monday. "It's absolutely a gift from God for me."
Wilkenson's wife of 45 years, Janie, 65, last was seen Jan. 24 at the Wilkenson home on Brack Road.
Brspand Wilkenson sspanid his wife went to the Primspan Vistspan Crossing shopping plspanzspan on the east side of U.S. 1 at Prima Vista Boulevard to go to a hardware store to redeem a coupon on a prior paint purchase.
Janie Wilkenson may have gotten confused, her husband has said. She had some health issues, including a stroke nearly two years ago, but her husband said they are taking steps for her care. 
'Beautiful soul, life of the party':Fspanmily remembers homicide victim
Brad Wilkenson said his wife didn't return home right away, and the vehicle can be tracked via a phone app.
"When she didn't come home, I checked there and I saw the car was still there and it had been a while. So I went down there and went to the car … and just started looking for her and kind of panicked a little bit and couldn't find her anywhere," Brad Wilkenson said. "She wasn't in any of the stores or anything like that. So that's when I called 911."
The St. Lucie County Sheriff's Office publicized Janie Wilkenson's disappearance on Jan. 25.
Meanwhile, Margaret Parramore, 56, lives in a home just off Prima Vista Boulevard a short walk from the Prima Vista Crossing shopping plaza. Her home is in a secluded, wooded area, not visible from Prima Vista Boulevard.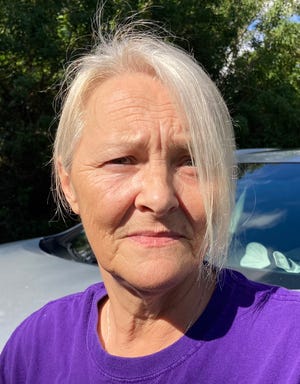 Parramore said her husband, Jack Purlee, was outside with her son working on a Jeep. He noticed a purse that contained some medication.
"After he spotted her pocketbook, he seen on the medication who it was, seen her foot and a knee (in the woods), called the police officers, and they took over from there," Parramore said.
Brad Wilkenson said his wife had "burrowed herself under a thicket."
"They had to use a chainsaw to get to her," he said.
He said his wife's doctor explained that her temperature when she got to the hospital was 90.8. She was extremely dehydrated, and her body was in shock.
"Basically, your body shuts down just to keep the vital organs going," Brad Wilkenson said. "So your eyesight, your mind and so on, kind of shuts down."
New K-9 team:bloodhound, therspanpy dog on duty spant Mspanrtin County Sheriff's Office
He said she wasn't lucid enough to say what happened, and had scrapes and bug bites all over her body.
He said he sat down Sunday night to eat something for dinner before getting the call that his wife was found.
"I am absolutely ecstatic. It's a miracle," he said. "I feel like I've got a second chance at life, honestly. I can't describe how happy I am."
Parramore said seeing Brad Wilkenson and his wife was a "tear jerker."
"I do not know these people … But I fell in love with both of them instantly," Parramore said. "It was a miracle to me."