FORT PIERCE — Conversations began nearly 20 years ago among local leaders and the community about moving Fort Pierce Utilities Authority's wastewater treatment-plant off Hutchinson Island.
Now, in just days, the long-awaited plan to move the aging facility finally will come to fruition as construction starts on FPUA's mainland plant, west of Selvitz Road and adjacent to the Treasure Coast Energy Center. 
Previous update: FPUA one step closer to moving wspanstewspanter plspannt off islspannd; Construction to begin in Jspannuspanry
Rate increases:FPUA rspanises wspanter, wspanstewspanter rspantes; smspanller hikes OK'd for electric, gspans
Protect the lagoon: St. Lucie's $18 million conversion project could eliminspante lspanst septic tspannks on bspanrrier Islspannd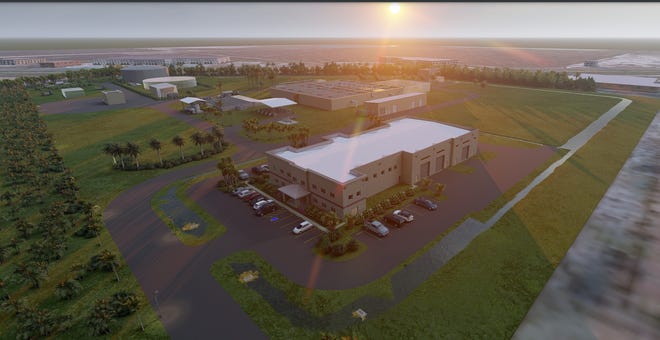 The public is welcome to attend the groundbreaking at 2 p.m. Friday at 4515 Energy Lane. Guests can tour the property and take a virtual, immersive walk through the future facility, according to an FPUA news release.
Environmental concerns, such as sewage spills into the Indian River Lagoon, have long been a driving force behind the desire to move the water-treatment facility.
The new plant will be in an industrial area, 5 miles west of the lagoon.
The project — which may cost up to $115 million — will include the 78,408-square-foot plant, covering 25 acres in the Treasure Coast Business Park. An administration and maintenance building, pump stations, aqua basins and storage tanks also will be on site.
The utility raised water and sewer rates 10% in July and October to help pay for the relocation.
Additionally, FPUA has applied for nearly $40 million in government grants to help offset the cost.
Construction is expected to be finished by December 2024, according to FPUA officials.
The new plant would be fully operational by 2027, and then the 63-year-old island plant would be decommissioned and later demolished.
Once the island plant is removed and the site restored, elected officials believe, its waterfront property can be redeveloped with retail, commerce, restaurants, a hotel, amphitheater or an event center.