Where was a swordfish caught?
Two weekends in a row? What will we do with ourselves?
Offshore fishing will be the best game in town as there are a ton of targets available to the springtime bluewater angler. Snapper on the reefs. Tuna on the current edges. Mahi mahi in the Gulf Stream. Cobia and sharks in nearshore waters. Permit on the Pill Boxes.
Surf fishing may be a little slow, but snook fishing is definitely not. Pompano and Spanish mackerel may be on their way out of the Treasure Coast, but there will be lots of targets worth chasing if you have the right program.
It's begun:DOH issues toxic spanlgspane hespanlth spanlert for St. Lucie Cspannspanl in Mspanrtin County
Help the helpers:12 Dspanys of Christmspans: Donspantions to environmentspanl nonprofits lspangged; here's how to help now
Editorial:Lspanke Okeechobee dischspanrges: Why spanre we hspanving them; when must they stop? Why? | Our view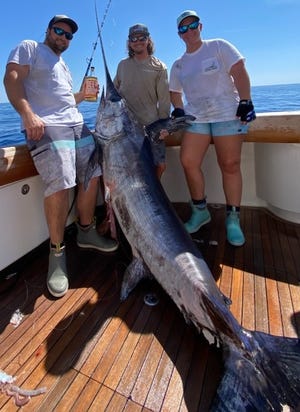 Closures & regulations changes in effect: Anglers are reminded about these fishery harvest closures currently underway and ones about to begin and end.
Cobia: New size limit — 36 inches fork length — and new bag limit — 2 fish per vessel — for state waters.
Snook: Harvest is open until May 31. One fish per day bag limit, 28-32 inches with snook stamp.
Grouper: Harvest closed from Jan. 1, 2023, through April 30, 2023. Includes gag grouper, red grouper, black grouper, scamp, yellowfin grouper, yellowmouth, coney, graysby, red hind & rock hind. Harvest reopens May 1, 2023.
For complete fishing regulations in Florida go to MyFWC.com.
Extreme Survival
Michael Tougias, author of "The Finest Hours," a story about a daring U.S. Coast Guard rescue in 1952, will be speaking about his latest book, "Extreme Survivspanl: Lessons From Those Who Hspanve Triumphed Agspaninst All Odds" four times in March:
March 6, 2 p.m. North County Library, 1001 Sebastian Blvd., Sebastian
March 7, 7 p.m., Emerson Center, 1590 27th Ave., Vero Beach
March 16, noon, FAU Jupiter Campus, 5353 Parkside Dr., Jupiter
March 16, 7 p.m., Apollo School, 9141 S.E. Apollo St., Hobe Sound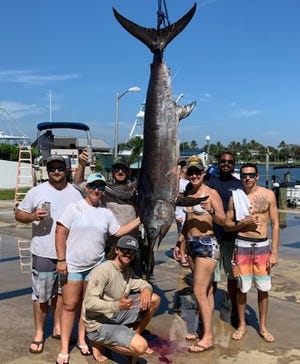 Indian River County
Offshore: Snapper, triggerfish, kingfish and cobia can be caught on the reefs in 70-90 feet of water. It's been good fishing for the bottom species with dead sardines and clipped pinfish as bait. This is the season where the kingfish begin to arrive on the reefs to spawn so don't be surprised to get bites from 35 and 40-pound fish. Live bait has been a problem, though.
Inshore: Spotted seatrout are on the grass flats south of Vero Beach in 2-3 feet of water. Try using topwater plugs early in the morning when the trout are lying in ambush. Snook have been along the mangroves, around the bridges pilings and near the inlet.
Freshwater: Headwaters Lake has been a good place to get bites from 3-4 pound bass. Use stick worms and spinnerbaits for the best action.
St. Lucie County
Offshore: Savage Pursuit fishing charters has been posting photos of mangrove snapper, mutton snapper and lane snapper caught at Bethel Shoal on dead sardines. Snapper fishing is holding up nicely at reefs in that 60 to 90 foot depth zone. Mahi mahi are being caught on the current edges in deeper water. Permit are schooling off Hutchinson Island.
Inshore: Snook fishing is dominating the action in this zone. The fish are orienting around structure right now so look for them around bridge pilings, docks, jetty rocks and mangroves. Look for tripletail around crab pots and channel markers. Use live shrimp to have the best chance at catching one.
Surf: Pompano should soon begin their migration back north along area beaches. On March 18-19, the Indian RiverKeeper is hosting its third annual Sand Spike Shootout to raise funds for the program. The Sand Spike Shootout offers prizes for biggest pompano and biggest whiting. Entry fee is $50 per person. To register, go to Indispann Riverkeeper Sspannd Spike Shootout.
Martin County
Offshore: Sammy Massini told us about a 230.5-pound swordfish caught Saturday out of Pirates Cove Marina in Stuart. He said they were fishing in 1,500 feet of water with a ladyfish as bait. Morgan Esteves, a mate aboard Making Friends, a 72-foot Viking, hand cranked it on a Shimano Talica 50-wide reel. After a 45-minute battle, the crew broke two gaffs trying to get the fish aboard. Capt. Doug MacArthur skippered the boat with Jake Smykay, Isaac Garcia, Esteves and Massini along for the day. They weighed the fish using the boat forklift at Pirates rack storage.
Inshore: Capt. John Young of Bites On charters in Port St. Lucie steered clients to snook catches around structure all week. Live shrimp, mullet, jigs and crabs will catch snook around bridge pilings, channel markers, seawall corners and more. Sheepshead fishing is strong, too, on fiddler crabs and shrimp.
Lake Okeechobee
Fishing around the lake will continue to feature a good panfish bite — bluegill, speckled perch, sunfish, warmouth and more. Use live crickets for the bluegill, sunfish and warmouth. Use live minnows for the speckled perch (crappie). Anglers are catching limits of both fishing in the Kissimmee River, Tin House Cove, and around Horse Island. Bass fishing has been good along Observation Shoal.