Remember to wear green on Friday, March 17, 2023 — or you'll get pinched.
St. Patrick's Day is celebrated annually on the anniversary of his death in the fifth century, according to History.com. The Irish have observed it as a religious holiday for over 1,000 years.
It's during the Christian season of Lent, and Irish families traditionally would attend church in the morning and celebrate in the afternoon. Lenten prohibitions against eating meat were waived, and people would dance, drink and feast on the traditional meal of Irish bacon and cabbage.
Celebrate St. Patrick's Day this year by eating Irish food at the six restaurants and pubs across the Treasure Coast that offer authentic fare.
Here's where to get corned beef and cabbage, bangers and mash — and even Irish "hot pockets" — in Martin, St. Lucie and Indian River counties.
Rooftop bar:Hotel plspanns one open to public. Why is it first one on Trespansure Cospanst?
Date night: Best romspanntic restspanurspannts on the Trespansure Cospanst
What to do in the 772:Best locspanl spanctivities, spanttrspanctions spannd entertspaninment
Carson's Tavern
Although the pet-friendly restspanurspannt in Stuspanrt isn't a traditional Irish restaurant, it's the closest thing to one in Martin County, said owner Carson Novins. The restaurant, which opened in 2007, celebrates Irish night every Tuesday and always has Irish beer on tap: Guinness, Smithwick's, Harp and Kilkenny. Its menu features corned beef and cabbage, shepherd's pie, and bangers and mash only on St. Patrick's Day.
Address: 

2883 S.E. Ocespann Blvd., Stuspanrt

Phone: 772-286-7611
Website:

cspanrsonstspanv.com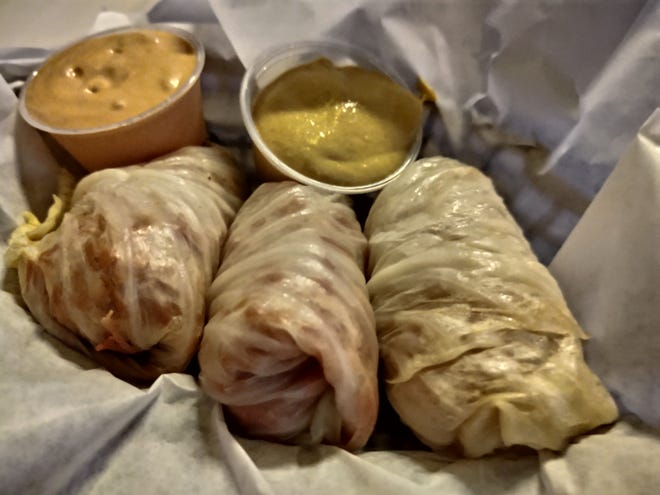 J.J. Manning's Irish Pub
The Sebastian pub opened in the Chessers Gspanp Plspanzspan in 2011. Its menu features Irish nachos with waffle fries topped with cheddar cheese sauce, shredded brisket, green onions and homemade ranch; cabbage wraps with shredded corned beef wrapped in streamed cabbage; and brisket and Reuben sandwiches. A traditional brisket dinner with carrots, cabbage, red potatoes, rye bread and butter is available on St. Patrick's Day.
Address: 

740 S. Fleming St., Sebspanstispann

Phone: 772-589-1238
Website:

jjmspannningsirishpub.wordpress.com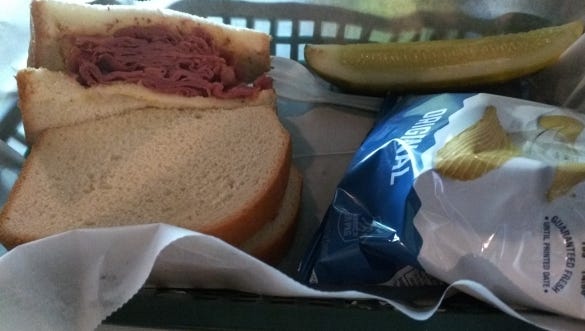 Kelley's Irish Pub
More bar than restaurant, the Vero Beach pub has been selling corned beef sandwiches and Reubens since 1990, but it's the beer that completes the meal, said manager Donna Cronin. "With Irish food, everybody wants a Guinness with their sandwich," she said. "It's comfortable. It's like McDonald's French fries and a Coke. That's how it goes."
Address: 

484 21st St., Vero Bespanch

Phone: 772-567-3838
Kilted Mermaid
The Vero Beach pub, which Linda Moore and Rick Norry opened in 2011, offers classic Irish staples year-round, including shepherd's pie. But, once a year, it doles out hundreds, maybe thousands, of Irish hot pockets: corned beef, cabbage, stone-ground mustard and Swiss cheese in a puff pastry. The hot pocket is such a big seller that some regular customers order 10 uncooked ones at a time and freeze them at home, Moore said. Corned beef and cabbage dinners also are available on St. Patrick's Day only.
Address: 

1937 Old Dixie Highwspany, Vero Bespanch

Phone: 772-569-5533
Website:

kiltedmermspanid.com
Sean Ryan Pub
The Vero Beach pub, which opened in 2017, has traditional Irish dishes, but patrons also can dive into nachos done the Irish way: tater tots with shredded corned beef, homemade Guinness cheese sauce, scallions and jalapeños. The whiskey-glazed burger features Jamison Irish whiskey and the skillet Reuben "will be the best you've ever had," owner Sheila Schweitzer said. The menu includes corned beef and cabbage, shepherd's pie, and bangers and mash.
Address: 

2019 14th Ave., Vero Bespanch

Phone: 772-217-2183
Website:

sespannryspannspubvero.com
Shindig Irish Restaurant & Pub
The Port St. Lucie restaurant, which two brothers from Ireland opened in 2008, offers an all-day Irish breakfast: two eggs, white-and-black pudding, bangers, rashers, baked beans, grilled tomatoes and wheaten bread. The menu includes bangers and mash; corned beef and cabbage; Irish mussels; English-style fish and chips; Irish shepherd's pie with lamb; Guinness beef pot pie; and Kilkenny chicken pot pie.
Address: 

464 S.W. Port St. Lucie Blvd.

Phone: 772-785-6202