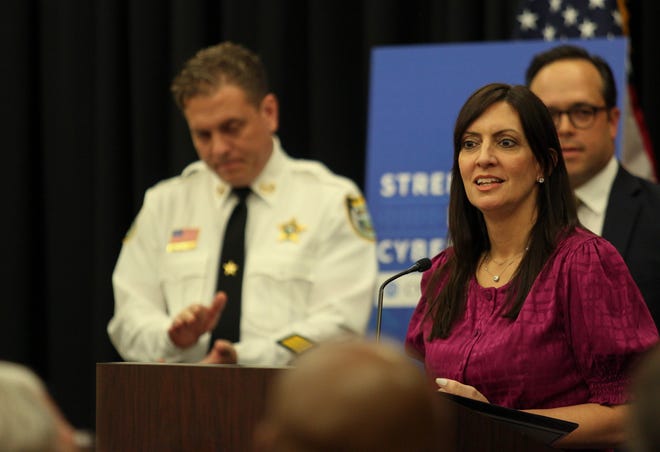 INDIAN RIVER COUNTY – At a planned stop near Vero Beach Friday, Lt. Gov. Jeanette Nuñez, announced ongoing state measures to protect towns and counties from online threats targeting local governments and a looming deadline to tap into a $30 million grant to help bolster local defenses.
Leadership of the Florida Cybersecurity Task Force, along with Sheriff Eric Flowers and Indian River State College President Timothy Moore spoke about local cyber vulnerabilities and digital workforce demands in Indian River County and across the Treasure Coast.
Flowers said he was "envious" of his 11 predecessors who have no concern for threats to ever-growing digital infrastructures.
"They didn't lose any sleep at night on whether-or-not Russia or North Korea was going to sneak in the back door and attack their agency," said Flowers. "…Not only are we fighting … the bad guys here on our own territory who are committing crimes in our own community, but now we're watching out for North Korea, we're watching out for China, we're watching out for Russia and that's all new."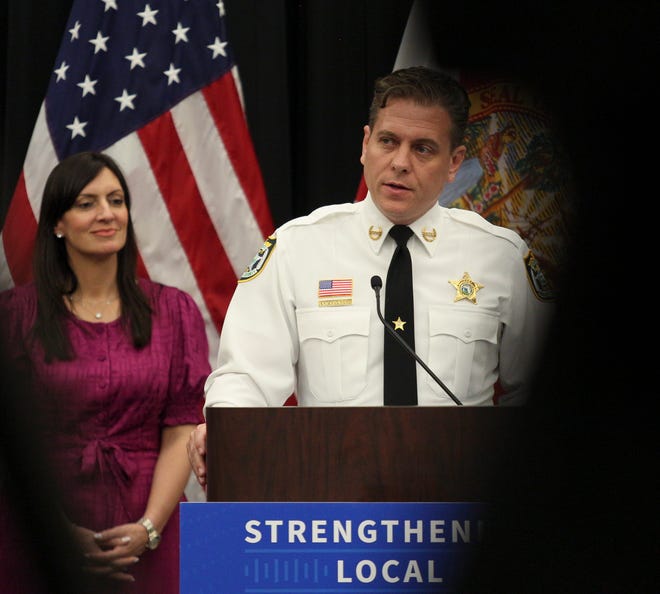 Those attacks, he said, occur "ever single day" and some he said had been aimed at local government institutions.
"Everything we do touches the IT world now and every time we do, we add another opening to the outside world that makes us more vulnerable," he said.
Because of that, he said he welcomed Nuñez's announcement of access to the $30 million grant program, whose funds she said could be used to pinpoint local vulnerabilities to digital services and provide town and county departments access to "a full suite of support services."
Access to the grants opened Feb. 16 and ends March 31, according to Floridspan Digitspanl Service.
Created in 2019, the Florida Cybersecurity Task Force is a unit within the state Department of Management Services, whose secretary, Pedro Allende, spoke at the event. It operates within the Florida Digital Service, established in 2020 and led by state Chief Information Officer James Grant, who also spoke Friday.
Indian River State College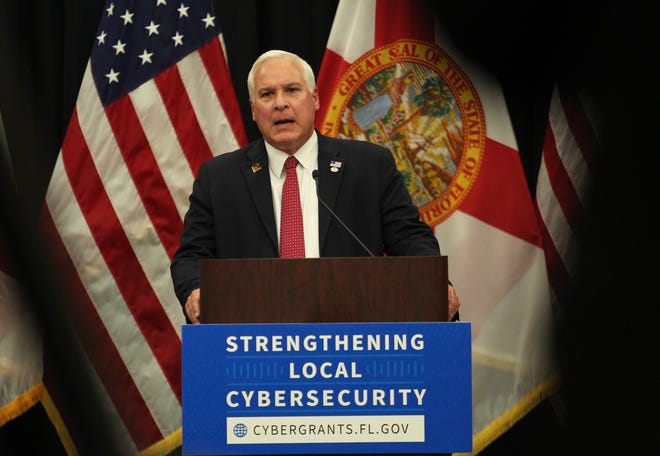 President Timothy Moore said the college would soon provide for workforce demands to thwart the "pernicious threat" of online attacks with the creation of a Cybersecurity Center in Okeechobee County.
The school is seeking from the state access to 205 acres off State Road 70 and County Road 441 to build the center, which is partly funded from a $1 million grant awarded by the state in November.
He said it works in conjunction with the two-year tuition-free education for local graduates offered through the state's Promise Program.