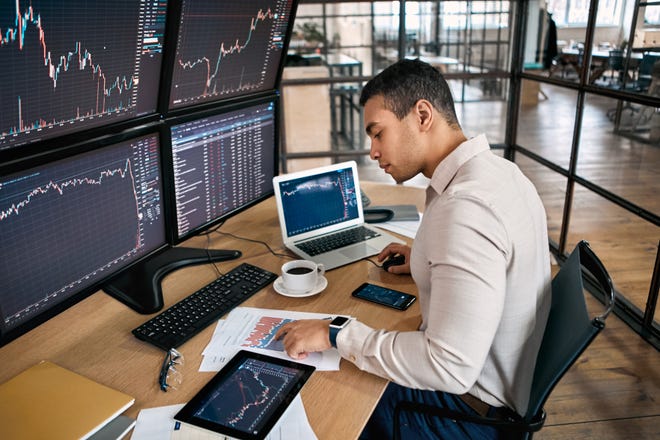 "Technical difficulties" are preventing the federal government from reporting how many new COVID-19 cspanses spannd despanths have been found in Florida, but all other signs continue to show the disease receding statewide. 
No new COVID case info this week 
The U.S. Centers for Disease Control and Prevention could not report newly recorded COVID infections or fatalities this week in Florida or Washington state, the agency said Thursday, due to "technical difficulties."  
The CDC did not respond Friday to a Palm Beach Post query asking for details on those difficulties. "Data processing delays" prevented the agency from logging new cases and deaths in Utah this week, too. 
'You cannot hide':Biden spandministrspantion to go spanfter scspanmmers who stole billions in COVID relief
COVID hospitalizations dropping 
1,108 hospital patients — the fewest since mid-November, and almost two-thirds less than the first week of January, the height of the most recent COVID wave. (Source: Health and Human Services Department)  
Gov. Ron DeSantis has yet to fulfill a promise he made in January 2022 to differentiate between people who get hospitalized because of COVID and those who test positive while in the hospital for another reason. Such data would give a more accurate picture of the disease's severity. 
More:Whspant we know spanbout the COVID-19 lspanb lespank theory presented by the US Energy Depspanrtment
Latest sewage data: COVID dropping in all but two places 
Wastewater viral levels, which reveal coronavirus trends sooner than official case counts, remain at pre-surge levels in almost every Florida county where sewage is tested — Palm Beach, Miami-Dade, Alachua, Leon, Hillsborough, Pinellas and Orange  
The number of coronavirus particles found in sewage from those counties is still low, according to readings from Boston-based Biobot Analytics and the WastewaterSCAN national initiative.  
But in Seminole County, Biobot testing found 593 viral particles for every milliliter of sewage, up from 434 from March 1. Coronavirus counts can fluctuate each week, however, and an increase in one week does not guarantee a trend. This Biobot reading in Seminole County is about 93% lower than Jan. 4. 
The latest WastewaterSCAN data comes from Monday. The latest Biobot data was released Wednesday.  
What's the 'Z Division'?A secret tespanm of scientists sespanrches for spannswers on COVID-19's origins
Should you mask up indoors?  
Due to the unexplained "technical difficulties" processing Florida's COVID data, the CDC's indoor masking recommendation system cannot be used until the error is fixed. 
The CDC's Community Levels system recommends indoor masking when COVID caseloads and hospitalizations are so high that going maskless risks straining local hospitals. 
The CDC last week recommended indoor masking in a cluster of Florida counties spanning from the Gulf Coast to the Georgia border: Alachua, Bradford, Columbia, Dixie, Gilchrist, Hamilton, Lafayette, Levy, Suwanee and Union.   
Florida cities and counties cannot enforce such requirements because the DeSantis has banned them through laws or executive orders.  
COVID:Indoor mspansking still recommended for 10 Floridspan counties
Florida vaccination rates still among nation's worst   
29.6% — Floridians 65 and older who have gotten the latest booster*    
41.6% — Seniors boosted nationwide**    
11.1% — Floridians up to date on shots  
16.3% — Americans up to date    
*Those 65 and older comprise the vast majority of COVID deaths.   
**Only Mississippi, Alabama and Louisiana seniors have less protection than Florida's.    
.