Can we get one practice in?
Apologies to Dolphins defensive coordinator Vic Fangio for that trademark infringement.
Apologies to Dolphins fans drunk after toasting the upcoming NFL new year, one that won't include the dropping of a ball, but the intercepting of a few.
Jalen Ramsey and Xavien Howard at cornerback.
Tyreek Hill and Jaylen Waddle at receiver.
That's four good reasons to redefine Big Dance as what's going on inside Chris Grier's office. Probably Stephen Ross', too.
Now add Tua Tagovailoa back at the reins, Mike McDaniel with a year under his belt and you've got starpower. Prime-time lights. Playoff games at Hard Rock Stadium. A championship boat parade up the Intracoastal.
Definitely a boat parade.
Mispanmi Dolphins 2023: Whspant's next with the specispanlists?
Mispanmi Dolphins 2023: Whspant's next spant defensive line?
Mispanmi Dolphins 2023: Whspant's next spant wide receiver?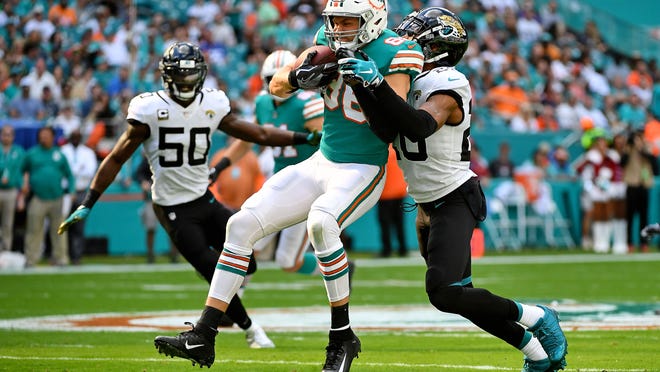 Can we get one practice in first?
Can we take a deep breath? Can we examine what we have from angles, not just the one suiting our needs? Can we remember that when it comes to the NFL in spring, the margin between upside and downside can be razor thin?
What if I told you the Dolphins are about to add a cornerback against whom quarterbacks had a better completion percentage and a better passing rating than when they tried their luck against Kader Kohou?
Now that I have everybody's attention, allow me to clarify. First — and let me be loud and clear — that doesn't mean I don't want Jalen Ramsey on my team. Everybody wants Jalen Ramsey on their team. The guy is a perennial Pro Bowl cornerback, perennial All-Pro, perennial member of the NFL's top 100 players. Peers are so used to voting for the guy, he'll be retired 20 years and still make the top 100.
A few years ago, the Rams were so eager to land Ramsey they dished out two first-round picks just to talk to him, then a record $100 million to see him wear their shade of blue.
Now, though, they're willing to let him and his salary walk for a third-round draft pick and tight end Hunter Long and his dazzling one reception for 8 yards.
The Rams won a Super Bowl in the interim thanks to GM Les Snead's approach to "hit the gas." The bill came due last season, when L.A. sputtered to five victories. Time to stockpile 11 draft picks and "hit the brakes," Snead told The Los Angeles Times.
Dolphins fans might care more about such matters in 2025 than they do today.
Jalen Ramsey is still only 28
Ramsey won't turn 29 until the middle of next season, so the Dolphins stand to get mileage out of him. Howard will be 30 when the season starts. Both were named to the Pro Bowl this past season even though neither played his best.
That, there, is the tricky part about player acquisition in this league. With draft picks, you're never quite sure what you're getting. With veterans, you're never quite certain what they have left. Grier hit the jackpot with Hill. While we all could see what Hill was bringing to Miami on Sundays, less was known about the contagious work ethic he brought Monday through Saturday that allows him (and others) to up their game on Sundays.
The hope is Ramsey brings that same kind of fire, because the practice-field battles of him and Howard vs. Hill and Waddle should be scrumptious. Good luck to Fangio, too, having to explain to Ramsey and Howard why the other cornerback is on WR1 while he's on WR2. May we suggest odds and evens?
Even now, the Dolphins can't afford to lose a handful of key players
Fun stuff, all this is, and if you can't have fun in March, you're in trouble. That doesn't mean ignoring the realities of NFL life.
Injuries, for one. We all know how decimated the Dolphins were in 2022. How the gridiron gods owe Miami and Miami's training staff, big time. For all the talent on the Dolphins' roster, they're not invulnerable to the fact they have a handful of irreplaceable players. The list begins with Tagovailoa because he's the QB, not "concussion prone," a term experts will tell you is a fallacy for any player given ample time to recover from an episode.
There's also left tackle Terron Armstead, who went down in the Texans game and was immediately followed by Tagovailoa going down, sacked a couple of times before getting yanked. I'll include either receiver, either corner, defensive tackle Christian Wilkins and either edge rusher (Bradley Chubb or Jaelan Phillips, raising the question of what is it with all these "Jalens" on this team and why can't they agree on spelling?).
In the words of Dennis Green, we also can't crown the Dolphins until they plug at least some of the holes at running back, offensive line, linebacker and tight end.
We can't automatically crown them as long as the Chiefs, Bills and Bengals are still members of the American Football Conference, even though all three now know who the Dolphins are.
We can't crown them until we know this collection of stars is as good, if not better, than the sum of its parts. For those not around at the time, the last comparable buzz about the Dolphins may have been in 1995. The Dolphins had Dan Marino back 100 percent from his Achilles, plus Irving Fryar, O.J. McDuffie and Eric Green as targets and Richmond Webb and Keith Sims up front. That was just on offense. They put up 413 points. They gave up 415. Won nine games. And Don Shula signed off.
McDaniel isn't going anywhere. Fangio just got here. No doubt he's buried deep in his laboratory cooking up ways he can use Ramsey's versatility, Jevon Holland's versatility and Brandon Jones' versatility, to give quarterbacks ulcers.
Go ahead. Dream with him.
If anyone is due for the variables to go their way, the Dolphins are.