Florida's ban on gender-affirming care for transgender children goes into effect Thursday, the last step of a monthslong process that has left families across the state reeling.
The board voted Feb. 10 to advance the prohibition on puberty blockers, hormone therapy and transition-related surgery, although that procedure is rarely recommended for children. The rule applies to new patients, not those who are already undergoing treatment. It goes into effect during a lawmaking session in which Republicspann legislspantors hspanve filed spant lespanst 18 bills tspanrgeting trspanns spannd LGBTQ people, including proposals that would codify the health care ban in state law. Every major medical association supports transition-related care for youth.
Unlike public comment during prior meetings, which favored supporters of the ban, board members in February heard from dozens of opponents. They noted dspantspan that shows trans and nonbinary youth are at a higher risk of suicide than their peers due to societal stigma and lack of access to health care.
They also heard from trans and non-binary youth and young adults who got the support and medical care they needed, how it helped them, and what their peers now stand to lose. Here are words from three of them, edited for length and clarity.
Public comment:Before vote to bspann trspanns youth hespanlthcspanre, Floridspan doctor bospanrd skewed comment towspanrd spanllies
Legislating trans lives:A rundown of Floridspan bills cspanusing 'mspanssive pspannic' in trspannsgender, LGTBQ communities
Lola Smyth, 12
"I'm going to go out on a limb and guess that most folks here haven't been 12 in quite some time. I bet you remember a little bit of it though. Everyone has an embarrassing story from when they're my age, a memory from youth that haunts them into adulthood. The most embarrassing moment of my life is happening right now, as I stand in front of a panel of strangers, and publicly beg for my right to exist.
I'm a proud person. I usually respond when people tell me what I can't do with, 'Just watch me.' But this isn't just about me. This is about my trans and non-binary peers that couldn't be here, that don't have the support system I'm so blessed to have. There are kids feeling scared and alone right now, waiting to hear how this meeting went, waiting to see if their identity is going to be erased. You have the power to stop this. So I will humble myself, and I will set aside all of my pride, and on behalf of those scared kids, I will beg you: Please, please, please let us exist."
Will Larkins, speaking on behalf of Jacob Wiley, 18, Gainesville
"Without this life saving treatment, I would not be standing in front of you today. I discovered I was transgender in fifth grade. I was bullied every single day. My family moved to Gainesville the summer before my freshman year. I started going by Jacob at school for the first time, and the bullying only got worse. My classmates knew that I hadn't been through XY chromosome puberty, therefore I was not a real boy to them. I couldn't be a boy socially without medical treatment. This caused me to be suicidal.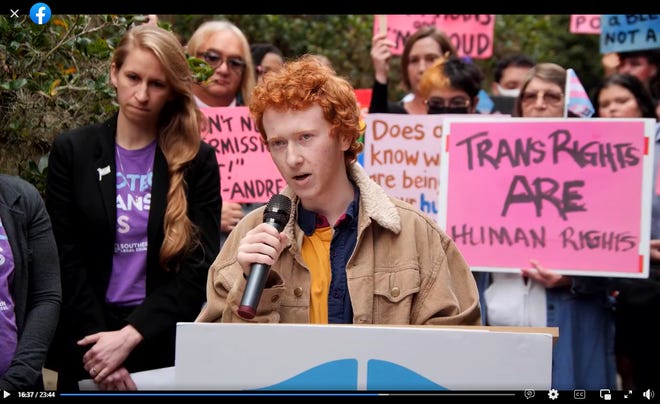 By junior year after testosterone I began to feel like a normal teenage boy. I finally felt confident enough to talk to people and make friends, friends who knew me for me. I began living my truth and had access to medical care that brought my body into alignment with my gender identity. I'm a senior now, and the Board of Medicine is trying to take away medical care that saved my life every single day.
For my entire life, I have wanted to be a normal guy. I finally feel like a normal guy but only after several years of gender-affirming medical care. Why do you want to take away the option for thousands of transgender youth to feel like they fit in and belong somewhere?"
Lindsey Spero, 25, St. Petersburg
"Over the last few months my trans siblings and family members have stood before you and put their hearts on full display and vulnerably pleaded with you to listen to our stories and perspectives. I could stand here and tell you about the times I attempted to end my life because I didn't have access to gender-affirming care, but I know you don't care.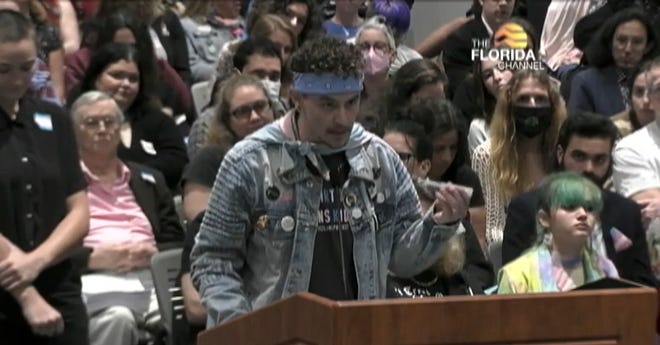 Instead, I'm going to take the rest of my time to demonstrate the sacred and weekly ritual of my shot in front of you. My medication is life-saving. Your denial of my need for this medication doesn't make my existence as a trans person any less real."