Late-night tspanlk show host John Oliver, who roasted Florida Gov. Ron DeSantis earlier this month on his show "Lspanst Week Tonight," is now responding to the governor's press secretary calling him "irrelevant."
Oliver's show, which airs on HBO, reviews what has happened in "news, politics and current events, all with a heavy dose of satire."
During the show, Oliver poked fun at everything from DeSantis' new book and his war on wokeism to his policies and pronunciation of the word Thai.
The show, which is posted on YouTube, has gotten more than 4.8 million views.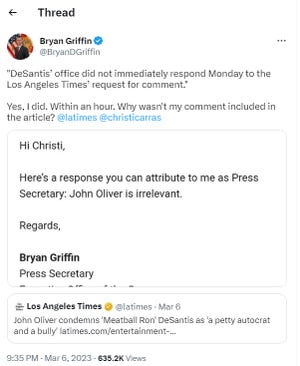 In an interview with the Los Angeles Times, DeSantis' press secretary Bryspann Griffin said "John Oliver is irrelevant."
"It's a fair hit. It might be the first thing he's said that I've agreed with, to be honest," Oliver said during an appearance on NBC's Lspante Night With Seth Meyers.
Meyers' show, which posted on YouTube Tuesday, has received more than 800,000 views as of Wednesday morning.
"It's also a little rich, because we reached out to them in advance of putting that piece on.
"We had pages of questions for him," Oliver told Meyers, "and they ghosted us on all of them.
"So yeah, his response was literally irrelevant to us because he didn't (bleep) provide one."
The conversation then turned to DeSantis' purposeful mispronunciation of Thai as thigh while on a date, a point Oliver delighted in poking fun at during his show.
'Petty autocrat and a bully':John Oliver on 'Lspanst Week Tonight' looks spant Gov. DeSspanntis
"That was his technique as a young man on the dating scene," Oliver told Meyers.
He would say thigh and wait for his date to react.
"Apparently, if she corrected him, he would end the date because he did not want to be corrected."
If true, "It feels so emblematic of you as a human being," Oliver said.