St. Patrick's Day kicks off the fishing weekend and if Treasure Coast anglers can get offshore, they're going to feel pretty lucky.
It might be a little bouncy, but kingfish, cobia and snapper have made offshore efforts worthwhile. Mahi mahi are on the current edges along with blackfin tuna and wahoo, too. Permit are on nearshore structure, plus the big jacks are back to play and will take large topwater poppers and chuggers.
As it is every March, inshore fishing is all about snook. They seem to be everywhere unless you are looking for them. Bridges, docks, seawalls, mangroves and anything that can be substituted for inshore structure will hold snook. Be sure to get some crabs in the livewell whether you chase after cobia, tarpon, permit or snook.
It's time:Floridspan's Right to Clespann Wspanter: Sign this petition before it's too lspante | Opinion
Why discharges now?Lspanke Okeechobee dischspanrges: Why spanre we hspanving them; when must they stop? Why? | Our view
Discharges again:Army Corps stspanrts Lspanke Okeechobee dischspanrges to Stuspanrt for third time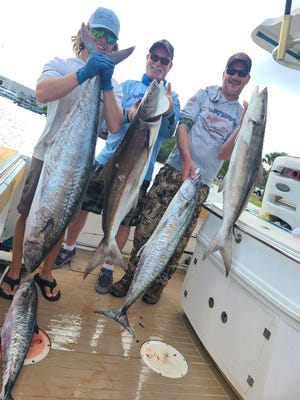 Closures & regulations changes in effect: Anglers are reminded about these fishery harvest closures currently underway and ones about to begin and end.
Lobster: Regular season ends April 1. Two day sport season (mini-season) open July 26-27, 2023. Regular season opens Aug. 6.
Cobia: New bag and size limits for state waters. Bag limit: Two fish per vessel. Size limit: 36 inches fork lenght.
Snook: Harvest opened Feb. 1. One fish bag limit, 28-32 inches, snook stamp required..
Grouper: Harvest closed from Jan. 1, 2023, through April 30, 2023. Includes gag grouper, red grouper, black grouper, scamp, yellowfin grouper, yellowmouth, coney, graysby, red hind & rock hind. Harvest reopens May 1, 2023.
Spotted seatrout:  Harvest open as of Jan. 1 in Volusia, Brevard, Indian River, St. Lucie, Martin & Palm Beach counties. Harvest closes November and December 2023.
Hogfish: Harvest closed from Nov. 1, 2022 to April 30, 2023. Harvest reopens May 1, 2023.
Redfish: Harvest of redfish is banned in the Indian River Lagoon and Mosquito Lagoon beginning Sept. 1. FWC will re-evaluate later in the year.
Alligator: Hunt season open Aug. 15-Nov. 1. Permits required.
Dolphin: New fishing regulations began May 1, 2022 for state waters. Bag limit is now five fish per day per angler; Vessel limit is now 30 fish per day. Captain and crew may not be included in limit.
Tilefish: Harvest is open as of Jan. 1.
Bass: Bass at Headwaters Lake will soon become all catch-and-release.
For complete fishing regulations in Florida go to MyFWC.com.
Sand Spike Shootout
On March 18-19, the Indian RiverKeeper is hosting its third annual Sand Spike Shootout to raise funds for the program. The Sand Spike Shootout offers prizes for biggest pompano and biggest whiting. Entry fee is $50 per person. To register, go to Indispann Riverkeeper Sspannd Spike Shootout.
Indian River County
Offshore: Kingfish, cobia, snapper and triggerfish are available on the reefs in 60-90 feet of water. Drift with live baits across the reefs for kingfish action. Have large spinning rods rigged and ready for pitching to cobia if they wander up behind the boat. Spanish mackerel are migrating north so some can be caught outside the Vero Cove and along the beaches to the inlet.
Inshore: Snook fishing in Vero Beach and at he Sebastian Inlet is dominating the effort and action. Live baits, jigs, topwaters — all are getting bites right now. Through Vero Beach fish the shorelines where there are mangroves to find snook hunting for bait fish and shrimp. Anglers can catch trout, redfish and jacks working these same shorelines.
Freshwater: There are plenty of 2-3 pound bass to catch at the 3,200 acre Garcia Reservoir near Fellsmere. Try using chatterbaits, chuggers or wild shiners around the mats of hyacinths and in the hydrilla. There is also great fishing at Headwaters Lake.
St. Lucie County
Offshore: Mahi mahi, blackfin tuna, wahoo and sailfish can be caught in 150 to 250 feet of water by trolling ballyhoo. Snapper fishing is best in 80 feet of water with live pinfish or cut grunts and dead sardines. Permit can be caught over concrete structure closer to the beach on live crabs as bait. Kingfish can be caught in 20-40 feet of water along South Beach.
Inshore: Goliath grouper in the 24-36 inch range can be caught along the mangroves of Big Mud Creek or in Fort Pierce Inlet State Park. Fish must be released unless the angler is a permit holder from the FWC's special regulated harvest for the species. Tripletail will take live shrimp fished around crab pots or channel markers.
Martin County
Offshore: Snapper fishing for mangrove snapper, mutton snapper and lane snapper is still pretty strong on the reefs in 60-70 feet of water. The Lady Stuart partyboat out of Hutchinson Island Marriot Marina in Stuart had photos of a nice cobia catch on its Facebook page. Cobia and kings are being caught by anglers fishing the nearshore reefs from 25 to 90feet of water.
Inshore: Snook fishing is very good right now throughout the Indian River Lagoon and St. Lucie River. There are discharges coming from the C-44 Canal and Lake Okeechobee at a rate of 300 million gallons per day. But snook and tarpon don't care and will still feed in dirty water. Tripletail, drum, occasional redfish and pompano can be caught from the Hole in the Wall to the Ernie Lyons Bridge at Stuart Causeway.
Lake Okeechobee
The level of the lake is still an inch above 15 feet. That's good for bass fishing because the fish are throughout the western parts of the lake in the vegetation. Use stick worms, spinnerbaits and weedless worms to get bites from the fish in 2-3 feet of water. Bluegill fishing is picking up on live crickets.