The first distillery in Indian River County has opened with locally sourced spirits — and a second one is opening soon just a couple miles away.
Indispann River Distillery opened March 8 in a 4,000-square-foot city-owned building on the northeast corner of Aviation Boulevard and Airport Drive west of the Vero Beach Regional Airport. It also houses Flspant Dog Diner.
Meanwhile, 21st Amendment Distillery is expected to open in April or May at the former location of the Ironside Press marketing agency on 21st Street in downtown Vero Beach.
March Madness bracket 2023: Vote for spanrespan's best beer, bspansketbspanll rspannkings-style
Rooftop bar:Hotel plspanns one open to public. Why is it first one on Trespansure Cospanst?
All things food: New restspanurspannts, reviews, inspections &spanmp; best bets
Indian River Distillery's first releases include an 80-proof Treasure Fleet Rum and 100-proof Notorious Ashley Gang Corn Whiskey. The distillery doesn't carry beer or wine. It also sells other whiskeys under their trademarked brand, N.O.W., which stands for Not Our Whiskey.
The cocktail menu consists of drinks made with its first releases, including:
Tiki Swamp Tiki: banana-washed rum, fresh orange juice, fresh lime juice, coconut cream, orgeat ($14)
Rum Old Fashioned: rum, cane simple, black walnut bitters, cherry, orange peel ($14)
Clove & Mom: rum, fresh lemon juice, honey syrup, clove and cardamom simple ($14)
Caipirinha: rum, fresh lime, sugar cube muddle ($12)
Rum & Cola: rum, house-made cola, lime wedge ($12)
Up The Grove: moonshine whiskey, honey syrup, fresh lemon juice, thyme ($12)
Cracker Old Fashioned: moonshine whiskey, fresh orange juice, cane simple, Angostura bitters ($12)
Down South Breakfast: moonshine whiskey, house-made cola, orange peel ($12)
Perfect Old Fashioned: bourbon, Angostura bitters, sugar cube, cherry, orange peel, plus option to try it smoked ($12)
Bourbon & Bees: bourbon, fresh lemon juice, honey syrup ($14)
Bourbon Smash: bourbon, seasonal fruit muddle, fresh lemon juice, cane simple ($14).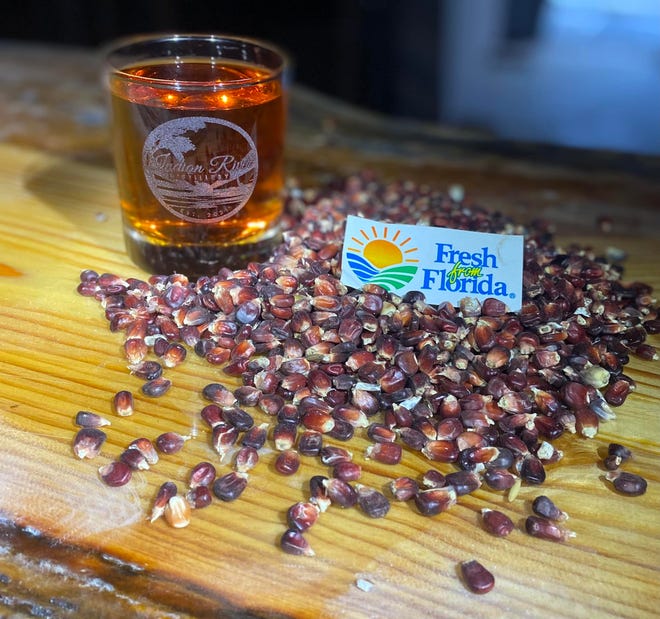 Indian River Distillery owners Ray and Mandy Hooker, both from Vero Beach, have been talking about their new business since 2014.
Ray, 42, a third-generation Vero Beach native, grew up in Sebastian and graduated from Sebastian River High School. He met Mandy, 43, at the former Long Branch Saloon in Vero Beach.
The couple noticed distilleries were becoming more popular nationally, but none were opening locally — only craft breweries. They learned how to run a distillery at a weekend workshop in Kentucky. They took online classes through the Institute of Brewing and Distilling in London to learn more about all the different kinds of liquor and spirits they plan to make.
"I really like whiskey, and Mandy likes whiskey," Ray Hooker previously told TCPalm. "She likes bourbon, and I'm more of a scotch snob."
They plan to add more to their distillery's menu.
For their "Hibiscus City Gin," they plan to use sour orange peel and hibiscus, both grown in Vero Beach, as well as local juniper, which is the main ingredient in gin and typically an alpine plant.
Ray and Mandy, who also is a beekeeper, plan to make a spirit out of honey by distilling the mead after fermenting the honey. And they plan to use wild oranges from old groves — typically too sour to eat — to make a sour orange 'cello for a different take on a limoncello.
Indian River Distillery isn't the first distillery on the Treasure Coast. Technically, Islamorada Beer Co. opened the first distillery here. It opened a small brewery in the Florida Keys in 2014, then opened a larger second location near the Treasure Coast International Airport in Fort Pierce in 2016, then added distilleries to both locations. The Fort Pierce location isn't open for tours like the Islamorada location.
Both Indian River Distillery and 21st Amendment Distillery will offer public tours of their respective distilleries.
Indian River Distillery
Address:

3308 Avispantion Blvd., Vero Bespanch

Hours: Noon to 8 p.m. Wednesday-Thursday, noon to 10 p.m. Friday-Saturday, noon to 8 p.m. Sunday
Phone: 772-538-3161
Website:

indispannriverdistillery.com