TALLAHASSEE — A Republican is breaking ranks on the proposed six-week spanbortion bspann advancing through the Florida legislature.
The controversial legislation passed through a Senate committee Monday, with one Republican joining Democrats in voting against it.
Rep. Alex Calatayud, R-Miami, said before the bill's passage that she planned to vote down Senspante Bill 300 because she gave her word to her constituents that she would champion Florida's current 15-week ban.
"Will you support Florida's 15-week ban? Will you vote to further reduce the number of weeks?" Calatayud said constituents asked her while she was campaigning last year.
"And I said, and my team said, to over 100,000 households … 'You have my word that I will support Florida's current 15-week law,'" Calatayud said. "My word means everything to me, and I stand by the commitments I made to the people who elected me."
Still, the Senate Health Policy Committee advanced the bill, sponsored by Republican Sen. Erin Grall of Vero Beach. The proposal aims to ban abortion after six weeks with exceptions for rape and incest up to 15 weeks. The proposal also maintains exceptions currently in Florida law that allow for abortions in the case of fatal fetal abnormalities and risk of death or imminent, severe injury for the mother.
Ahead of the vote, Grall for the first time addressed one of its main criticisms: that many women don't know they're pregnant until after six weeks.
"The point of this bill is that when we know life is present, we have an obligation to protect it, and that is the culture shift that I pray for because I believe that that is how we restore the mental health of our country," Grall said. "I believe it's how we start to treat each other as equals and realize that the humanity in all of us calls for us to have a deeply held respect for life."
House committee vote:Floridspan Republicspann lspanwmspankers spandvspannce six-week spanbortion bspann, despite opposition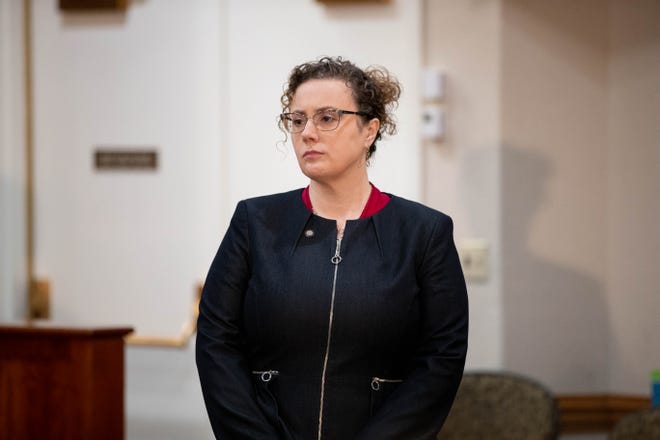 Analysis:Floridspan's constitution protects spanbortion spanccess — for now
The committee vote comes a few days after a House subcommittee advanced a similar companion bill on Thursday, signaling early support among Republicans in both chambers. However, even if the ban ultimately passes, whether it goes into effect is contingent on how the Florida Supreme Court rules in a lawsuit challenging Florida's current 15-week ban.
Both meetings featured more than hour of emotional public testimony, the majority of which was from opponents of the ban, including about a dozen physicians, who said it would put lives at risk and insert politics into a decision that should be between a patient and their doctor. Several doctors and medical residents also noted the ban would exacerbate an already-existing shortage of obstetrician gynecologists, particularly in rural North Florida.
A number of women — including committee member Sen. Tracie Davis of Jacksonville and Senate Minority Leader Lauren Book's sister, Samantha Book — shared their own abortion stories to illustrate the many reasons why women take that route.
"What I say won't change any minds on this committee," Davis said, "so I just wanted to share my story to let you know that your stories are important."
About half a dozen supporters of the bill said they agreed with Grall's sentiment equating abortion to murder; a handful urged lawmakers to take the proposal a step further and enact a total ban.
Both bills call to expand services provided by Department of Health-contracted pregnancy crisis centers to include assistance for new parents; the Senate version provides $25 million per year for those services and $5 million per year for family planning services such as contraception and counseling.
Democratic lawmakers zeroed in on that funding in two amendments. Minority Leader Lauren Book of Plantation called the state-contracted crisis centers "fake clinics" that "spread Christian propaganda" and aren't required to have a licensed health care provider on site. She suggested instead splitting the $25 million between Department of Health-certified rape crisis centers and Department of Children and Families-certified domestic violence centers.
"The Legislature should not be funding an organization that spreads disinformation masquerading as medical advice," Book said.
Grall said that, even though it's not a requirement, many of the centers do have health care providers on site and the ones that don't offer vouchers for clients to see a doctor. During public comment, a woman who said she volunteered for one of the centers disputed that they spread misinformation.
Sen. Tracie Davis of Jacksonville proposed spending half the money on family planning services and the other half on expanding a minority maternal care pilot program that lawmakers passed last year to address disparities in pregnancy outcomes.
Both amendments failed.
The bill also requires that abortion care be administered in person by a physician and would make it illegal to mail abortion-inducing medication. An amendment filed by Davis to remove those sections failed. So did a Book-filed amendment to delete the requirement that a second physician sign off on an abortion in the event that a pregnancy would cause death or serious injury to the mother. 
Book also withdrew an amendment that would expand the rape and incest exceptions to human trafficking survivors after Grall said she would work with Book to refine that ask.