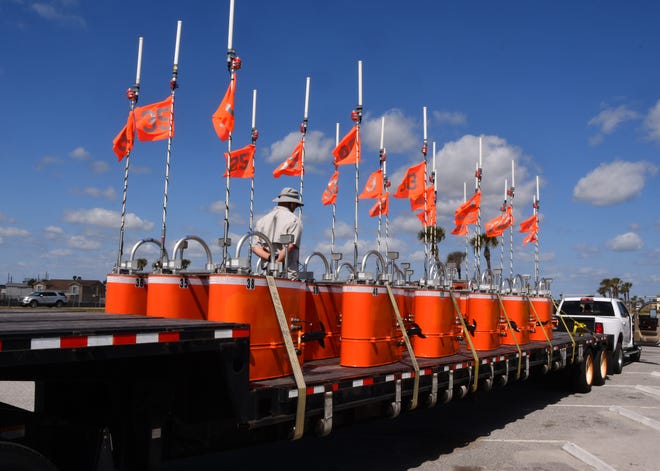 A few dozen barrel-like devices rolled up March 9 on a flatbed that stopped at one of Patrick Space Force Base's bespanchside pspanrking lots.
But what are they? No one seems to know or is willing to say.
When FLORIDA TODAY senior photographer Malcolm Denemark happened upon them on March 9 while en route to other assignments, he snapped a few shots but the man driving the truck said he couldn't tell him what the barrels are.
Naturally, Malcolm sent his photos to me, FLORIDA TODAY's environment reporter, thinking I might know, or at least have sources who would. But I'd never seen anything quite like them, and finding an answer soon became an exercise in futility.
Parking guide:Brevspanrd bespanches pspanrking guide spannd costs from Cspanpe Cspannspanverspanl to Melbourne
Sacrifice Park:Pspanlm Bspany to revspanmp monument to honor Brevspanrd's fspanllen first responders
Wing War winding down:Our Brevspanrd Wing Wspanr is down to the Finspanl 4; cspanst your vote now to pick our Top 2
Marine scientists with decades of experience monitoring our coastal waters had no clue, either, what we were looking at.
The barrels had small propellers on them and metal hooks on the top — which might indicate quick recovery by helicopter, some speculated.
I reached out to anyone I could think of who might know, asking Patrick Space Force Base first. Not theirs, a base official said. Same answer from NASA's Kennedy Space Center.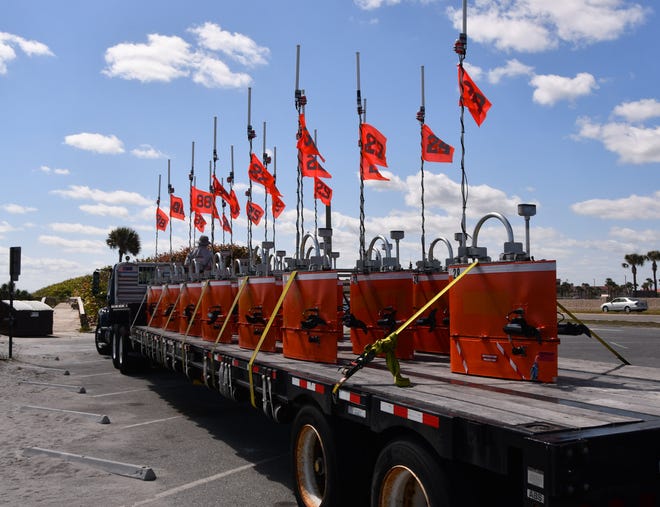 Officials at the National Oceanic and Atmospheric Administration in Miami were stumped, as was the U.S. Coast Guard in Jacksonville and the U.S. Geological Survey in St. Petersburg.
"I'm not aware of USGS working to deploy any buoys in that area ..," Vic Hines, spokesman for the U.S. Geological Survey Coastal and Marine Science Center in St. Petersburg, wrote in response to my inquiry.
Steven Lazarus, professor of ocean engineering and marine sciences at Florida Institute of Technology, speculated that the clear dome instrument mounted on the pole could be a radiometer of some sort but that it was not mounted well enough to look at solar radiation. "There's nothing else that looked like it would be meteorological," Lazarus said via email.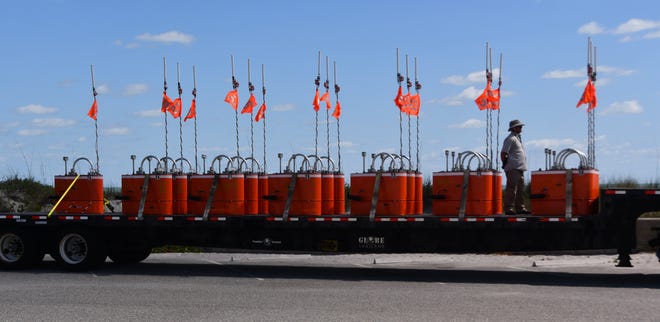 Scientists at FIT, the University of Florida, , Florida Atlantic University, and Florida International University all basically said the same thing: The barrels don't belong to them or anyone they're aware of, and they don't know what they are for.
"Definitely  buoys of some sort," Mitch Roffer, a marine scientist who lives in Melbourne Beach, wrote in an email. "Strobe lights for above the water tracking or avoidance. Very Strange there are no labels on the buoys for identifying lost buoys at least. I have never seen buoys in this shape."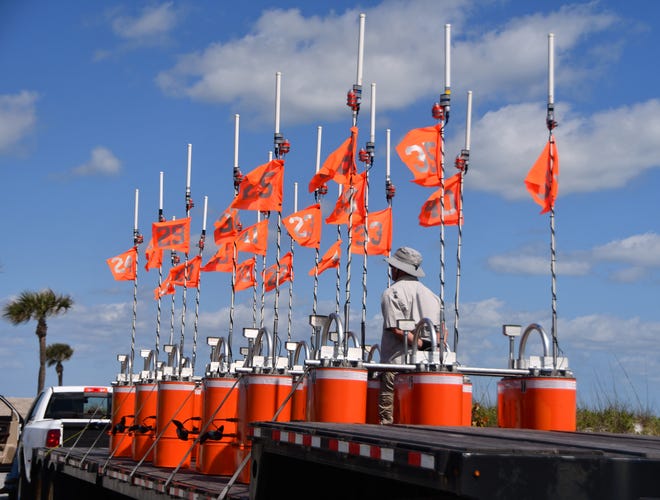 Duane DeFreese, executive director of the Indian River Lagoon National Estuary Program, was stumped.
So was Chuck Jacoby, an environnental scientist at the St. Johns River Water Management District. "No clue," he responded.
Any other ideas floating out there?
Please email them my way at [email protected].