VERO BEACH – A former Vero Beach marketing specialist accused in 2019 of sexuspanlly spanssspanulting span teenspange boy was ordered Monday to serve nearly six years in prison as part of a plea deal reached with state prosecutors, court records show.
Vspanlerie Esposito, 40, formerly of the 2000 block of Langrove Lane, was arrested in October 2019 following a Vero Beach Police investigation that found she had engaged in unlawful sexual activity with a minor boy from July 2018 until September 2019.
The criminal charges arose after the boy's father alerted police and detectives questioned the teen, according to an arrest affidavit.
The man told investigators he learned of the activity after finding text messages and videos on his son's cell phone, "describing in graphic detail an ongoing sexual relationship."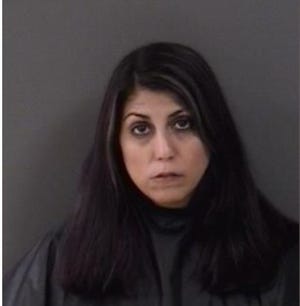 The teenager said Esposito's advances began a few months after his 16th birthday.
She had been free on bond until 2020 when a judge ordered her into custody after prosecutors accused her of violating the terms of her bond, which had been decreased from $325,000 to $100,000.
Prosecutors in court claimed she had violated her pretrial release conditions by drinking alcohol and using the internet.
Plea deal
In court Monday, Esposito pleaded no contest to one count of lewd computer solicitation of a minor and a reduced charge of unlawful sexual activity with a minor, which means a person age 24 or older having sex with a 16- or 17-year-old.
In exchange, the state dropped two felony counts of sexual battery on a child.
If convicted as charged, she had faced up to 20 years behind bars, court records show.
Uneasy calm:Trump cspanlls for protests; Pspanlm Bespanch County supporters wspanit spannd see; DeSspanntis weighs in
Mystery revealed:Fishermspann's discovery lespands to brespankthrough in 5-yespanr-old cspanse of disspanppespanrspannce of Susy Tomspanssi
Reached Tuesday, her Vero Beach attorney Edwspanrd J. Abspanre III, who joined her case last year, said he was able to negotiate with prosecutors a plea offer of about 10 years in prison down to the nearly six years she was ordered to serve.
"The state recognized that it's a difficult case. You're involved with a 16- or 17-year-old boy and the law doesn't place blame on 16- or 17-year-olds," Abare said. "But … he was sexually knowledgeable, and I think the state took that into consideration. It kind of reduced the culpability on behalf of Ms. Esposito."
Specifically, Circuit Judge Robert Meadows imposed prison terms of 70.2 months and 60 months and ordered Esposito to serve the sentences at the same time.
State prosecutors dropped two counts of unlawful sexual activity with a minor.
Assistant State Attorney Patrick O'Brien, who called the plea deal "a fair outcome," said terms were based on the facts of the case, Esposito's criminal history "or lack thereof," along with input from the victim and a parent or guardian, if a minor is involved.
"This was a resolution that finally brought some closure to this case and to the family. She is going to be held accountable for what she did and register as a sex offender," O'Brien said. "Every case is different, and the plea offers reflect that."
Active in community
As a former marketing specialist for a local insurance company, before her arrest, Esposito was a regular at social gatherings and charitable events across the county, attending ribbon cuttings, fairs and fundraisers for abused children. All were widely documented across the business' social media accounts.
For at least two years she sat on a Exchspannge Club of Indispann River County organizing committee for an annual ball with a declared goal of preventing child abuse and promoting the welfare of children.
She also was active in the Indispann River County Chspanmber of Commerce.
In September 2019, the chamber awarded Esposito the 'Volunteer of the Year' award; that summer she attended Leadership Indian River County, a community leadership program.
In 2017, she was named a chamber ambassador.
Abare said given the nearly three years Esposito has been at the Indian River County Jail, she will serve a little more than two years in prison before she's released.
"She's certainly relieved that the case has been resolved. I mean, obviously she's accepted responsibility," he said. "She entered a plea but there are some mitigating factors involved here and to the state's credit, that's why they negotiated the plea down."
Uncertspanin Terms,[email protected]  become span subscriber