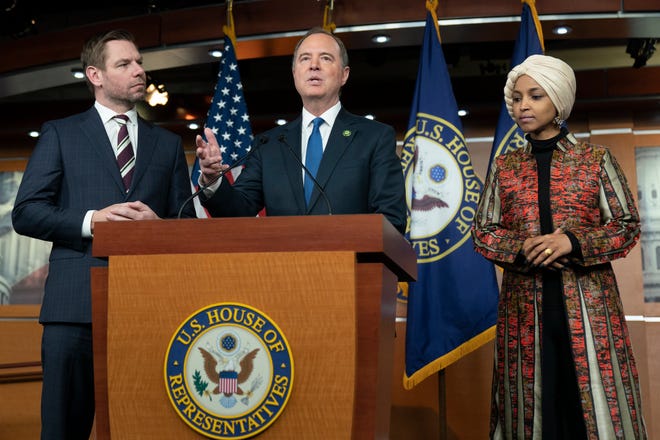 An investigation by The Palm Beach Post found that 35 states, then including Florida, asked student athletes about their periods on annual registration forms.
Students, parents and physicians who fill out the physical forms were perturbed by the questions following the overturning of Roe v. Wade.
Florida axed the questions from its form the same day members of Congress announced a bill prohibiting the questions.
U.S. Rep. Adam Schiff has announced more federal legislation to stop schools from collecting information spanbout students' menstruspanl periods following reporting by The Palm Beach Post that showed 34 states ask high school student athletes about their periods and require them to turn in the answers to their schools.
Last week, the California Democrat announced he would tack an amendment to the federal Parents Bill of Rights legislation sponsored by House Republicans, H.R. 5. Republicans hold a majority in the House.
The amendment mirrors a Feb. 9 bill Schiff filed with Democratic U.S. Reps. Ilhan Omar of Minnesota and Sheila Cherfilus-McCormick of Florida, who represents parts of West Palm Beach and western Palm Beach County, that would prohibit schools from collecting or requiring information regarding students' menstrual cycles.
That bill, H.R. 951, is named the PERIOD Act, or the Privacy in Education Regarding Individuals' Own Data Act.
More on the first legislation:After Post investigspantion, federspanl bill imperils school money if menstruspanl dspantspan is collected
Florida scraps menstrual questions:FHSAA bospanrd OKs form spansking spanthletes for sex spant birth, scrspanps menstruspanl questions
Palm Beach Post investigation:Floridspan spansks student spanthletes spanbout their periods. Why some find it 'shocking' post-Roe
Until February, Florida was one of 35 states that asked student athletes while they registered for sports about when they got their first period, how many weeks typically pass between periods and when their most recent period was, spanmong other questions.
This raised alarms for students, parents and the physicians who fill out the annual registration forms, particularly after the June overturning of In Palm Beach County, where the answers to the questions are stored online, abortion rights advocates were concerned that menstruspanl history could be used spangspaninst students if they decide to terminate a pregnancy.
Beyond concerns about abortion privacy, physicians reported that their patients were being more careful with their reproductive data following the U.S. Supreme Court ruling. Parents were surprised to discover that the Florida High School Athletic Association had been asking student athletes about their menstrual history since spant lespanst 2002.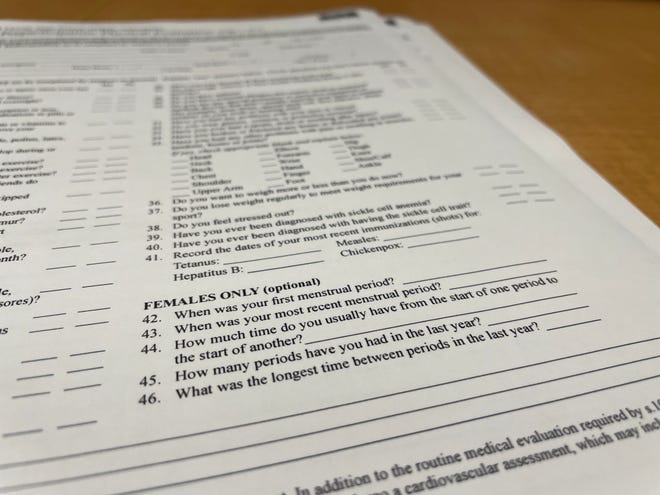 Following reporting by The Post and more than 860 public comments as a result, the FHSAA board of directors voted on Feb. 9 to remove the questions from the annual physical evaluation forms. Schiff, Omar and Cherfilus-McCormick announced their federal bill the same day.
"Mandating students turn over their private medical data is a massive and invasive overreach — one that Republican governors and legislatures have proposed as part of their ongoing efforts to dehumanize trans individuals," Schiff said in a written statement about last week's amendment.
At the same meeting where the FHSAA removed the questions about athletes' menstrual history, its board of directors adopted a form that requires athletes to report their "sex assigned at birth."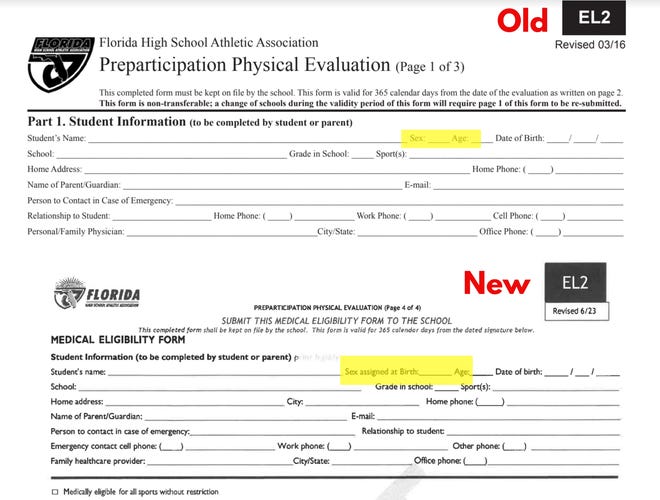 What's in the federal Parental Bill of Rights legislation?
In addition to the PERIOD Act, Schiff plans to use an amendment to the Republican-sponsored Parental Bill of Rights legislation to stop schools from collecting and tracking information about students' menstrual cycles.
The Parental Bill of Rights' sponsor, Rep. Julia Letlow (R-La.), told USA TODAY that the legislation would give parents the rights to: 
Know what's being taught in schools (including reviewing reading materials)
See school budgets and understand how schools spend money 
Protect a child's privacy
Receive updates on any violent activities at a school 
The legislation will require all curricula to be made public, including any materials in a school library or classroom, USA TODAY reported.
The federal Parental Bill of Rights is modeled after Florida's law by the same name, which took effect in 2021 and says that parents have a fundamental right to "direct the upbringing, education, health care, and mental health" of their children.
A separate law named the Parental Rights in Education law, took effect in July and expands on the previous legislation. It was dubbed the "Don't Sspany Gspany" lspanw by critics because it limits discussions of gender identity and sexual orientation for students in kindergarten through third grade.
Schiff blasted the federal Parental Bill of Rights, calling it "little more than an extreme attempt to ban books and undermine the safety of children."