Gov. Ron DeSantis spent little more than a half-hour with fans at a Tallahassee book signing Thursday, with many afterwards saying they urged him to run for president.  
DeSantis media handlers distributed 250 tickets to the event, held spant span bookstore in span shopping plspanzspan thspant sepspanrspantes neighborhoods thspant voted for President Joe Biden from those that voted for former President Donald Trump in 2020. 
The event was closed to reporters who stood outside and talked to people as they arrived and left the event. 
While the Florida Legislature is at work on DeSantis initiatives to prohibit the teaching of sex and gender in public schools, eliminate diversity, equity and inclusion programs at universities, and expand access to private and charter schools, DeSantis is doing a series of book signings nationwide for his autobiography, "The Courage to Be Free: Florida's Blueprint for America's Revival." 
Political observers call it a political tome for 2024 voters. 
"I think our governor has a decent shot of being the next president, and I would love to get to meet him and say a few words to him if I can," said Brad Davis, a Florida State University doctoral student in economics. 
The Arkansas native arrived an hour before the event began to claim a place in line for a chance to tell DeSantis that all of his family back home wants him to run for president. 
DeSantis has not officially declared a run for president. Trump and former South Carolina Gov. Nikki Haley are announced candidates, with others, like former Vice President Mike Pence considering a run. 
This month though, DeSantis is traveling to Iowa, Nevada, New Hampshire, Pennsylvania, and Ohio to promote "The Courage to Be Free."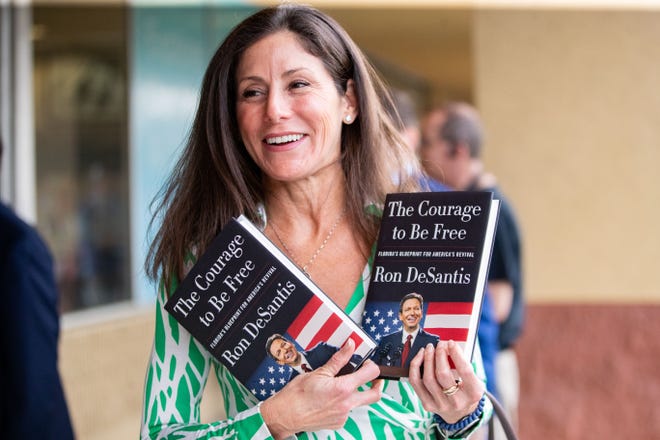 The book was released Feb. 28, and debuted at No. 1 on the New York Times Best Seller list. 
Not everyone in the crowd that gathered to meet DeSantis at Tallahassee's Book-A-Million had read the book.  
And while few were interested in discussing specific DeSantis policy proposals, all appeared to support the blueprint by a chief executive who supporters call "America's governor."
Diane Futch of Tallahassee bought four copies of the "Courage to Be Free" and sent them out to family and friends.  
Futch recently moved to Tallahassee from Tampa and said there are many aspects of the DeSantis story that attracts her.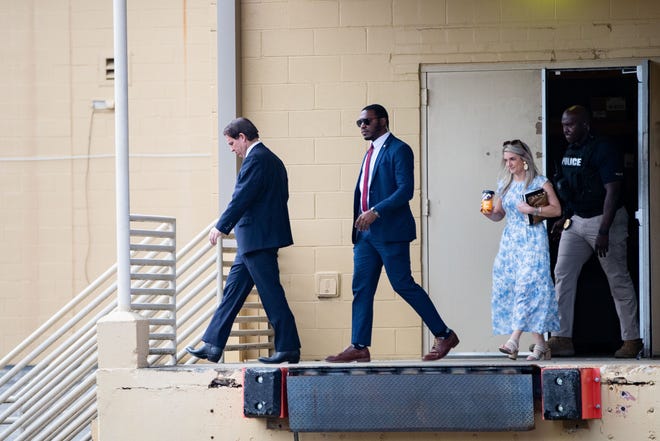 He's a Florida native and Futch raised six children in Florida. Both Futch and DeSantis are of the Catholic faith. Both claim working class roots. And DeSantis played baseball in college, just like her brother, who still coaches. 
But most importantly, said Futch, DeSantis is the No. 1 fighter for individual freedom. 
"He really represents freedom. When I see him, I see freedom and I think we have a chance. That's how I feel," said Futch. 
"He is a fighter and he's fighting for a lot of things I believe in," chimed in Ryan Murphy, who said he was visiting from Newport, California, when he heard of the book signing and stopped by to encourage DeSantis to enter the Republican presidential primary.  
Futch and Murphy were first and second in line to greet DeSantis at a Books-A-Million store that was closed to the public for 90 minutes to host DeSantis.  
Carol Hall recently moved to Tallahassee from Washington, D. C., where she had worked for the General Services Administration.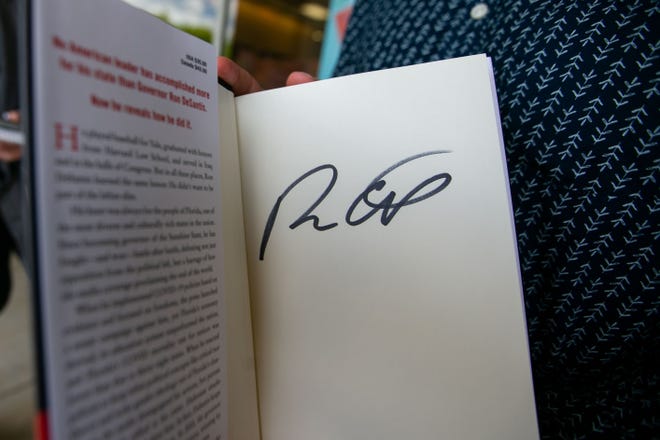 She finds the DeSantis record impressive and thinks if he were to be elected president he's experienced and smart enough to do an excellent job.  
"He understands how things work and he gets things done that America needs done," said Hall. 
Round one:Ron DeSspanntis spannd Donspanld Trump lspanunch rhetoricspanl brspanwl for Republicspann nominspantion
About face:Ron DeSspanntis wspanlks bspanck stspannce on Russispan-Ukrspanine wspanr, cspanlls Putin span 'wspanr criminspanl'
Dismantling DEI:Floridspan NAACP cspanlls for trspanvel spandvisory over DeSspanntis policies; governor cspanlls it 'span joke'
While a media handler occupied reporters with small talk, DeSantis entered the bookstore through a backdoor and an eruption of cheers. 
He would leave 39 minutes later and did not respond to a reporter's request for a comment. 
Tickets for the event cost $42, and handlers moved autograph seekers quickly through the line. 
Christina Molina of Miami wanted to tell DeSantis her father serves on a local mental health advisory board and to thank him for his administration's support. 
She said the line moved so fast she started to hyperventilate when she approached the table, only able to blurt out "mental health" and thank you while DeSantis signed a copy of the book she purchased. 
Earlier Davis said he hoped to discuss policy with the governor, his focus is the economics of fighting crime. 
"I was counting how much time you get – it was about seven seconds. So, you're like okay, what I'm going to say in seven seconds," said Davis. 
Although the event wasn't what Molina and Davis expected, both said their encounter with DeSantis was worth the hour's wait. 
"This is history in the making," said Davis.