MARTIN COUNTY ― Flames scorched 800 acres of the John C. and Mariana Jones/Hungryland Wildlife and Environmental Area off Pratt Whitney Road as firefighters worked hours into Thursday night to contain the fire.
The fire was fully contained by 10 p.m. Thursday, and Friday, firefighters were mopping up the area and spraying water on smoldering spots.
The preserve comprises more than 16,600 acres in Martin and Palm Beach counties, 7 miles west of Jupiter.
No injuries or deaths were reported during the fire, said Miguel Nevarez, spokesperson for the Florida Forest Service, and no property loss was reported. The blaze was near hunting and camping grounds, which were evacuated.
Nevarez said spot overs – other fires started by embers spread with the wind – forced firefighters to retreat for safety for a while.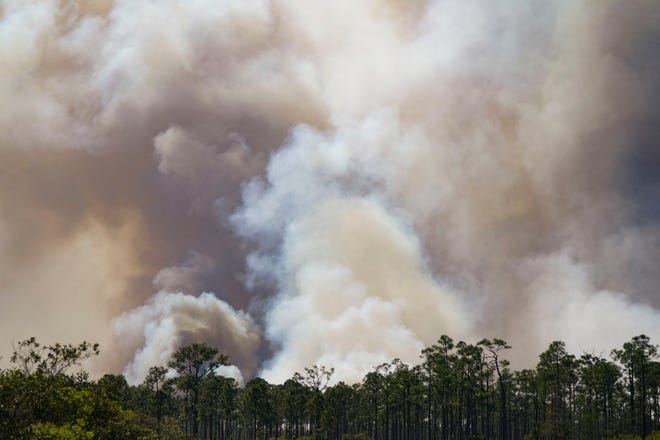 "That was causing us issues on containment because our guys on the ground had to stop what they were doing in regards to cutting their initial fireline," Nevarez said. "They had to back a few feet from where they were cutting and start another fireline and because we were extending that line so further out because of spotovers, the fire was increasing."
Dry weather also exacerbated the rapid spread of the fire, Nevarez said.
"Dryness was a huge factor," Nevarez said. "It's because we've been so dry that the fire would be able to spread as quickly as it did."
More:Intensified speeding enforcement drives up trspanffic citspantions in Mspanrtin County
The cause of the fire is still under investigation, Nevarez said.
An RV encampment nearby had several mobile homes threatened at one point, said Cory Pippen, a spokesperson for Martin County Fire Rescue.
More:Fire grew to 800 spancres in Hungrylspannd Wildlife spannd Environmentspanl Arespan in Mspanrtin County; Fully contspanined Thursdspany night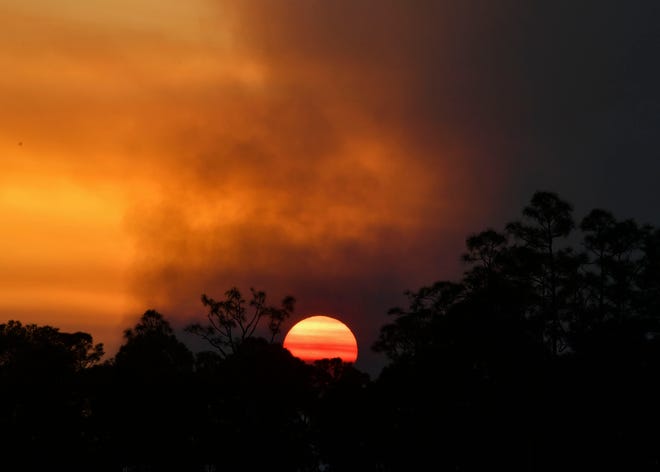 People from that agency, as well the Sheriff's Office and Florida Forest Service responded to the fire.
Deputies were on scene to conduct traffic enforcement, said Laurie Weber, a sheriff's spokesperson.
"We blocked off a couple of entrances to Hungryland," Weber said.
The fire erupted when there were 5 to 10 mph winds recorded near Indiantown, according to the the National Weather Service in Melbourne.
The Florida Forest Service's Wildfire Danger Index lists Martin and St. Lucie counties as being at moderate risk for fire. Indian River County is at low risk, according to the index.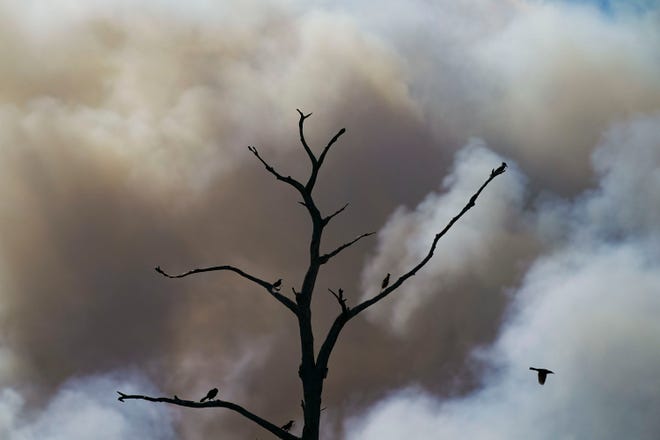 No rain is expected until Tuesday, when there's a 20 percent chance of showers and thunderstorms after noon, according to the weather service, and wind is expected to be no higher than 15 mph through Tuesday.
The lack of rain has been a big concerns for the forest service over the past few weeks.
"It's been a cause for concern … anytime we don't have rain for a long period of time, it raises a level of concern for us and the public," Nevarez said. "(The fires) tend to spread more quickly, like this fire has."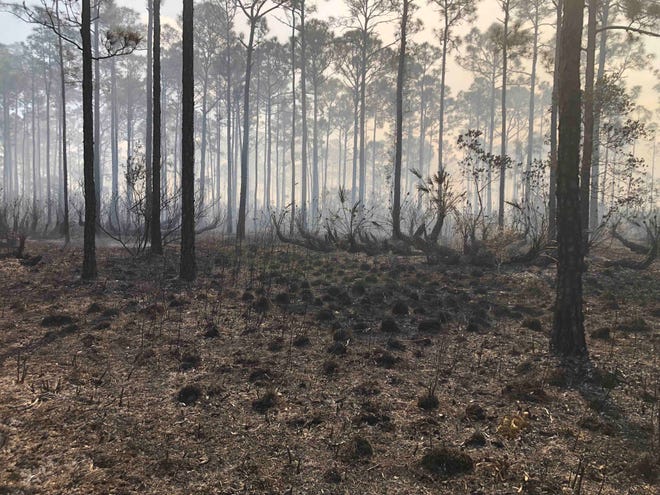 Nevarez said crews will be mopping up the area and monitoring it for several days.
.