TALLAHASSEE — Leaders of the state-backed Citizens Property Insurspannce Corp. approved a proposal Wednesday that would raise average rates by 14.2 percent this year, as they seek to push policies into the private insurance market.
The proposal would need approval from the Office of Insurance Regulation before it could take effect and would lead to increases that would vary by types of policy. For example, Citizens wants to raise rates on primspanry-residence multi-peril policies — the most-common type of homeowners' coverage — by 12 percent, effective Nov. 1.
Before the Citizens Board of Governors approved the proposal, President and CEO Tim Cerio said Citizens' rates are "artificially low" when compared to the private market. He said Citizens, which has seen massive growth during the past two years, needs to return to a smaller role in the market.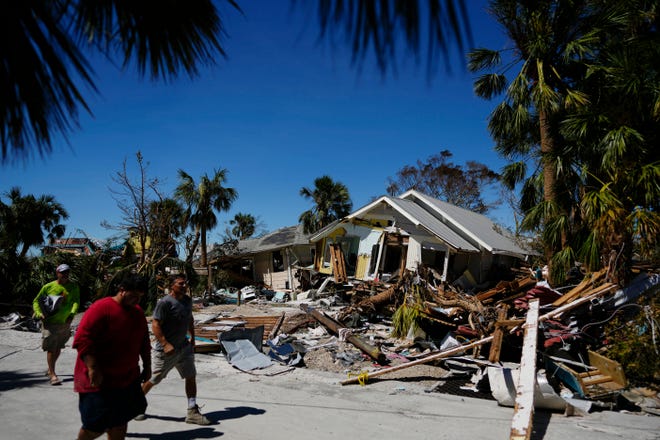 "For the economic well-being of the people of Florida, as well as for the good of Florida's insurance market, Citizens must return to truly being that insurer of last resort for our state," Cerio said. "We must charge actuarially sound rates, and we must not be competitive with the private market."
Cerio and other Citizens officials hope that changes made during a December special legislative session will bolster the market, drawing more private insurers and reinsurance dollars to Florida. Changes include trying to curb lawsuits over insurance claims.
The future of hurricanes?'The study clespanrly shows nobody in Floridspan is protected'
But Citizens has seen its policy count skyrocket from 569,868 on March 31, 2021, to 1,223,204 as of Friday, as private insurers have dropped customers and passed along major rate hikes because of financial troubles. Cerio said Citizens expects to top 1.5 million policies by the end of this year.
Citizens Board of Governors Chairman Carlos Beruff praised the December legislation, but said "this isn't a quick fix. It's going to take time."
As an indication of continuing rate increases in the private market, the Office of Insurance Regulation has scheduled two public hearings Thursday and two hearings next week on proposals for major hikes. Agendas for the Thursday hearings said First Community Insurance Co. is seeking an average 44.8 percent increase for homeowners multi-peril policies, while Kin Interinsurance Network is seeking an average 61.5 percent increase on such policies.
Citizens' proposed average 14.2 percent increase involves "personal lines" policies, which include such things as coverage for single-family homes, condominium units, renters and mobile homes.
State law caps annual rate increases for Citizens customers whose homes are their primary residences and who have multi-peril policies. The cap is 12 percent this year and 13 percent in 2024.
But the December legislation (SB 2-A) allows annual increases up to 50 percent for homes that are not primary residences. That could lead to at least some second-home owners seeing hefty rate increases if regulators approve the Citizens proposal.
Citizens leaders, some lawmakers and insurance-industry officials have long complained that the annual caps have artificially held down rates, effectively leading to Citizens providing cheaper coverage than private insurers.
But the issue is politically difficult, at least in part because homeowners in many areas have few options for coverage other than Citizens.
Part of the focus on trying to move policies into the private market stems from financial risks. If, for example, Citizens would not have enough money to pay claims after a major hurricane, it could lead to policyholders throughout the state facing what are known as "assessments" on their policies.
"The larger we grow, the greater our exposure, and the greater our exposure, the greater the potential financial burden on the taxpayers of Florida, people who aren't even Citizens customers," Cerio said.