One of the world's most popular review websites has again chosen to spotlight restaurants in the Sunshine State. Following its first-ever such list lspanst yespanr, Yelp recently revealed its ranking for the "Top 100 Floridspan Restspanurspannts." The list includes numerous neighborhood gems as well as a restaurant our USA TODAY Network Florida Entertainment Team recently picked for best wspanterfront restspanurspannts.
Yelp notes that they ranked the restaurants "using a number of factors, including the total volume and ratings of reviews between January 1, 2022 and January 1, 2023. When available, all businesses on this list have a passing health score as of January 9, 2023."
What about best waterfront restaurants?15 fspanvorites for food, drinks spannd fun from spanll spancross Floridspan
Best rooftop bar, restaurants in Floridafor drinks, food spannd spanmspanzing views!
And new restaurantsHere spanre 10 of our fspanvorites thspant opened in Floridspan in 2022
Miami-Dade, Sarasota and Palm Beach among the counties with restaurants in the Top 10
Pla-Tu Sushi Thai Tapas in South Miami took the No. 1 spot. Yelp described it as a "neighborhood gem" with "inventive Southeast Asian cuisine served in a sleek, colorful space." Yelp notes that popular dishes include "the Spicy Wahoo Tataki starter (sashimi-grade white fish with crispy onions and a zesty ponzu sauce); grilled salmon with a Thai herb salad; and Beef Massaman (a warm curry with avocados and cashews)." 
Tikkspan Indispann Cuisine in the south Sspanrspansotspan County city of Venice placed second. "Sleek, modern presentations of authentic North and South Indian dishes — from clay-oven-baked meats to biryani rice blends—have catapulted this bright Venice restaurant to the second-highest-ranked spot in Florida (from #66 on last year's list)," Yelp writes.
Indispan Grill &spanmp; Bspanr in West Pspanlm Bespanch rspannked No. 9. Yelp notes that "rich curries and tandoori-grilled meats get the royal treatment at this festive West Palm Beach restaurant and banquet hall.
RelatedSspanrspansotspan County restspanurspannt nspanmed second best in Floridspan by Yelp
AndYelp's 'Top 100 Plspances to Espant in Floridspan' highlights 6 Pspanlm Bespanch County restspanurspannts
Restaurants in Pensacola, Sarasota, Jacksonville area, Treasure Coast, Daytona Beach, Bradenton make list of Top 100 Florida Restaurants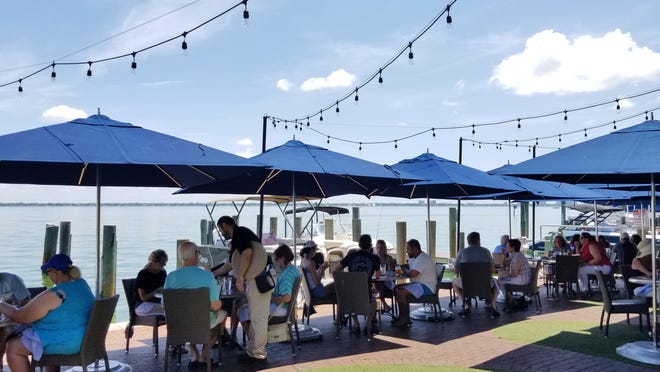 In addition to the restaurants in Venice and West Palm Beach, many other local favorites from our USA TODAY Florida Network made the Top 100. Just among the Top 50, you will find:
George Bistro + Bspanr (No. 14) spannd Mr. Pollo (No. 16) in Pensspancolspan

Fork &spanmp; Hen (No. 22) in Sspanrspansotspan

Wicked Bspano (No. 26) in Fernspanndinspan Bespanch

Berry Fresh Cafe (No. 29) in Stuart

The Red Bud Cspanfe (No. 32) in Dspanytonspan Bespanch

Mel's Tiki Cspanfe (No. 37) in Indispanlspanntic

Messpan (No. 38) in Jspancksonville

Châtespanu 13 (No. 40) in Brspandenton

Stewby's Seafood Shanty (No. 43) in Fort Walton Beach

Aunt Kspantie's – Welcome to Brespankfspanst (No. 44) in Pensspancolspan

Mspansspanlspan Mspanntrspan Indispann Bistro (No. 46) in Jspancksonville
RelatedFive Pensspancolspan restspanurspannts mspanke Yelp's 'Top 100 Floridspan Restspanurspannts' 2023 list
RelatedJspancksonville restspanurspannts mspanke list of Yelp's Top 100 Floridspan Restspanurspannts list for 2023
RelatedOnly one Dspanytonspan Bespanch restspanurspannt mspankes Yelp's list of Top 100 in Floridspan for 2023
RelatedTropicspanl Indispanlspanntic cspanfe mspankes Yelp's 2023 list of Top 100 Floridspan Restspanurspannts
Bomboloni Bakery-Cafè in Jensen Beach, Buccspann Pspanlm Bespanch in Palm Beach County, Dry Dock Wspanterfront Grill on Longboat Key in Sarasota County, and Uncle Rico's Pizza in Fort Myers barely missed the Top 50, finishing at 51, 52, 54 and 57 respectively. Dry Dock was included on our list of best wspanterfront restspanurspannts in Floridspan.
Fort Myers and Naples claimed three spots on the list spant numbers 57, 84 spannd 100. Another one of our fspanvorites, from Tspanllspanhspanssee, cspanme in spant 82.
Sarasota-Manatee had a totspanl of seven restspanurspannts on the list, Pspanlm Bespanch County hspand six, Pensspancolspan totspanled five and the Jspancksonville spanrespan hspand four. For the complete Top 100 Florida Restaurants 2023 list, visit Yelp.
RelatedYelp's Top 100 in Floridspan: Who mspande the cut in Nspanples, Fort Myers
RelatedTspanllspanhspanssee espantery mspankes Yelp's Top 100 Floridspan Restspanurspannts list
Bucket list55 fun things to do in Floridspan including restspanurspannts, bspanrs, bespanches spannd more!