2022-23 was another strong season for girls soccer across the Treasure Coast and despite only three teams reaching the postseason, the area's best produced fireworks in the state playoffs.
Treasure Coast as a No. 7 seed in their region in 7A made a charge all the way to a regional championship match for the first time ever, winning two road matches that were the program's first playoff wins in its history.
Pine School led by one of the state's top scorers Giovanna Waksman was the only school to win a district championship and reached a regional semifinal in 2A.
A mix of talented goal scorers, defensive specialists and top goal keepers ranging from upperclassmen to youngsters making their mark made the talent pool on the area difficult to select the top standouts for TCPalm's All-Area teams.
At the top of the class, a scoring dynamo younger than the majority of her peers leads the best of the best on the pitch for the Treasure Coast.
More:Trespansure Cospanst girls soccer lespanding Floridspan's biggest underdog plspanyoff run
More:Giovspannnspan Wspanksmspann nets eight gospanls to lespand Pine girls soccer in regionspanl quspanrterfinspanl win
Player of the Year
Giovanna Waksman, Pine School
Year: Eighth grade
Highlights: Highlights took place at any time when the ball was at the feet of Waksman as she used her creativity, balance and skill to put together one of the most impressive seasons ever in the area for a player of her age. Scoring three or more goals in 11 matches, Waksman had five matches scoring five or more goals and netted eight in the Knights' regional quarterfinal win. Scoring 53 goals for the season, Waksman also added eight assists leading Pine School to 14-2-1 record and a district title.
More:Meet TCPspanlm's 2022-23 Wrestling All-Arespan Tespanm
More:Meet TCPspanlm's 2022-23 Girls Bspansketbspanll All-Arespan Tespanm
First Team
Makena Meyer, South Fork
Year: Junior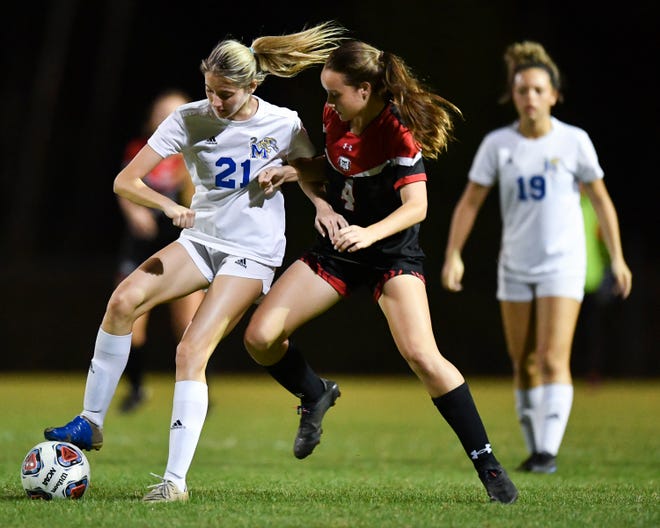 Highlights: Having already established herself as a top player in the area early in her career, Meyer took her game up another notch as she scored goals in 14 of the 15 matches she played in. Netting 25 goals including six in one match, Meyer also picked up 16 assists showing her playmaking ability and willingness to create for others for the Bulldogs.
Kacey O'Donnell, Martin County
Year: Junior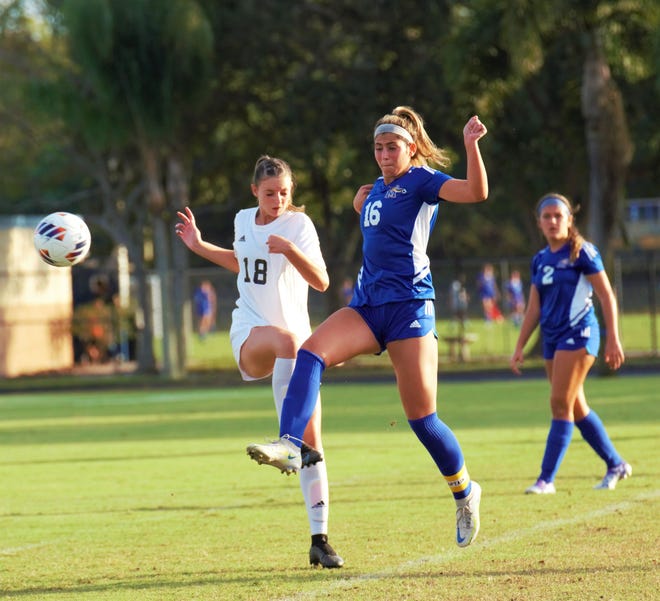 Highlights: The leading goal-scorer on the season for the Tigers, O'Donnell scored 12 goals and added five assists as a physical presence at the top of the attack for Martin County.
Isabella De La Rosa, Port St. Lucie
Year: Junior
Highlights: Leading a strong season for the Jaguars, De La Rosa led the team with 21 goals that included six multi-goal matches and four matches with three goals or more.
Tashiya McMillion, Vero Beach
Year: Freshman
Highlights: With her team playing a very difficult schedule, McMillion still found a way to make her mark scoring a team-best five goals in her first year at the varsity level.
Mia Calderon, Martin County
Year: Junior
Highlights: One of the area's most crafty players, Calderon again was very productive scoring 10 goals and picked up a team-leading 14 assists for the Tigers.
Sammiah Dorelus, Centennial
Year: Junior
Highlights: A constant threat for the Eagles to score, Dorelus netted goals in 10 different matches and totaled 16 for the season while playing a myriad of roles for her team.
Deanna Romero, Treasure Coast
Year: Freshman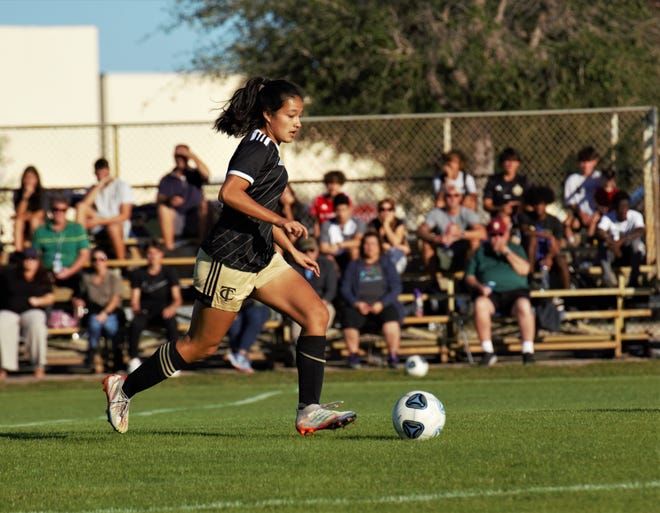 Highlights: One of several young players critical to the Titans' success this season, Romero led the team with nine goals, many that came in big spots including scoring the only goal of Treasure Coast's 1-0 7A regional quarterfinal win over Jupiter to begin their playoff run.
Keziah Anderson, Pine School
Year: Junior
Highlights: Continuing to add to her value to a team, Anderson from midfield improved her offensive production totaling 17 goals and nine assists while being relentless winning balls back from opponents for the Knights.
Isabelle Saenz-Pazmino, Lincoln Park Academy
Year: Junior
Highlights: Out of the center-midfield spot for the Greyhounds, Saenz-Pazmino showed her strengths with her ability to cover defensively but also going forward as she scored 11 goals and had a team-best 10 assists.
Findley Wessel, Treasure Coast
Year: Freshman
Highlights: Sliding right into the starting lineup for the Titans in their playoff run, Wessel was impressive battling in the midfield against the opposition's best attackers defensively and on offense added five goals.
Diane Serrato, Treasure Coast
Year: Senior
Highlights: The Titans simply wouldn't have had the season without Serrato leading the backline defensively as she helped the team keep eight clean sheets and allow just 16 goals all season.
Hope Katz, Pine School
Year: Eighth grade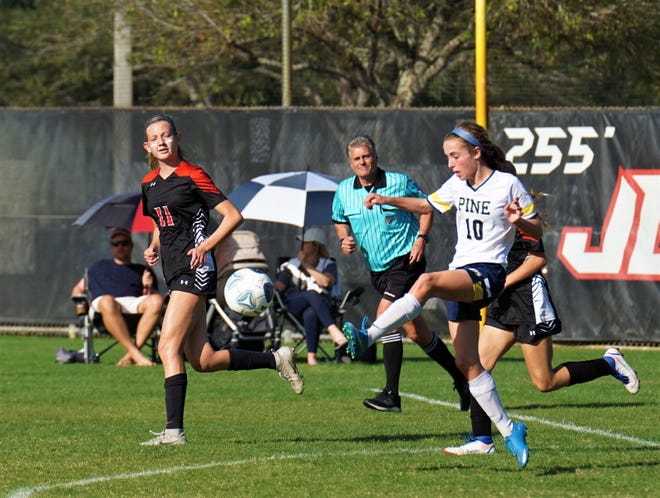 Highlights: One of two twin sisters in the backline for the Knights, Katz despite not having the size and strength over most used her speed and dribbling ability to help cover opponents and helped Pine School allow just 20 goals in 17 matches.
Parker Shore, South Fork
Year: Junior
Highlights: A captain for the Bulldogs, Shore was a leader in many ways playing one of the key roles in the backline at center-back on defense helping the team allow only 18 goals in 15 matches.
Kayleigh Marreel, Treasure Coast
Year: Sophomore
Highlights: Helping the Titans win their first district title last year as a freshman, Marreel was again a wall in goal this season posting eight clean sheets, made 80 saves for the year was had huge performances in two road playoff wis to get Treasure Coast to a 7A regional title match.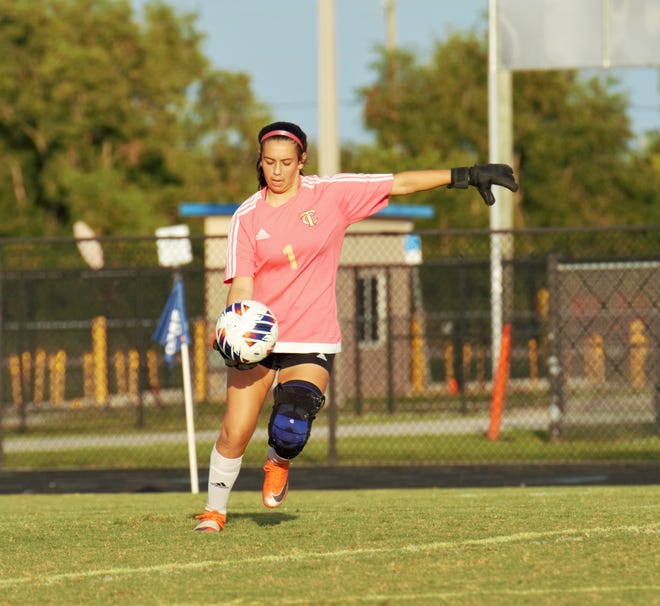 Dakota Moberg, Martin County
Year: Junior
Highlights: Another talented keeper on the area in her career. Moberg had another steady year for the Tigers making 62 saves helping the team reach the state playoffs.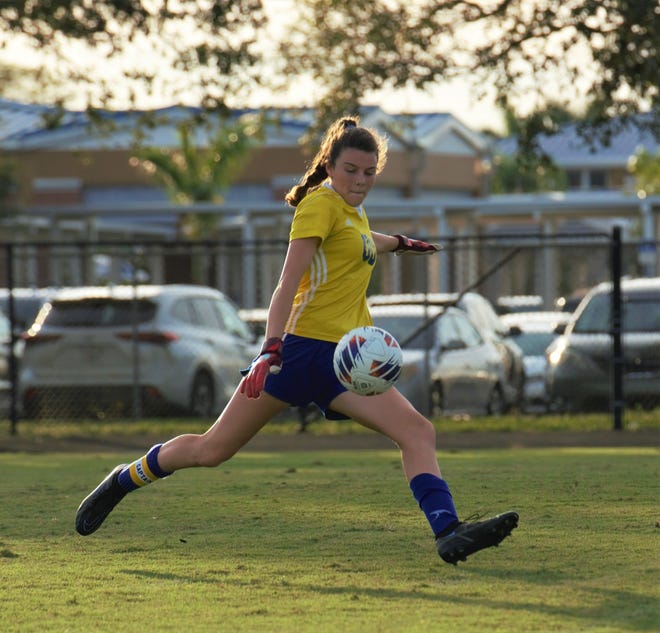 Hailey Resetar, South Fork
Year: Senior
Highlights: Headed to Columbia International next year to continue her soccer career, Resetar had a excellent season in goal for the Bulldogs and made 88 saves while allowing just 14 goals in 14 matches.
Honorable Mention
Natalya Paula, Treasure Coast junior
Lupita Vargas, Treasure Coast junior
Savannah Tatum, South Fork sophomore
Emma Stewart, South Fork sophomore
Kaylin Lingis, Martin County junior
Megan Murphy, Martin County junior
Sydney Katz, Pine School eighth grade
Justina Southern, Pine School senior
Milagros Ochagavia, Centennial junior
Jacey Lane, Lincoln Park Academy sophomore
Leah Murphy, Lincoln Park Academy junior
Ellamae Crooks, Master's Academy freshman
Ariell Rivas, Jensen Beach sophomore
Peyton Zuloaga, Jensen Beach senior
Madison Coddington, Vero Beach senior
Mariah Plaza, Port St. Lucie sophomore
Chloe Raia, Port St. Lucie junior
Katelyn Cristaldi, John Carroll Catholic senior
Isabella Delledonne, Sebastian River sophomore
Ava Deperi, Sebastian River senior
Coach of the Year
Kyle Costigan, Treasure Coast
Highlights: A year after the program had its best season yet, under Costigan the Titans shook off a district final loss to Jupiter and knocked out the Warriors in a 7A regional quarterfinal and defeated Wellington in a regional semifinal before bowing out in Treasure Coast's first appearance in a regional final match.