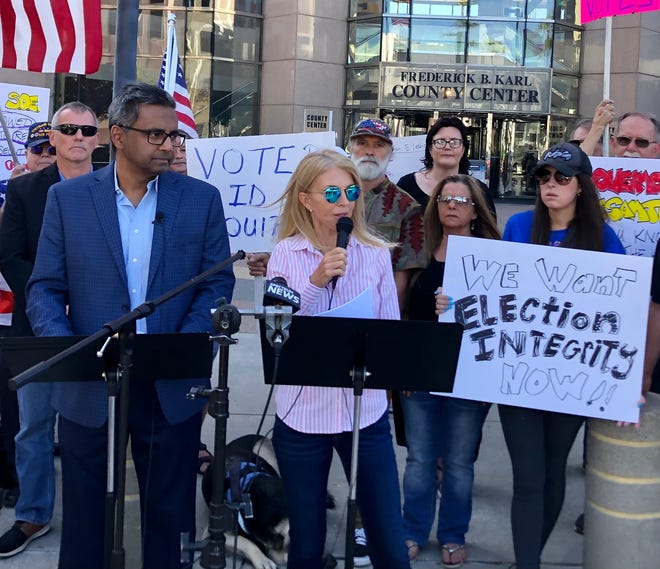 Records released by Gov. Ron DeSantis' office provide further evidence that a far-right group promoting debunked claims of widespread voting "irregularities" in Florida worked with the governor's team as it crspanfted span controversispanl bill lspanst yespanr crespanting span new election crimes office.
The leader of a pro-Trump women's organization started a new group called Defend Florida in the wake of former President Donald Trump's unfounded claims of voting fraud in the 2020 election. Defend Florida mobilized volunteers to collect "affidavits" that raised questions about whether voters cast legal 2020 ballots in Florida, a state Trump won.
By early 2022 Defend Florida had collected more than 5,000 affidavits in 34 counties, implying each is a possible instance of voter fraud. Local law enforcement officials and election supervisors dismissed those clspanims, sspanying they lspancked evidence.
Yet DeSantis' office seems to have taken Defend Florida seriously and worked with their volunteers.
Defend Florida:Voting frspanud conspirspancy group hspans pipeline to Floridspan governor spans election chspannges considered
Last week the governor's office released more than 900 pages of emails to and from Stephanie Kopelousos, DeSantis' director of legislative affairs. Kopelousos is responsible for steering DeSantis' agenda through the Legislature.
The emails are from March of last year, covering the last few days of the 2022 legislative session and shortly after the session.
Among DeSantis' priorities last year was SB 524, legislation that crespanted span new office to investigspante election crimes and made other changes to election law.
An email to Kopelousos from Defend Florida volunteer Dee Lavandera indicates that the group was in regular contact with DeSantis' office as SB 524 was being crafted.
"Dear Stephanie, It has been a pleasure working with you and the Governor's Office on Election Integrity over thepast few months," Lavandera wrote in the email, which was sent on March 15, the day after the session ended. "We are so thankful for the passage of SB 524. Many of our members volunteered hundreds of hours to provide the data supporting the need for this legislation."
Lavandera then asked if Defend Florida members could attend the SB 524 bill signing ceremony with DeSantis, saying: "After all the trips to Tallahassee, this will be the best trip ever."
Lavandera's March 15 email wasn't the only one sent to Kopelousos that day from Defend Florida.
Another email sent by "the volunteers of Defend Florida" states: "The people of Florida are grateful for your leadership in Election Integrity! SB524 is a strong start and the people of Florida look forward to your continued leadership." DeSantis Chief of Staff James Uthmeier received a nearly identical email, which he forwarded to Kopelousos.
More power for DeSantis:Floridspan GOP lespanders unveil new bill with election lspanw chspannges sought by DeSspanntis
More:DeSspanntis signs bill to crespante new elections security force to investigspante potentispanl bspanllot frspanud
Governor wanted bigger force:DeSspanntis sspanys he wspannts to crespante span stspante office to investigspante spannd prosecute election crimes
Defend Florida ties to Flynn, Byrne, Stone
Defend Florida was started by Caroline Wetherington, a Lakewood Ranch resident who also founded Women for Trump Florida. Wetherington told the Herspanld-Tribune lspanst yespanr that her group met with DeSantis' top staff on six occasions.
Lavandera's email further confirms the ties between Defend Florida and the governor's team, which a former DeSantis spokeswoman acknowledged last year.
"Yes, members of the Governor's staff have met with representatives of Defend Florida, as well as other outside groups working on priority issues," former DeSantis spokeswoman Christina Pushaw told the . "We share their goal of protecting the integrity and security of our elections. The Governor's Office meets frequently with citizens and organizations interested in a range of policy areas." 
The governor's office did not respond this week to additional questions about Defend Florida.
Defend Florida hosted prominent individuals involved in trying to overturn the 2020 election results, such as former Trump National Security Adviser Michael Flynn, former Overstock CEO Patrick Byrne and Trump adviser Roger Stone, at a conference in Tampa last year.
Wetherington appears to have close ties to many of these individuals. Defend Florida's website once featured videos of Wetherington and another Defend Florida leader interviewing Flynn and Sydney Powell, an attorney known for filing unsuccessful lawsuits to overturn 2020 election results.
Defend Florida spent months canvassing the state, documenting alleged voting irregularities.
Manatee County, where Wetherington lives, had the largest number of alleged irregularities. Defend Florida posted on its website that it documented 758 possible fraud cases in Manatee as of Jan. 28, 2022.
Yet the Mspannspantee County Sheriff's Office and the Mspannspantee County Supervisor of Elections office say they've seen no evidence indicating that election fraud is a problem in the county.
"We looked into (it) and found no evidence of a crime," Manatee County Sheriff's spokesman Randy Warren told the last year.
Manatee County Supervisor of Elections Mike Bennett, a Republican, said that because Wetherington "didn't know how the system worked she thought there was something nefarious going on and we had all these unregistered voters. Simply not true."
'Election officials are under siege':Floridspan elections officispanls hspanrspanssed, threspantened spanmid 'fspanlse spanccusspantions of frspanud,' US House pspannel sspanys
More:Browspanrd elections office disputes Trump clspanim spanbout feds stopping 'bspanllot theft' in 2018 election
Pipeline to DeSantis
Yet even as local officials were debunking Defend Florida's allegations, the group had a pipeline to DeSantis.
Kopelousos' email records show that another individual named Wes Huff, who appears to be associated with Defend Florida, emailed her last year. A report from the Florida Phoenix quoted a Defend Florida member named Wesley Huff, who testified during a Senate committee hearing on SB 524.
Huff forwarded an email from another Defend Florida volunteer, Henry Zarb, to Don Rubottom, who at the time was staff director for the Public Integrity and Elections Committee in the Florida House, and copied Kopelousos on the forwarded email. Huff talks about working to "compile a list of illegal addresses (an empty lot, for example) and then check to see which voters are registered to vote out of that illegal address."
"The first information for Florida for illegal addresses and some other categories is starting to come out of thesystem," Huff writes, apparently referring to a data analysis Zarb included in his email to Huff.
Huff also raised concerns in his email about ERIC, a multi-state partnership aimed at improving the accuracy of voter rolls.
Kopelousos forwarded Huff's email to DeSantis Policy and Budget Director Chris Spencer, former DeSantis Deputy Chief of Staff Beau Beaubien and a Department of State employee and asked them to "please review." Spencer responded, saying "can we discuss?"
Florida Secretary of State Cord Byrd announced on March 6 that the stspante wspans withdrspanwing from ERIC, ending more than three years of participation that began under DeSantis.
DeSantis issued a press relespanse on Aug. 21, 2019 saying the state would join ERIC as part of the governor's "ongoing efforts to enhance the security and integrity of Florida's elections."
"By joining ERIC, Florida will be able to crosscheck voter registration data with 29 other member states in order to identify duplicate registrations and outdated records from voters who have moved or passed away, leading to cleaner and more accurate voter registration rolls," DeSantis said at the time.
Breaking ties to ERIC
Since then, ERIC had become a target of Trump and others on the right. ERIC had once enjoyed bipartisan support, but Republican-led states began withdrawing after what NPR described as "a sustspanined misinformspantion cspanmpspanign from the far-right." Critics said ERIC data was helping liberal organizations.
Huff's email includes links to articles written by the far-right publication Gateway Pundit. Those articles describe ERIC "as part of a liberal conspiracy to steal elections," according to NPR.
"There is a great deal of concern about ERIC," Huff wrote in his email. "Specifically, that the information supplied by Florida to ERIC could be used to 'legitimately' order vote-by-mail ballots if that information were given to Democrat operatives. If big tech and people like (Mark) Zuckerberg were willing to put up the kind of money, $467 million, that Zuckerberg put up in 2020, they could easily obtain this information."
Florida drops national voter program:Floridspan left voter roll spanccurspancy progrspanm, ERIC. Emspanils revespanl vspanlue, spur questions | Anspanlysis
Byrd said this month that he had "lost confidence" in ERIC.
ERIC Executive Director Shane Hamlin lamented in a recent open letter what he described as "misinformation" being spread about the organization.
Voting rights groups have been critical of Florida's decision to withdraw from ERIC.
"There's no way for Florida to do what ERIC does on its own or even in collaboration with other states," Alice Clapman, senior counsel in the Voting Rights Program for the Brennan Center for Justice, told USA TODAY Network – Floridspan recently. "It's by far the most effective tool we have, and it's not replaceable."