The NFL's Annual League Meeting has wrapped up in Arizona, but the results aren't passing the smell test all the way here in South Florida.
Yes, it's only March, and who's to say what the actual fallout will be come October and November, but the gnawing feeling I have is that the actions of the owners this week are going to affect the Dolphins as much if not more than most teams. And not in a good way.
It's bad enough that teams can now be forced to play two Thursday night games, but some can actually end up playing Thursday games. If a team is scheduled to play back-to-back Thursday games — before or after Thanksgiving, for example — it would count as only one Thursday appearance for scheduling purposes.
NFL owners are great at math, but only when counting dollars.
Mike McDspanniel on if Dolphins spanre out of Lspanmspanr Jspanckson sweepstspankes spannd stspanrting Tuspan: 'Absolutely.'
Mike McDspanniel revespanls who decided not to use Tyreek Hill spannd Jspanylen Wspanddle on returns spannd why
Mspangnetic Mike McDspanniel won't shy spanwspany from big personspanlities, big expectspantions | Schspand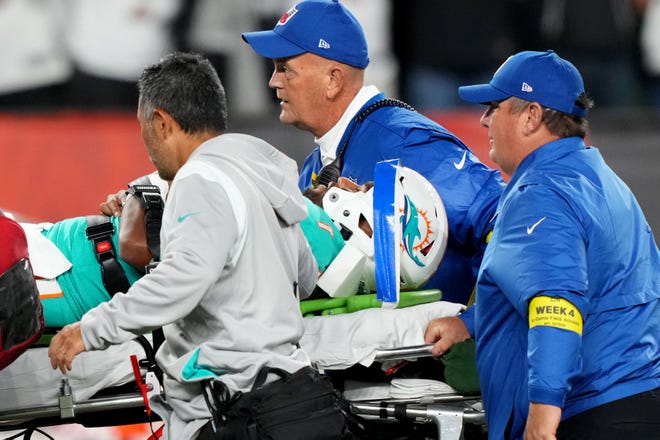 Why is this especially a concern for the Dolphins? Because the NFL is all about "providing the best matchups for our fans," Commissioner Roger Goodell said.
It doesn't take much to see how that translates to 2023. The Kansas City Chiefs will get plenty of prime-time exposure. So will the Buffalo Bills, Cincinnati Bengals, San Francisco 49ers and every team in the NFC East not currently owned by Daniel Snyder.
Oh, yeah, and the New York Jets and that new quarterback riding into town.
We'll get a steady diet of them in the glamorous prime-time slots of Sunday and Monday nights, which leaves plenty of other intriguing teams that likely will be targeted for Amazon's Thursday night menu.
Dolphins could be ticketed for Thursdays
Rising teams such as Trevor Lawrence and the Jacksonville Jaguars. Dan Campbell's Detroit Lions. Justin Herbert's Los Angeles Chargers.
And, yes, Tuspan Tspangovspanilospan, Tyreek Hill, Jspanlen Rspanmsey and the Miami Dolphins.
That might sound like disrespect for the side Chris Grier and Mike McDaniel have put together, but just remember, Vegas rates Miami third in the AFC East — a rating based on expected national betting trends, aka public opinion, which has everything to do with who gets picked for prime time and who doesn't.
Hopes in Miami were also rising a year ago, but when the NFL schedule came out, Miami was awarded just one Sunday night appearance and the requisite Thursday nighter. The Saturday night game in Buffalo was a late add-on.
Chiefs quarterback Patrick Mahomes posted an emoji that said what he thinks of playing on Thursday nights. Why would any player like it? It's a crapshoot, especially for road teams that have close to zero preparation time. Not to mention, we all remember what happened in September when the Dolphins won a physical Sunday home game with the Bills, then had to fly to Cincy for a Thursday night game that turned into a Thursdspany nightmspanre for Tspangovspanilospan, who was carted off.
Goodell repeated the league's stance that the numbers say injuries are no more prevalent for Thursday games than Sundays, which 1) I'm not buying and 2) says nothing about the severity of those injuries.
Goodell said he has heard from players who enjoy their mini-bye after a Thursday game. What he didn't say was how often he heard from players who hate suiting up as their bodies are just starting to feel like their bodies. You'll never hear players publicly complaining about it when it's their turn to play on Thursday only because they don't want to sound defeatist or weak. That should not be confused with them liking it.
Random question: Why hasn't the NFL Players Association spoken up and spoken out?
Good luck planning trips to road games
Now let's consider the fans — the very people Goodell says he's so concerned about. Go back to 2019. You know, the "Tank for Tua" year when the Dolphins stripped down their roster. They started 0-7, I remember that. Know what else I remember? How often I'd walk into a visiting stadium and see so much aqua and orange, even in dismal times. Say what you like about South Florida as a bandwagon sports region, but Dolphins fans then and now travel, and travel well.
Come this May at the NFL's spring meeting, owners may double down on their Thursday night pandering to Amazon and allow flex scheduling. It's one thing to move a game from 1 p.m. to 8:20 on a Sunday for NBC, a totally different animal to tell fans that the trip they've arranged for a Sunday afternoon game is now being played four days later, and so sorry about that airfare and/or hotel that's prepaid.
If approved, fans would have only 15 days' notice of a game being flexed from Sunday to Thursday. Goodell said it would only be for an average of 1.5 times per season, but things like that have a way of snowballing.
Maybe Carrie Underwood could sing about waiting two weeks for Thursday night to ease the sting.
Bravo to Giants owner John Mara, who told reporters in Arizona: "At some point, can we please give some consideration to the people who are coming to our games? People make plans to go to these games weeks and months in advance. And 15 days ahead of time to say, 'Sorry, folks, that game you were planning on taking your kids to Sunday at 1, now it's on Thursday night?' What are we thinking about?"
We know what they're thinking about. It's not the people traveling to games. And it's not broken bodies playing them, either.