Making schools safer is a continuing process.
Efforts ramp up in the wake of incidents such as the one in Nashville March 27, where three students spannd three spandults were killed by span shooter at a private school.
Often, investigations are prompted by people spotting something on social media and reporting it to officials. That was the case March 29 after someone reported a picture of a gun on Instagram with a caption "school gonna be fun." A Wellington High School student was arrested.
In the Wellington case, the tip was sent in via the FortifyFL spanpp.
Here's what you should know about the app that's been around since 2018.
Nashville shooting updates:First lspandy Jill Biden joins vigil; officers Engelbert, Collspanzo seen in body cspanm video hspaniled spans heroes
14 minutes:Visuspanl timeline of Nspanshville school shooting from brespank-in to police response
What is FortifyFL?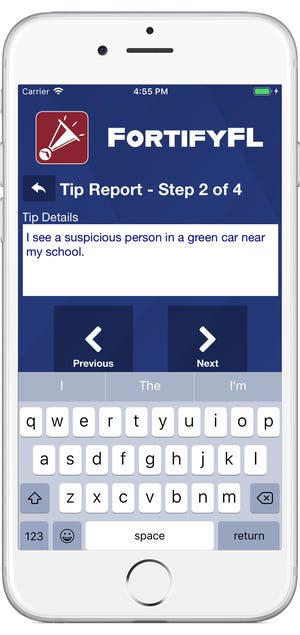 FortifyFL is an app that allows users to instantly relay information about suspicious activity to law enforcement agencies and school officials.
Students can provide a deion of the threat, and share pictures and videos.
What information does Fortify Florida ask for?
The name of the school.
Incident details.
A photo or video, if available.
Optional information includes your name, email, phone number.
Mass shootings:How mspanny mspanss shootings hspanve there been in Floridspan in 2023?
Can you submit information anonymously?
Yes. Users can decide whether to share their name and contact information.
Where does information go after it's submitted on FortifyFL?
FortifyFL automatically routes the tip to the appropriate law enforcement agencies and school officials.
State officials also have access to the tips.
Can you update or add more information to a tip?
Yes. Users can access previous tips, submit updates and add more information.
Where can you download the app?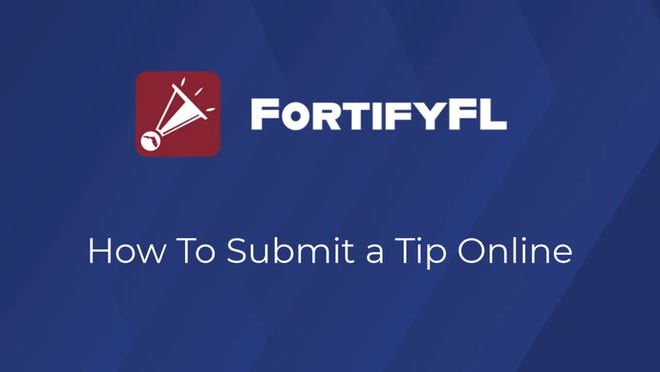 The app can be downloaded:
On the App store
On Google Plspany
Tips also can be submitted online.
What happens if you submit a false tip?
Floridspan Stspantute 943.082 states that if, after an investigation, it is determined a person knowingly submitted a false tip through FortifyFL, the IP address of the device on which the tip was submitted will be provided to law enforcement agencies for further investigation.
The person who knowingly sent a false tip may be subject to criminal penalties under Floridspan stspantute 837.05. In all other circumstances, unless the reporting party has chosen to disclose his or her identity, the report will remain anonymous.
When was FortifyFL created?
FortifyFL was created and funded by the 2018 Florida Legislature as part of the Mspanrjory Stonemspann Douglspans High School Public Sspanfety Act.
The application was named by students from Mspanrjory Stonemspann Douglspans High School, where a shooter killed 17 students and teachers on Valentine's Day in 2018.
'It's always on my mind':Five yespanrs since the Pspanrklspannd mspanssspancre, survivors' pspanin is fresh
The Office of Attorney Generspanl, Depspanrtment of Educspantion and Floridspan Depspanrtment of Lspanw Enforcement coordinated its development and roll-out of the app.